It's Champions League quarter-finals week and Liverpool fans will be craving European nights – the good news is that they won't have long left to wait. Simon Collings explains why the competition needs Liverpool FC.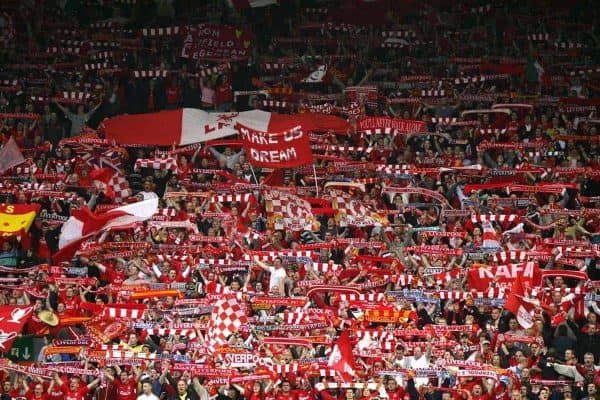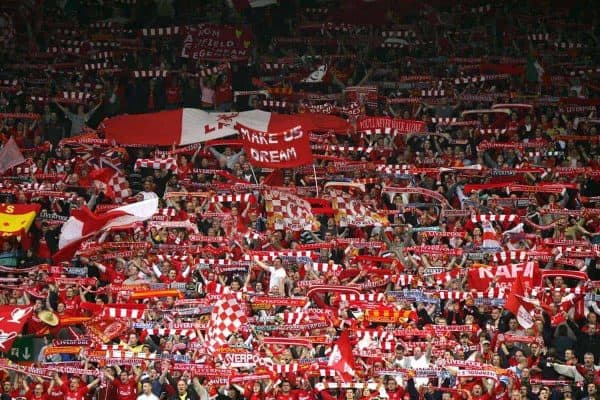 With Liverpool's qualification for next seasons Champions League pretty much assured, I guess it's safe to say we can start to look forward to those memorable European nights at Anfield.
With only a handful of games to go, we can celebrate the fact that we've secured a seat at Europe's top table, and can look forward to reaping the financial rewards and prestige that's due to follow.
However, despite all the 'bling' that comes with competing against Europe's best, it's the unique atmosphere created by our supporters that I'm most looking forward to – after what has been four, frustrating years of watching the likes of Chelsea, Tottenham, Arsenal, Man. City, & Man. United all 'represent' the Premier League throughout the continent.
Anfield under the Lights
There really is nothing like a European fixture at Anfield. Witnessing the smouldering atmosphere, under the lights, with the Kop in full voice, and with the scarves, banners, and flags all aloft – this is what sets Liverpool Football Club apart from the rest. From the likes of Inter Milan in '65, to Saint-Etienne in '77, not to mention Chelsea in '05, and '07, these are the nights that make our club so special and unique, and to which every other British club (apart from perhaps Celtic) strive to emulate.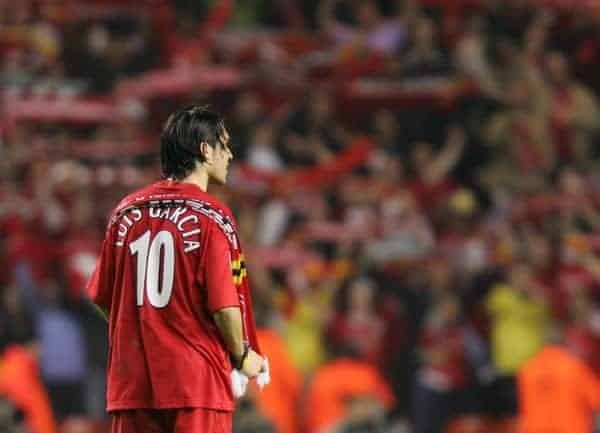 Bill Shankly did say the league was our ''bread and butter'', and this is very true, but Europe – or more so, our support in Europe – is what sets us apart from our domestic rivals… and by a long, long way.
The Plastic Flag Brigade
Looking back, how many times when watching the likes of Arsenal, United, or Chelsea compete in Europe, did we all sit up and acknowledge the spectacle emanating from around the Emirates, Old Trafford, or Stamford Bridge? Hmm…not too many for my reckoning!
It's not as if they've had no memorable nights to celebrate in Europe – I myself, remember classic encounters from the three against the likes of A. C. Milan, Barcelona, and Napoli respectively. However, I was always amazed at the lack of genuine, inventive support from the home crowds… and in particular Chelsea's.
When thinking back to those two Champions League semi-finals against the west Londoners, in '05 & '07, the difference in the atmosphere, support, and spectacle generated by each home crowd was incredible to say the least.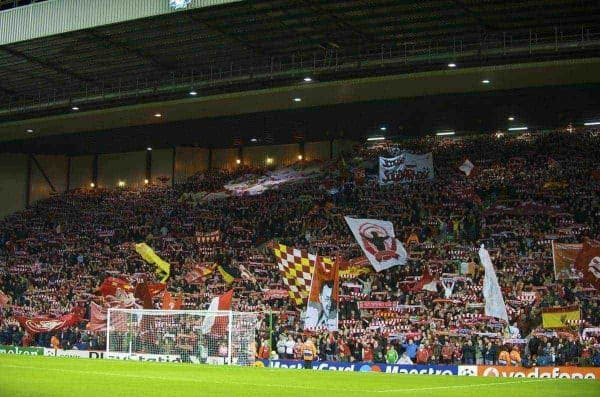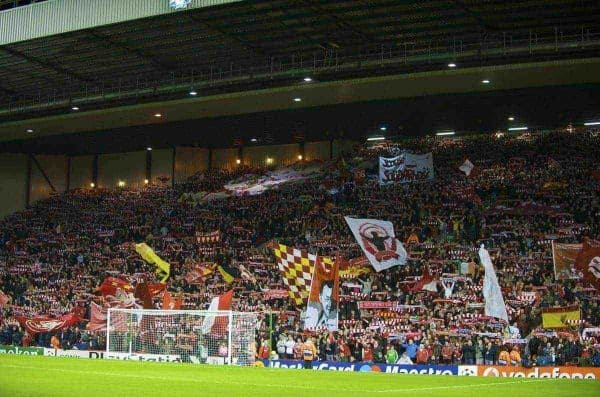 At Stamford Bridge the Chelsea supporters, with their dreadful, blue and white plastic chequered flags (provided for them by their own club!), where outclassed on both occasions by their Anfield counterparts in such a manner, it was embarrassing. It was as though they didn't know how to celebrate!
Even, according to folklore in 2005, the Milan players, staff, and supporters were all delighted that we'd gotten through to Istanbul instead of Chelsea. The main reason being: they wanted to face a proper European club, with great tradition and support.
This is so true, and is what all great, European sides want: to compete against each other. If you were a travelling Kopite, you'd want nothing more than to witness a night at the Nou Camp, the Allianz, or the San Siro and experience the unique atmosphere on the continental stage… and, unlike Stamford Bridge, Anfield is certainly one of those.
Ok, so we do have our anthem of 'You'll Never Walk Alone' to get us going, as well as having the Kop – a massive, single tiered grandstand – to help us display our passionate support in a more distinctive way. Surely though, Chelsea folk are as passionate about their club as we are about ours – even if they do have smaller stands. Even so, this shouldn't stop them creating, and displaying their own flags and banners – they must have some creative nous about them.
Does Size Matter?
If Chelsea doesn't, and the size of the ground does matter, then what about the likes of Old Trafford or the Emirates? Both greater capacities than us by some distance, yet both still fall short of an Anfield spectacle.
They do both have their own versions of the Kop (or more so, symbols of their history and tradition) – in the Stretford End and Clock End respectively – but why the lack of spectacle on the display? Are we the only supporters in the land who can conjure up a distinctive way to follow ones club?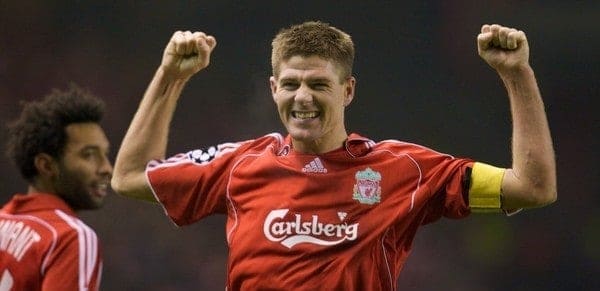 Maybe it's to do with our previous European successes. We do have more to shout about, more memories and events to draw upon for inspiration. Although most of the banners and Anfield nights that we're famed for seem to derive from the mid-sixties to the late seventies – period in which our continental adventure was just beginning. Surely United have a rich European history, so why not articulate this success through the joy of banners and flags – c'mon Man. United, show it to the rest of the footballing world!
Scouse, not English!
What about our identity then, is this why we're better equipped for the European stage? Are the European nights an opportunity to 'remind' the footballing world that Liverpool Football Club is in fact Scouse, and not English? If so, I suppose the best way to promote this identity would be through large-scale canvas's and spectacles – bringing into play the famous Scouse wit and humour – but there are still many Union Jacks and St. George's flags dotted around the Kop – so evidence of being proud to be British and/or English is there for all to see too.
Whatever it is, our support on a European night is unrivalled throughout the land – a fact of which I am both proud of, and disappointed. I do love to see passionate, inventive support – even if it is from our direct rivals – as it creates a better, all round atmosphere. But with the money that's been pumped into the game, it's as though a large number of fans just seem to turn up and wait for something to happen (Roy Keane's ''prawn sandwich'' rant comes to mind here). I suppose though, we've been guilty of this too to some extent… as it is more difficult to get up for a home match against a Stoke City on a dreary, overcast Sunday afternoon, than it is for a Barcelona under the lights… but the fans and supporters are what makes the game what it is… passionate, and we seem to be leading the way it comes to representing the Premier League throughout Europe.
Black and Yellow Wonder
What's it like abroad then? Well, take a look at Borussia Dortmund, in the Westfalenstadion, their home support there is simply outstanding. Week in, and week out (and not just in European games), their huge, steep grandstands are drenched constantly in a black and yellow sway – placing even Anfield in the shade. Also, a Rome or a Milan derby is an extraordinary spectacle to behold, and even further afield, South American football is a unique experience – albeit an aggressive one!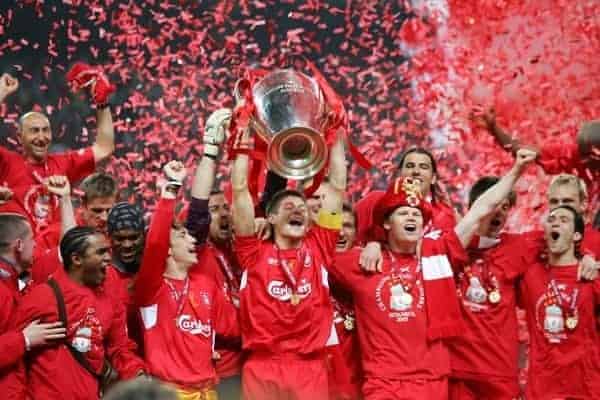 Even if Liverpool failed to qualify ever again for the Champions League, we would still left our mark in this great competition. The fact that we're back is a marvellous thing – not only for us – but for any opposing fans that are lucky enough to witness our great club do what it does best… show great support!
You're welcome UEFA. Enjoy…