Most reds fans probably felt like I did as Willian walked the ball into the Anfield Road net. Utterly deflated. What a kick in the balls eh?

Chelsea came to Anfield and did a job on us. Good and proper. We all knew they'd come and park the bus and we all know they are very good at it. No doubt Brendan Rodgers knew that too and would have worked on breaking down such resilient defending. Unfortunately we were just not good enough to score goals and we made 2 fatal defensive errors.
In most games this season we've created chance after chance and buried a lot of them. Against Chelsea I don't remember us creating one clear cut chance. We dominated possession and probed, took shots from 20-25 yards but we never troubled the goal keeper.
There's no shame in that. I've seen better teams than us struggle to break down a defensive Mourinho side. Inter at the Nou Camp in 2010 comes to mind.
What disappointed me most was that we continue to commit suicide at the back.
Stevie's mistake was unfortunate but as a team we make too many of them. That is 40 defensive errors we've made this season. The most in the league by far. I don't go along with the sentiment that it could happen to anyone because it happens to us far more than any other side.
If we don't win the league I'm pointing at that particular stat as the reason. I can think of 3 errors that has cost us massive points. Mignolet at the Etihad. Kolo at the Hawthorns and Gerrard against Chelsea.
Chelsea's 2nd goal was also a defensive error that led to a goal. Sturridge giving the ball away with all our players committed to surging forward.
A 0-0 draw would have been a decent result for us and a bad one for Chelsea as it would have all but ended their title hopes. However Mourinho knew that if Chelsea kept a clean sheet they were likely to get the odd chance to win the game. That's exactly what happened.
Criticise the tactics all you want. It's effective and has won Mourinho 2 Champions League winners medals amongst other trophies.
When Brendan criticised the tactics in his post match press conference I agreed with him. But then I thought about it and disagreed. Teams must do what they need to do to win. In the big games at the end of the season its all about the result.
If we park the bus at Selhurst Park next week and win 2-0 nobody will complain. Do the same thing at home to Newcastle and win 1-0 to win the Premier League title and we'd all be doing cartwheels.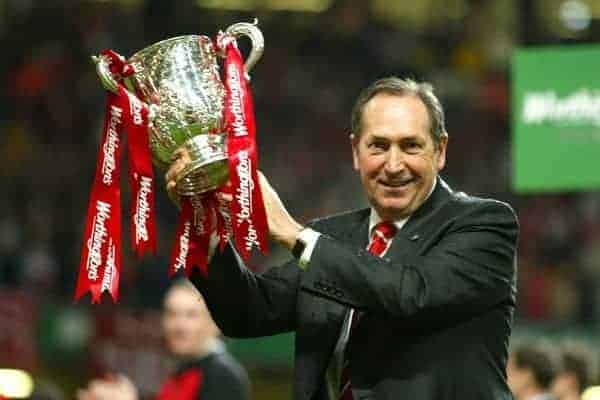 We won the UEFA Cup and FA Cup in 2001 by parking the bus. There was plenty of bus parking during our Champions League campaign in 2005. Even in our three 1-0 wins to start the season we defended deep and in numbers for large periods.
We did what we had to do to win. Chelsea's squad cost more than twice as much as ours and you'd think with such investment they shouldn't have to resort to such tactics. It's not as simple as that though.
Our squad cost a few quid more than Norwich and for 70 minutes we were clinging on for our lives. I'm sure our squad cost more than Arsenal's in 2001. We all remember our tactics in that cup final.
I remember when we went to the Nou Camp under Houllier and were labelled the killers of football by the Catalan press. In his post match press conference Houllier told them "you keep the ball, we'll keep the result".
Personally I fucking hate negative football but I've learned to accept teams will use it as a tactic. The attacking side needs to find a way to combat it. I've often wondered why a side like Barca don't, just as a one off, just sit deep and pass the ball amongst themselves and see what the other team does.
Instead what they always do is fairly predictable. Bayern have been doing it as well this season. Pass the ball around, try to work the openings but invariably struggle to break down very good defensive teams that are disciplined and make no errors.
If you go into a game against Barca or Bayern you know if you play open football and go toe to toe with them you'll likely get slaughtered. Mourinho made this mistake once at the Nou Camp with Real Madrid and got beat 5-0. He wasn't going to make this mistake at Anfield.
I wouldn't call such defensive tactics genius, just practical, and it helps when you have senior internationals worth £25m each to carry out the game plan to the letter.
This defeat, although painful doesn't kill our title hopes. It just gives us no further margin for error. The good thing is we don't have to play against teams as good as Chelsea are defensively again.
Two games left and it's all about winning both and hoping for the best. It's there for us, beat two mediocre teams that have nothing to play for. It's not a big ask for a side that wants to win the league. If you were offered this scenario two weeks ago you'd have taken it.
Everyone at the club would have. In my blog 'Forget Top Four I Want More' with 11 games to go I wrote the following: "For Liverpool to make it interesting we need 9 wins and 2 draws. Or 10 wins and a defeat. 85-86 points." It's 8 wins and a defeat so far. Still a chance to get 86 points.
We should get 6 points and boost our goal difference but I have some concerns.

While we've scored 3 goals a game consistently in 2014, our strikers have gone off the boil since we caned Cardiff 6-3. It's been 6 games since then and in that time Suarez and Sturridge have only 3 goals between them.
This is the business end of the season, if ever SAS needed to turn up its now. Hopefully Sturridge regains full fitness because he did not look fit to me at all on Sunday.
It would be nice if we could stop the defensive errors but I won't hold my breath where that is concerned.
I still think we'll win the league. I think we'll win both of our games handsomely and City will drop points in one of their remaining games.