The latest from Kopblog – do Liverpool have one hand on the Premier League title?

According to The Guardian Liverpool have one hand on the Premier League trophy. I agree with them. The title is in our pocket. That doesn't mean it's guaranteed but it does mean, in my opinion that it's ours to throw away.
Only two things can prevent us being crowned champions. A one hundred percent winning run from either City or Chelsea. Or a total collapse from us. I think both scenarios are unlikely.
City haven't looked right in matches that really count this season. They lost at home to Chelsea and were 2nd best by a distance. They lost at home to Wigan in the Cup quarter final. They lost at Anfield. They lost their key game in hand against the worst team in the division after taking the lead. Afterwards their manager said the result at Anfield was still in their head. Incredible. If BR ever said something like that we'd all be foaming at the mouth. City have a softness about them especially when some of their key players are unavailable. At the moment Yaya and Silva are injured and Aguero isn't quite right. I don't think they are right physically or mentally to win away games against Crystal Palace and Everton. I think they get 11 more points maximum which puts them on 82 points.
Chelsea, managed by Jose Mourinho. They are just supposed to be this ruthless machine in a title run in. They have players who have won multiple titles and the manager is very experienced in these situations. They have been great in the big matches but they are losing games against inferior teams. They struggle to create chances against teams who pack the defense. Their last 6 games, they have lost 3 of them – against Aston Villa, Crystal Palace and Sunderland. If it was us who had these results, the narrative would be that we were caving in under the pressure. Bottling it.

There is no dominant team this season standing head and shoulders above the rest. Everyone has flaws, every team can be beaten by any team. But it's us who are the best team in the country at the moment. Both physically and mentally.
We are handling the run in better than every other team in the division. Not all of the games have been plain sailing. There have been nervous moments but that is the case for every team.
We lost back to back games against City and Chelsea over Christmas and fell from the top of the league to 5th. Since then we have won 14 and drew 2 of our 16 league games. If Barca or Bayern went on this sort of run everyone would be waxing lyrical and rightly so. It is a fucking magnificent run of results and it has come against every kind of opposition in the Premier League; top teams, bottom teams, home and away, direct teams, passing teams, attacking teams and defensive teams. We've scored 52 goals and conceded 21. We have beaten every team in the division with the exception of Chelsea – who we play on Sunday.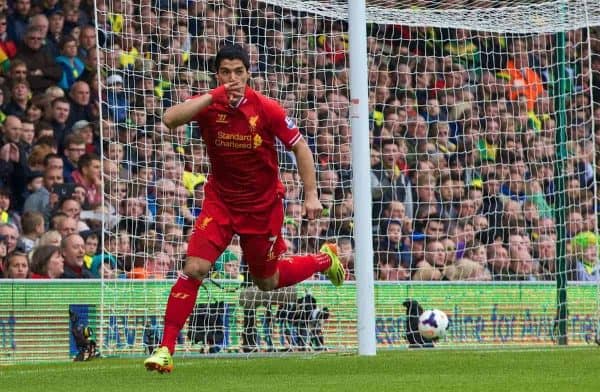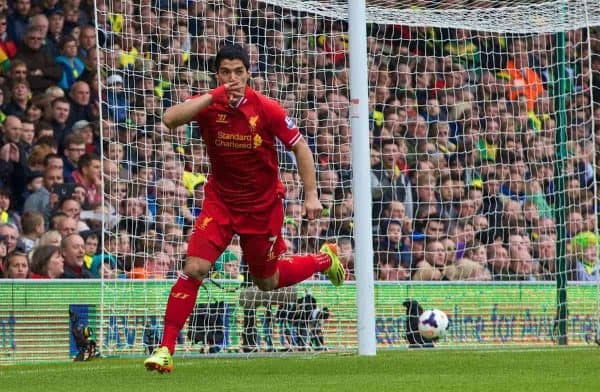 Our ability to score 3 or more a game is unprecedented. Most pundits will tell you that a team needs to be able to win 1-0 away from to win the title. Liverpool have thrown those rules out of the window. In the same way United dismissed the rule that you don't win anything with kids.
Where Chelsea won 1-0 at Carrow Road, we won 3-2. It's still 3 points with the same goal difference. We've kept only 4 clean sheets away from home but yet we have the best away record in the league. We've scored the most away goals by far, and we have the best goal difference. The rules are being re-written before our eyes. Most people won't be convinced until we lift the Premier league trophy but I'm already convinced. A team can win the title with a dodgy defense, especially when it possesses the most deadly attack English football has seen since the 1930s.
Top 10 scoring teams in English history
1. Aston Villa 3.05 goals per game in 1930-31
2. Arsenal 3.02 in 1930-31
3. Arsenal 2.8 in 1932-33
4. Everton 2.76 in 1931-32
5. Liverpool 2.742 in 2013-14
6. Arsenal 2.738 in 1934-35
6. Spurs 2.738 in 1960-61
8. Chelsea 2.71 in 2009-10
9. Man City 2.67 in 2013-14
10. Spurs 2.64 in 1962-63
In 1999-2000 Man United, who won the league by 18 points, conceded 45 goals in 38 games. Their defence ranked 6th that season but they scored 97 goals. This is further proof to me that an ok defense with a magnificent attack can win a title. It's been done before, just not for a while.
We've conceded 44 goals in 35 games which currently ranks 8th in the league. We're conceding 1.26 goals per game which means on average we need to score 2 to get a positive result. I don't see that changing in the final 3 games and it doesn't bother me. I think we will score enough goals to get the required points to win the league.