The Reds skipper has been sensational since his return from injury, and has been a huge reason for Liverpool topping the Premier League table. Henry Jackson (@OnFootballTweet) looks back at some of the 33-year-old's best spells at the club, and argues whether any top his current run.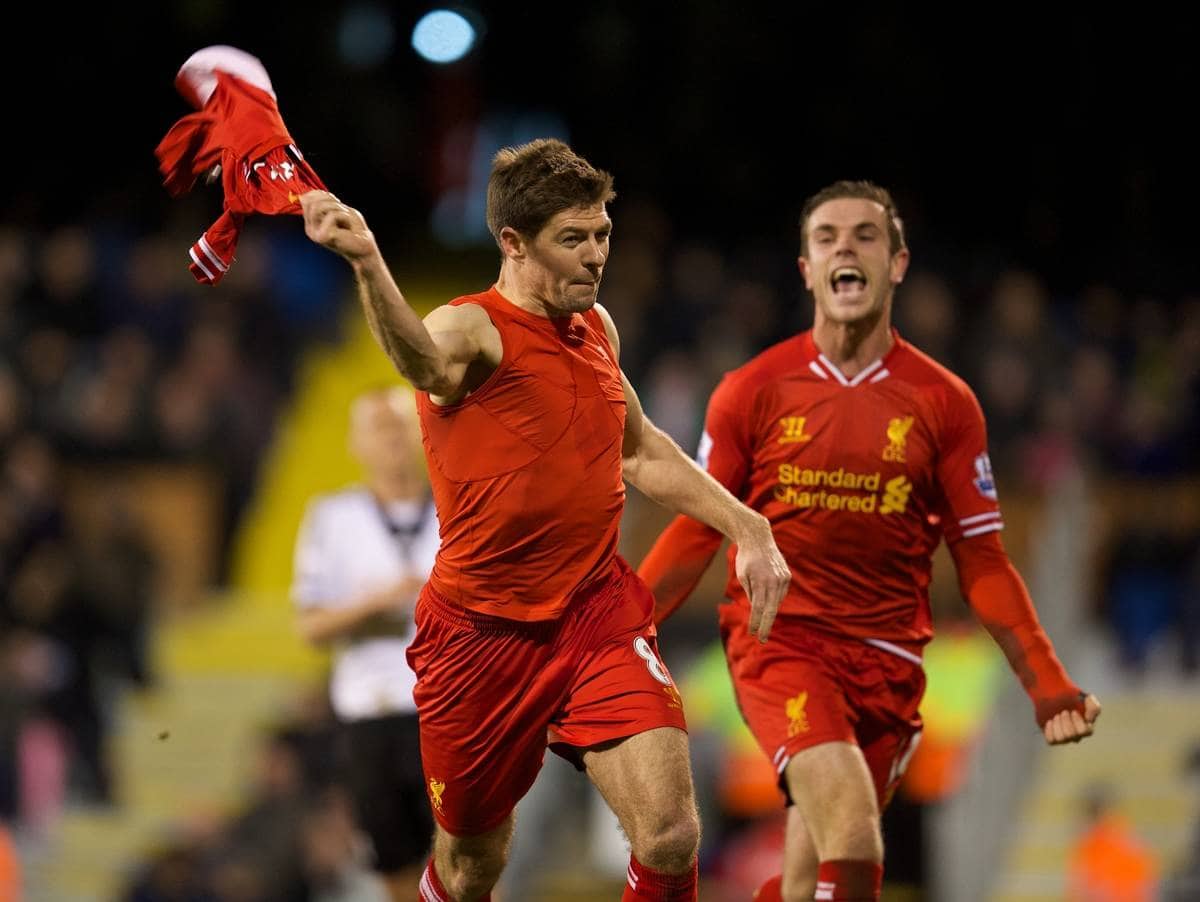 Steven Gerrard returned from injury on New Year's Day as a second-half substitute against Hull City. The team had been doing well without him in the side, barring two crucial losses to Manchester City and Chelsea, and some were even questioning whether he should return to the starting XI.
Since then, the skipper has been phenomenal. His job in the side has changed significantly- he has adopted a deep-lying playmakers role much like Paul Scholes and Andrea Pirlo in the Autumn of their careers- and Liverpool have won 12 and drawn two of the 14 league games since his return.
His range of passing, countless nerveless penalties at critical moments and superb, understated defensive work have almost been as key as the partnership of Luis Suarez and Daniel Sturridge at times. If the Reds do go and win their first Premier League title this season, it will be the finest moment of Gerrard's fantastic career.
The question is: has the Reds legend ever enjoyed a more influential run of form in a Liverpool shirt?
Here are other spells over the years that may well rival his current run of performances:-
2000/01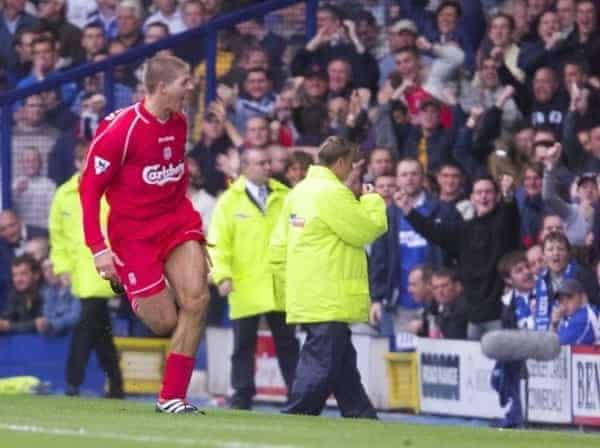 Not many people would have predicted Gerard Houllier's Liverpool side winning three cup trophies in the 2000/01 season- UEFA Cup, FA Cup and League Cup– but the emergence of 20-year-old Gerrard was a big reason for the team's success.
The youngster went from boy to man that season, scoring memorable goals against Manchester United, Arsenal, Southampton and Alaves, and establishing himself as a key player for England too.
Gerrard added great dynamism to a midfield containing fairly slow players like Didi Hamann, Gary McAllister and Danny Murphy, and scored a more than respectable 10 goals in 50 appearances.
His displays clearly caught the eye of his fellow peers, who voted him the PFA's Young Player of the Year.
2003-04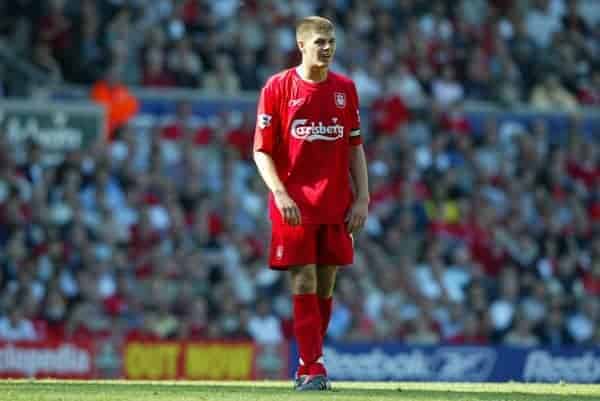 After suffering some poor form during the 2002/03 campaign- a terrible performance against Basle in Champions League stands out- the following season was the year Gerrard went from promising youngster to comfortably the best player at the club.
Sometimes the term 'one-man team' can be a horrible cliche, but in Gerrard's case that season he really did win games all on his own. He had been given the Liverpool captaincy by Gerard Houllier at just 23, and it seemed to inspire him hugely. He must have won Man of the Match in over 50 per cent of the games.
His quality on the ball, pace and knack for producing in the big games was starting to come to the fore, and it was his performances in the second-half of 2003/04 that almost single handedly got Houllier's men into the Champions League the following season.
2005/06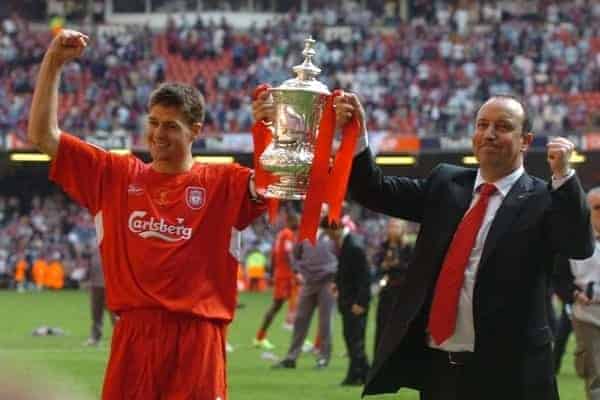 A lot of people would immediately say the unforgettable, Champions League-winning season of 2004-05 was Gerrard's greatest in a Reds shirt, but he was even better in 2005/06.
In 2005 he produced magic against Olympiakos and AC Milan, and was always excellent, but he was injured a fair bit and players like Jamie Carragher, Xabi Alonso and Luis Garcia often stepped up to the plate without him in the side.
In 2005/06 Gerrard scored 23 goals in 53 appearances from what was invariably a right sided midfield role, and deservedly won the PFA Player of the Year award. His performances were the driving force behind Rafa Benitez's side finishing second in the Premier League, while his FA Cup Final performance against West Ham will forever go down in legend.
Having already set up Djibril Cisse and scored a fine effort himself, he produced a moment of genius with Liverpool trailing 3-2 in stoppage time. His long-range stunner took the game into extra-time, and he converted from the spot in the triumphant penalty shootout.
At 25, he was now a truly world-class talent approaching his prime.
2008/09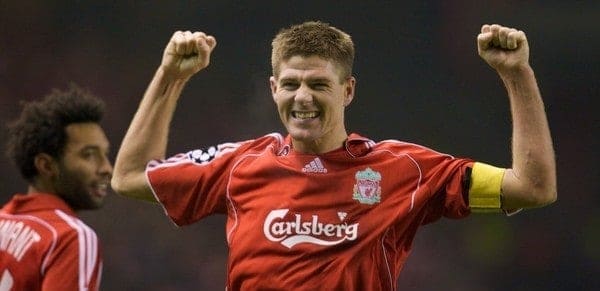 The 2008/09 season signalled the absolute peak of Gerrard's wonderful career. He had been an undoubted world-class player for many years by this point, but his game went up another notch playing behind Fernando Torres in Benitez's preferred 4-2-3-1 formation.
He finished the season with 24 goals in just 44 matches, and in the eyes of many he was the finest midfielder on the planet at that time. With Xavi and Andres Iniesta both flourishing at Barcelona under Pep Guardiola it sums up how formidable Gerrard was.
Whether it was his late winner against Middlesborough, his penalty at Old Trafford in the famous 4-1 win over Manchester United, his performance at Anfield against Real Madrid or an outrageous strike away to Marseille, Gerrard was sublime from first game to last.
He got so close to inspiring his boyhood club to Premier League glory that year, but fell just short. He did, however, win the Football Writers' Assocation (FWA) Footballer of the Year award, highlighting just what an inspirational figure he had been.
Conclusion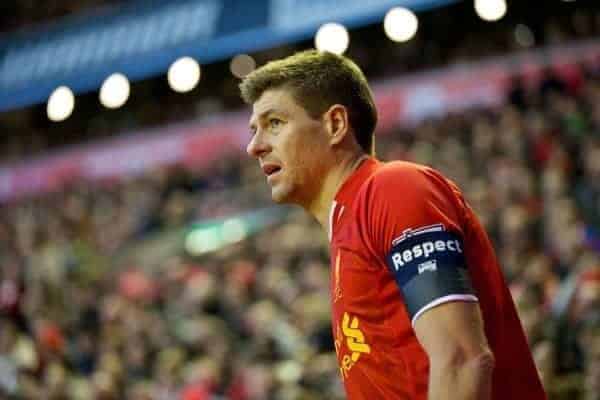 It's sometimes easy to take Gerrard for granted, but when you look back at what he's achieved you realise how lucky we've been to have him lead Liverpool for over a decade. He is, in my opinion, the greatest player in the history of the club.
If 'Captain Fantastic' goes on to lift the Premier League title on May 11th, his run of form since January will arguably have to go down as his most influential ever. Even it they don't win it, his brilliant displays will still be remembered fondly.
As it stands, however, the Gerrard of 2008/09 was simply unstoppable, closely followed by his brilliance in 2005/06.
What do you has been Gerrard's most influential spell in a Liverpool shirt?