Luis Suarez's handball in the dying seconds of Uruguay's World Cup quarter-final against Ghana made him an instant villain around the world, but we would have all done the same thing, writes Henry Jackson.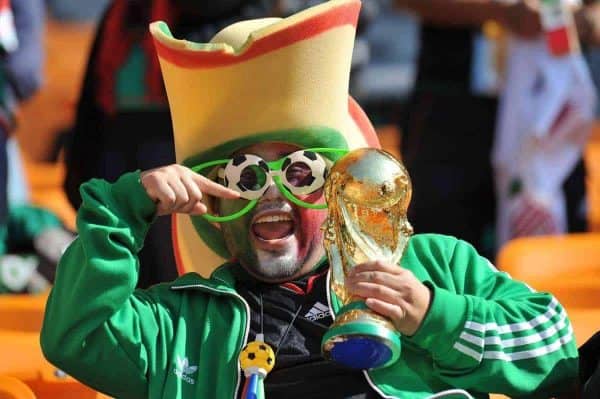 The first in a series of articles looking at each World Cup and a moment involving Liverpool players. Suarez hadn't signed for Liverpool at the time of this incident but it brought him to the attention of the world.
The Tournament
The 2010 World Cup saw Spain beat Holland in the final, with Liverpool players Pepe Reina and Fernando Torres becoming world champions.
England, meanwhile, had a poor tournament, eventually being humiliated by Germany in the second round after Frank Lampard's infamous goal that wasn't.
Despite some memorable moments in the showcase event in South Africa, arguably the biggest talking point was Luis Suarez's last-gasp handball on the line in Uruguay's quarter-final clash with Ghana.
▼ Article continues below ▼
Suarez Incident
With the score at 1-1, and the game in the final minute of extra-time, Dominic Adiyiah's header was sailing into the net, only for Suarez to palm the ball away in dramatic style.
El Pistolero was immediately sent-off and Ghana were awarded a penalty. All Asamoah Gyan had to do was convert the spot-kick and the whole of Africa would be celebrating having a team in the last-four of a World Cup for the first time ever. What followed was pure drama.
Gyan's effort hit the crossbar, and Suarez could be seen celebrating like a maniac in the tunnel, having saved his country. The game went to penalties, and Uruguay progressed 4-2 in shootout in front of a stunned crowd at Soccer City in Johannesburg. [td_ad_box spot_id="custom_ad_1"]
The whole world fumed at the then 23-year-old for his antics, with many labelling him a disgrace and a cheat. In the eyes of many, he had robbed an entire continent of one of their greatest moments in football history. The key question is: was that Suarez's problem?
He was still six months away from becoming a Liverpool player at this point so it's nothing to do with club bias, but there simply wasn't an issue with his behaviour whatsoever.
Suarez is, and was even back then, an easy target. We all know he's far from an angel, but the bottom line is that, in the heat of the moment, any competitive person would have done what he did.
▼ Article continues below ▼
Anybody claiming that they would have allowed to let the ball sail into the back of the net, sending their country out of football's greatest tournament in the process, is not telling the truth quite frankly.
At this summer's World Cup in Brazil, imagine if Gerrard is dismissed for deliberate handball on the line against Germany in the quarter-finals, helping the Three Lions progress to the semis.
He would be lauded for his bravery and the fact he sacrificed his place in what would have been one of the biggest games of his career. There is no way the nation would be disgusted with his behaviour. It's all very hypocritical.
Of course it's completely understandable to have felt aggrieved at the time – Uruguay are far from the most popular national team around – especially considering what a win for Ghana would have meant to millions, but it's not like they weren't given a golden opportunity to win the game.
Equally, I'm sure Suarez celebrating would have rubbed some people up the wrong way, but to me it showed the incredible team player that he is. While some would have walked back to the dressing thinking solely about their own issues, he was stood willing his team on.
The Suarez handball will be remembered by many Africans in a similar way to how the English think of Diego Maradona's 'Hand of God' moment in 1986, but there's a big difference.
▼ Article continues below ▼
Maradona's was a premeditated piece of cheating, and one that England didn't benefit from whatsoever – Ghana were still given a penalty at the end of the day – whereas Suarez's was an instinctive reaction. It it were almost any other player, it would no longer be talked about.
Do you think Suarez's handball was out of order? What would you have done in that situation? Let us know in the comments section.
Promoted
More from This Is Anfield
Fan Comments
Comments are retrospectively moderated. Some could be subject to delays before publication. They must obey the comment policy. Comments load below.

Please only discuss the article above. General chat can be made on our forums at forums.thisisanfield.com