Gary McAllister's impact 14 years ago is still in place at Anfield today, having influenced the career of a young Steven Gerrard in 2001. Can Rickie Lambert do similarly with Liverpool's current youngsters? Stephen Hains discusses.

I admit that when news of Liverpool's bid for Rickie Lambert came through I was, initially, underwhelmed – I suspect a number of fellow fans where too. This wasn't due to Lambert's ability or his performances spearheading Southampton to the upper echelons of the Premier League but rather a consequence of Liverpool's current trajectory and performances these past 18 months.
With another title challenge hopefully on the horizon and a Champions League campaign to negotiate, Liverpool fans could be forgiven for thinking that the bargain hunting days would be behind us and instead hope that proven quality recruitment would become the norm.
On closer inspection however, Lambert's capture has parallels with one of Liverpool's greatest signings of the Premier League era and could turn out to be one of the signings of the summer.
In the summer of 2000 Gerard Houllier had just stabilised Liverpool following a difficult 18 months instigated by the club's ill-advised experiment of joint-managers. Once Roy Evans had cut ties with the club he had served for so long with such distinction, Houllier began the process of changing the club from one that still genuinely believed it was the dominant force in domestic football into one comfortable with its position as potential challengers.
After the team's fourth place finish in 1999/2000 expectations were raised that the success might not be too far away. In the summer of 2000 the Reds acquired six new signings, one of these had such an impact that his presence was felt even this past season.

The signing of Gary McAllister on a free transfer from Coventry City wasn't met with great fanfare. Fans questioned Houllier's decision to sign a player who would turn 36 during the season and whose involvement could possibly stunt the development of some of our younger midfielders, notably Steven Gerrard.
Once the season began the signing looked folly as a red card in the team's second game had fans fearing the worst. Soon however, McAllister's experience, engine and class at set plays began to shine through.
As the campaign progressed it became clear that the Reds might be in for a long season thanks to involvement in all three cup competitions and would need the whole squad to dig deep and hold their nerve. Nobody epitomised this more than McAllister.
Vital goals against Barcelona in the UEFA Cup semi-final and that injury time 44-yarder at Goodison Park were supplemented by crucial strikes during the run-in against old club Coventry City and Bradford, among others.
A man of the match performance in the UEFA Cup final triumph against Alaves and an experienced substitution performance late in the FA Cup final against Arsenal, assisting Michael Owen's equaliser, further enhanced his reputation among the Reds faithful.
With a treble of trophies and Champions League football for the following season secured those who questioned McAllister's purchase were looking very foolish. What perhaps was more influential and had a longer impact on the club was the experience and advice passed on to our young stars, namely Gerrard. Our current captain has gone on record to play tribute to McAllister's influence and the impact upon his game at such an impressionable age and it is here that the signing of Lambert makes most sense.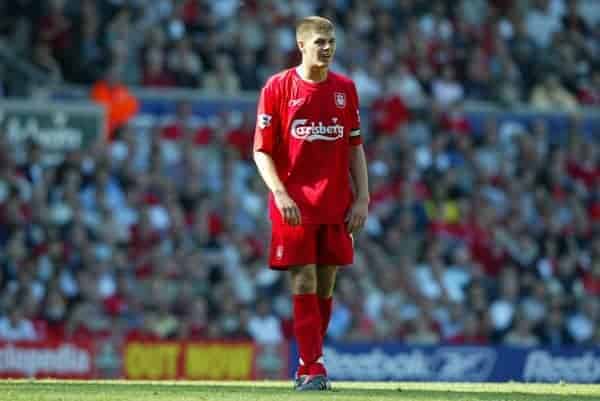 During this past season the attacking verve and thrust of the side came predominantly from Luis Suarez, Daniel Sturridge, Philippe Coutinho and towards the end of the campaign, Raheem Sterling. The addition of Lambert to this group gives the side another attacking option and also offers the four previously mentioned vital experience and perhaps most importantly, provides them all with a fine example of what kind be achieved with single-minded hard work.
Lambert's journey from Liverpool reject through the lower reaches of English football and back to Anfield has been well told in recent days but it is this Roy of the Rovers story which can be an inspiration not just for fans but also for his new teammates.
Young stars like Sturridge, Coutinho and Sterling, although clearly with the footballing world at their feet, are still at a relatively precarious stage in their footballing development. On the back of a stirring league campaign and with potentially vital contributions for England to come for Sturridge and Sterling, the trio can legitimately be at the forefront of their sides challenge for domestic and international honours for the next ten years.
To achieve this they must couple their undoubted talent with a desire to squeeze as much of that talent out of themselves as possible – something Lambert has done throughout his career. While he may lack the natural talent of his new peers he can point to his desire to get where he once dreamed of and his willingness to put in the graft to achieve his goal.
Brendan Rodgers would be wise to use Lambert's forays in the lower leagues and the ultimate realisation of his dream as a message for his young players that success is gained through more than natural gifts. When he meets his new teammates for the first time following the World Cup you could forgive Lambert a certain amount of nervousness in entering a dressing room with such thrilling attacking talent. He should however, stroll in with his head held high and know that this is the way to arrive at your boyhood club.
Stephen Hains