Liverpool manager director Ian Ayre is to be promoted to the role of chief executive, the club's first since Rick Parry in 2009.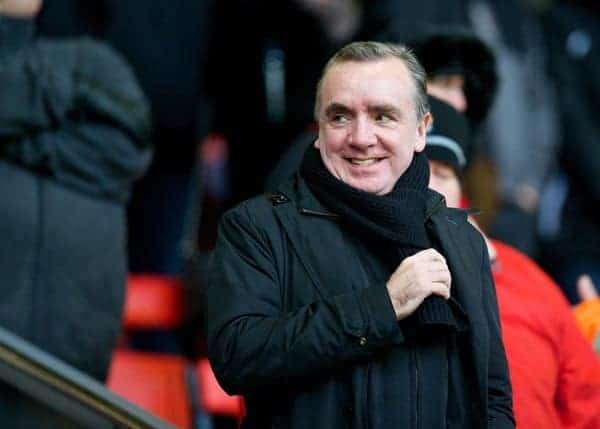 Originally appointed under the Tom Hicks and George Gillett ownership, Ayre was commercial director at Anfield until March 2011, when Fenway Sports Group promoted him to managing director.
A signing every week and there's still a month till the window opens. Take a bow Ian Ayre! #LFC

— MahmoudLFC (@Mahmoud093) June 5, 2014
The Liverpool Echo report that his most recent promotion comes as a reward for the club's growing success on and off the pitch:
Among Ayre's successes are his role in persuading Luis Suarez to remain at Anfield last summer.

He is also credited with vastly improving the club's commercial performance, helping to secure landmark sponsorship deals with the likes of Warrior Sports and Standard Chartered.
And for those of you wondering quite what a chief executive is, Investopedia defines it as:
The highest ranking executive in a company whose main responsibilities include developing and implementing high-level strategies, making major corporate decisions, managing the overall operations and resources of a company, and acting as the main point of communication between the board of directors and the corporate operations. The CEO will often have a position on the board, and in some cases is even the chair.
Ayre has also been involved with the progress of Liverpool's ambitions to redevelop Anfield and increase capacity.
On Wednesday, the club officially submitted their planning application for the proposed redevelopments, with work scheduled to start in early 2015.
The Main Stand should be completed in time for the 2016/17 season, with a further phase of development planned on the Anfield Road End following that.
Good to see LFC completing transfers early on. Two down. Kudos to Ian Ayre #YNWA

— Imran Raheem (@imranr_) June 5, 2014
There was more good news for Liverpool and Ayre on Thursday when they announced they had agreed a deal with German side Bayer Leverkusen over the transfer of midfielder Emre Can.
Can is expected to be confirmed as a Reds player on July 1st, with the fee reported to be around £9.7 million.
Is Ayre the right man to take Liverpool forward in a chief executive role? Let us know your thoughts in the comments section below.