With Borussia Dortmund forward Marco Reus tentatively "linked" with a move to Liverpool this week, Jack Lusby says the Reds should go all out for the German star.
Naturally, the departure of Luis Suarez has caused a clamour for a replacement for the Uruguayan at Liverpool.
As one of the club's most talented ever players, the 27-year-old is nigh on impossible to replicate in terms of playing style, suitability to Brendan Rodgers' system and sheer consistent quality.
A direct contribution to 43 goals in 33 Premier League games last season is nothing to be baulked at.
However, with The Guardian this week linking the Reds with a move for Borussia Dortmund and Germany forward Marco Reus, perhaps Liverpool have found the most worthy of replacements.
These tentative links are reinforced by Spanish journalist Kike Marin, who tweeted regarding the club's interest on Sunday night.
Roughly translated, Marin claims "Arsenal were interested in Reus, but now it's Liverpool who seem to be offering up to £45 million for him to Dortmund."
Tenuous links via twitter were then made into an article by The Express, which fuelled the rumour mill as each media outlet regurgitated one another.
These links were quickly refuted, however, by The Times' Tony Barrett.
No smoke without fire?
With the Reds receiving a fee of around £75 million for their maverick former star, this potential investment would be a significant plunge into the coffers.
Rodgers will never find a genuine, like-for-like replacement for Suarez, but Dortmund's Reus is one of the only players worth breaking the bank for.
For Dortmund
Match facts #fcbbvb: @woodyinho Reus involved in all of BVB's last ten goals http://t.co/IyW1Ji4wQF pic.twitter.com/DkgwsOIGrf

— Borussia Dortmund (@BVB) April 13, 2014
Jurgen Klopp's Dortmund side have been subject of high praise and noted respect in recent years due to their swashbuckling attacking style and typically efficient performances.
Players such as Robert Lewandowski, Pierre-Emerick Aubameyang and Mats Hummels are exemplars of this quality; Lewandowski scored 74 goals in 131 Bundesliga appearances for the club whilst Hummels shone at this year's World Cup.
Reus is no different, and has become an integral feature in the wild-eyed Klopp's side.
The 25-year-old made his senior debut for BVB in 2012 following a £14.5 million move from fellow Bundesliga side Borussia Monchengladbach.
On Reus' signing, Dortmund sporting director Michael Zorc described the forward as "our absolute first-choice attacking player."
As much as Lewandowski's goals have been vital to the success of the side, Reus is just as important.
3-0: Mkhitaryan, Reus and Hofmann fire BVB to a win in Munich! #fcbbvb http://t.co/Zhhk8WYlA5 pic.twitter.com/ffM6OesvcY

— Borussia Dortmund (@BVB) April 13, 2014
Last season, the No. 11 scored 16 goals and made a further 13 assists in 30 league games, an exceptional return for any respectable player.
This helped Dortmund to their second-placed finish last term.
Reus contributed directly to a further seven goals in nine Champions League appearances throughout 2013/14, solidifying his credentials in both competitive league and European competition.
Whilst Dortmund are far from a selling club, it is no wonder why their star is now touted as being worth three times the fee they paid just two years ago.
For Germany
Germany made sure to not forget Marco Reus, who was injured just days before the World Cup pic.twitter.com/miIo7gqgdy

— ESPN FC (@ESPNFC) July 13, 2014
Despite their breeze to the World Cup trophy this summer without him, Reus is equally as important for his country as he is his club.
It was a devastating blow to Joachim Loew's side when the forward had to pull out from the squad with injury prior to the tournament.
The 25-year-old played a huge hand in Germany's qualification for the tournament, scoring five goals in six games.
Former Liverpool and Germany midfielder Dietmar Hamann described Reus as "Germany's most influential and best player going forward," in a live webchat recently.
Having played with such talents as Michael Ballack, Steven Gerrard and Juergen Klinsmann, the Reds' Champions League winner knows a thing or two about attacking might.
Replacing Suarez and Becoming Liverpool's Record Signing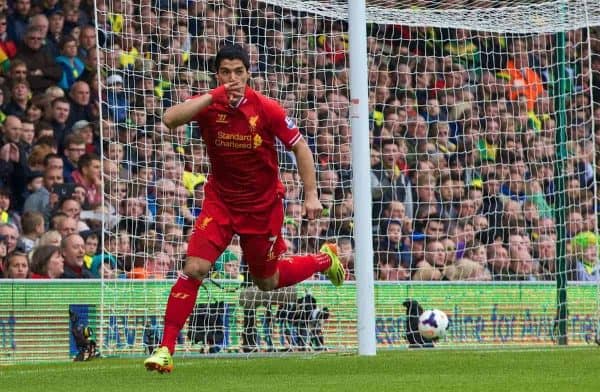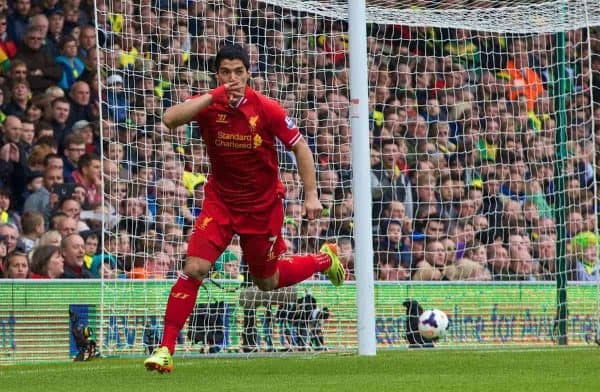 It is likely the talent of Suarez will never be entirely replaced, and Rodgers will undoubtedly look to shift his attacking system around rather than shoehorn one player into the existing format.
Reus possesses a remarkable versatility, having featured all across the front line for Dortmund last season.

This would allow Rodgers the flexibility of adapting a system that will also encompass the talents of Adam Lallana, Philippe Coutinho, Raheem Sterling, Lazar Markovic and Daniel Sturridge, amongst others.
With Markovic an established right winger, and the respective qualities of Lallana, Coutinho and Sterling arguably at their best in the centre, Reus could fill a Suarez-shaped void on the left-hand side of attack.
Luckily, this is where the German is most effective, and the Dortmund man would surely compensate for the loss of Suarez from that flank.

According to Squawka, last season only "one player at Dortmund scored more than him — Robert Lewandowski with 20 — and only Max Kruse (97) created more chances than him in the German league."
Suarez scored 31 goals and created 87 chances.
Of these chances, many were converted into goals and Reus "also assisted 13 goals with only Angel Di Maria (17) [creating] more in Europe's best leagues."
Suarez made 12 assists.
This direct contribution in terms of goals would see Reus slot perfectly into a Rodgers side now lacking hugely on that front; new signing Rickie Lambert is a menacing goal threat, but was surely only acquired as third choice.
Replacing Suarez in terms of overall playing style and influence over the Reds' on the whole will be a tough task, but Reus would seemingly fulfil the role on a direct level at least.
The £45 million fee touted for the 25-year-old would break the club's record transfer fee—the £35 million paid for Andy Carroll in January 2011.
That signing remains a blot on the FSG copybook and, whilst it arguably doesn't figure on the consciousness of John Henry and Tom Werner—and it shouldn't—making the move for Reus would symbolically bring a disastrous era to an end.
Signing the German would be a huge statement of intent by the club's owners, and would eclipse even Arsenal's move for Alexis Sanchez as the biggest signing of the summer.
Should Liverpool spend the majority of the Suarez money on Marco Reus this summer? Let us know in the comments below.