As Liverpool announced the signing of Serbian attacking midfielder Lazar Markovic this week, Jack Lusby believes that the club's investment should now be focussed elsewhere.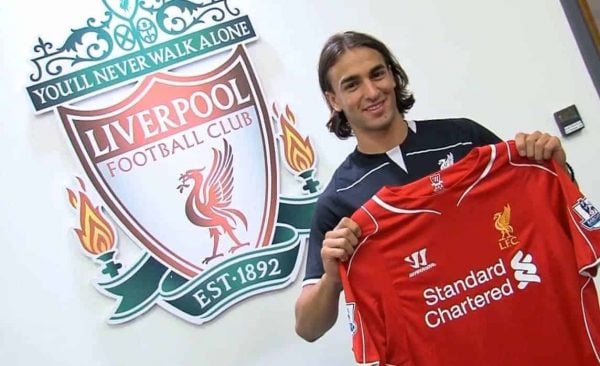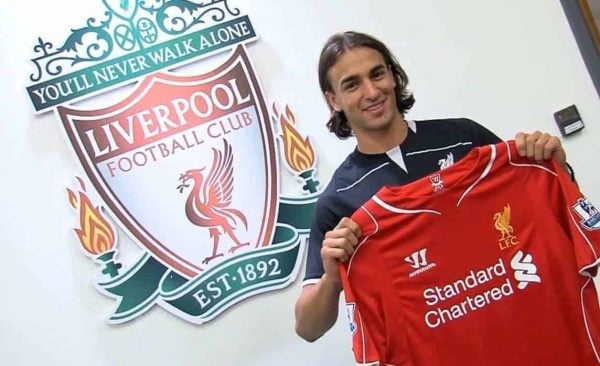 On Tuesday evening, Liverpool announced the long-awaited signing of Benfica midfielder Lazar Markovic, in a £20 million deal.
The 20-year-old becomes the Reds' fourth summer signing, and is another big statement of intent by manager Brendan Rodgers.
With great potential and an abundance of immediate talent, Markovic can be one for both the present and the future.
#LFC are delighted to announce the signing of Benfica forward Lazar Markovic #LazarLFC pic.twitter.com/bP1assvE7k

— Liverpool FC (@LFC) July 15, 2014
Thus, Liverpool's midfield is complete, ostensibly.
Now, with this acquisition finalised, Rodgers and the club's owners, John Henry and Tom Werner, should now point their chequebook at other, more pressing issues in the squad.
Lazar Markovic: "I won the title at Partizan and Benfica. Now I want to win the title with #LFC." #LazarLFC pic.twitter.com/I9pRwA47no

— Liverpool FC (@LFC) July 15, 2014
Markovic joins Rodgers' squad with a plethora of skills ready to be honed, and many which will lend themselves to the Ulsterman's system immediately.
Andy Brassell, via the Liverpool Echo, described the midfielder as "one of the very best young players in Europe," with "an uncommon gift."
"[T]he size of Benfica is enormous and every game is a huge, huge pressure… You've got a player that, despite the fact he's only just turned 20, is able to grab a game by the scruff of the neck in a way not a lot of players can."
Brassell points towards the Serbian's versatility, able to play on the left or the right, or "as a number 10…that's where he's most effective."
VINE: Liverpool fans, you've got this to look forward to with Lazar Markovi? – https://t.co/ZnAupqj1rR (Via @dominicvieira).

— Squawka Football (@Squawka) July 15, 2014
With searing pace and a big-game attitude, Markovic helped himself to five goals and four assists in 26 Primeira Liga games last season, according to Transfermarkt.
Furthermore, according to his new manager, there are less quantifiable qualities to Markovic's game—mental attributes that can be considered as crucial as physical.
Brendan Rodgers on Markovic: "He is the sort of character who is hungry to get better and progress – what we look for in players." #LazarLFC

— Liverpool FC (@LFC) July 15, 2014
At 20 years old, and with the prerequisite hunger of a Rodgers signing, Markovic has great scope to develop within this Liverpool squad.
Much like fellow new signing Emre Can, despite his age Markovic is very much one for the now, and can expect to feature prominently this season.
Liverpool's Senior Midfield
Much of the summer so far has been spent reinforcing the Reds' midfield—Luis Alberto has been sent out on loan, but Can, Adam Lallana and now Markovic have been brought in.
Brendan Rodgers' #LFC summer transfer business so far… #LallanaLFC #LambertLFC #LFCCan #LazarLFC pic.twitter.com/qXjmaIfdtP

— Liverpool FC (@LFC) July 15, 2014
Allowing for the departures of Lucas Leiva, Oussama Assiaidi and Conor Coady, all mooted to be moving on this summer, the signing of Markovic completes an eight-strong midfield.
The players below can be safe in the knowledge that they will feature—injury layoffs pending—in a large proportion of the Reds' competitive fixtures throughout 2014/15.
Senior midfield players: Steven Gerrard, Jordan Henderson, Emre Can, Joe Allen, Adam Lallana, Raheem Sterling, Philippe Coutinho, Lazar Markovic.
As captain, and an extremely effective performer in his regista role last season, Gerrard can expect to start the majority of games this season, although an increasingly waning age may see Rodgers introducing Can into this deep-lying position with regularity.
Henderson, naturally, will act as Gerrard's accomplice, and within the likely 4-3-3 formation for Liverpool next season, could be joined by Allen, or perhaps Lallana, in a midfield three.
Elsewhere, Lallana, Sterling, Coutinho and Markovic could fight it out for the attacking midfield positions supporting Daniel Sturridge in the centre-forward role.
Possessing a senior midfield with depth and malleability, Rodgers could also look to supplement these positions with a few youthful contenders.
Ibe, Suso, Teixeira and Rossiter
#LFC youngster @IbeJordon has one primary aim for this pre-season: more minutes on the pitch – http://t.co/i0t51TfIY9 pic.twitter.com/h6J3yBfFS1

— Liverpool FC (@LFC) July 14, 2014
If the emergence of Sterling under Rodgers has taught us anything, it's that the Northern Irishman is not afraid of putting his faith in youth, and that this has the potential to pay dividends.
The 19-year-old took the Premier League by storm in the second half of 2013/14, much due to the unexpected nature of his rise.
With an abundance of talent available to Rodgers in the midfield already this season, it wouldn't be remiss to suggest that the Liverpool may look to add to this further within the club's youth ranks.
The most notable talent within these banks is 18-year-old winger Jordon Ibe, who impressed so boldly in the Reds' win over Shamrock Rovers in post-season.
The former Wycombe Wanderers talent has expressed a desire to force his way in to Rodgers' thinking this season, according to the Liverpool Echo.
Jordan Ibe wants to follow Raheem Sterling's path to the Liverpool first team http://t.co/YJ9o7Eslxk

— Liverpool FC News (@LivEchoLFC) July 14, 2014
Ibe maturely opines that "Raheem is only a year older than me so I need to follow in his footsteps, and watch all of the other attacking players," and this could lend the midfielder greatly this coming season.
Another such player is Spanish playmaker Suso, who spent last season on loan at La Liga side Almeria.
Again, the Liverpool Echo reports that 20-year-old is keen to draw from this experience and earn a new contract with Liverpool this season.
Suso: "For me, there is no bigger club than LFC. The crowd, the people, the stadium and the Kop – that's a feeling that you cannot explain."

— LFC Fans Corner (@LFCFansCorner) July 13, 2014
A formidable creative talent, Suso could offer Rodgers another well-fitting midfielder for the No. 10 role, perhaps in Coutinho's stead at times.
Furthermore, add to this pair Portuguese central midfielder Joao Carlos Teixeira, who played a vital role in Liverpool's 3-2 victory over Fulham last season, and 17-year-old star Jordan Rossiter, named on the bench in the December defeat to Chelsea, and Liverpool's midfield ranks have swollen considerably.
Rodgers should stick with youth to further supplement his midfield, and now focus his investment elsewhere.
Where Next for Rodgers?

There are three key areas for the Liverpool manager to focus his attentions in the coming month or so.
It is clear that a left-back is a pressing priority for Rodgers, who clearly doesn't trust Spaniard Jose Enrique to fulfil the long-term requirements that the role demands; Jon Flanagan, so impressive last season, could move to his natural right-back role.
Elsewhere, with interest in Southampton man Dejan Lovren long-standing, centre-back is another area that the Reds need to focus their investment on.
Martin Skrtel and Mamadou Sakho are defenders of great quality, but added competition this season is a must.
Finally, as Sturridge often struggles with fitness issues—making near enough the same number of appearances as the perennially suspended Luis Suarez last season—another centre-forward should be sought after.
Wilfried Bony would be the ideal target, unless a genuine, world-class option becomes available, and should be made a top priority following Markovic's arrival.
PHOTO: Lazar Markovic poses for photos at #LFC's training complex #LazarLFC pic.twitter.com/GypXkk1hLM

— Liverpool FC (@LFC) July 15, 2014
The signing of this Serbian star is another marker of intent in longevity by Rodgers, but now the Liverpool manager needs to focus his coffers elsewhere.
Has Lazar Markovic completed Liverpool's midfield? Let us know in the comments below.