Liverpool captain Steven Gerrard to looks set to earn a new deal at Anfield, as he continues to flourish well into his 30s. Henry Jackson discusses the 34-year-old's future, and looks at the positives of Gerrard staying on for the foreseeable future.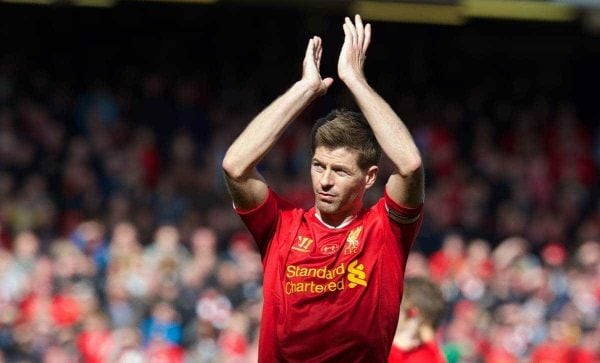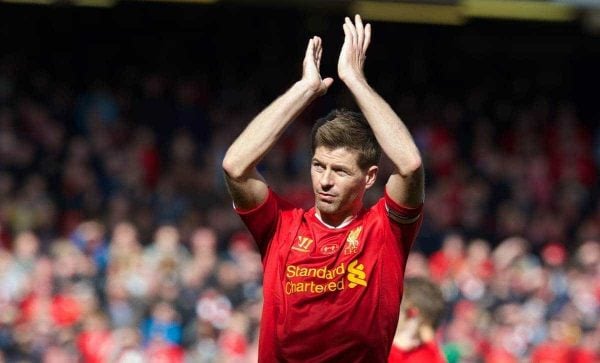 Liverpool manager Brendan Rodgers has confirmed that Steven Gerrard will almost certainly be offered a new contract at the club, with his current deal expiring in 11 months time.
Rodgers has said that Gerrard's decision to retire from international football was "great" for the club and he also feels that it will allow the 34-year-old to play for another "3 or 4 years".
"A lot has gone on over the summer. I am very happy that Steven is now going to commit to Liverpool and I am sure that (his contract) is something we will look at," said Rodgers.
"I know he can continue to play beyond this season. I have always said that. Now he doesn't have international football, he will have that freshness.
"Listen, for his own mind, I'm sure he will want it sorted out, absolutely. You never want to leave players with not too long to go on their contract. It is something I am sure will get sorted."
New Role
You only have to look at how Gerrard performed in his new deep-lying playmaker role last season to see why Rodgers is so confident about his captain's future.
Much like Paul Scholes and Andrea Pirlo, the Reds skipper has adapted his game brilliantly, and his new role is built around technique and intelligence rather than speed and fitness.
Liverpool have an abundance of youth in their side, from Raheem Sterling and Philippe Coutinho in attacking areas, to Jordan Henderson, Emre Can and Joe Allen in midfield.
Having Gerrard as the experienced head controlling the game works perfectly, and the endless running of the aforementioned young stars around him means his increasing lack of mobility is not an issue. There is absolutely no reason why he can't continue to thrive into his late 30s.
Considering the 34-year-old has only spent one season in his new position, he will still feel he has plenty to learn there. At times his defensive expertise in a positional sense has been called into question, and being the perfectionist that he is he will no doubt be working on improving that aspect of his game.
Ambassadorial
Having Gerrard around the club for the foreseeable future is also huge in terms of the image of Liverpool Football Club.
He is one of the most respected midfielders in world football, and the chance to play alongside him is clearly a huge lure for some players. Being able to train every day with someone you have always looked up to can only be huge in terms of the development of players like Henderson, Allen and new signing Adam Lallana, among others.
Having an English, boyhood Liverpool fan as captain also gives the team that heart and soul that is lacking in so many sides these days. Ryan Giggs became very much a squad player in his latter years at United, but having him around still was of enormous benefit to Man United. The same apples with Gerrard.
The one thing that is impossible to avoid accepting, however, is that Gerrard cannot remain a fixture in the first-team forever.

Future
He is now at an age where he has to be managed sensibly. It will be impossible for him to maintain consistently excellent performances at the highest level if he is playing back-to-back Premier League and Champions League games all the time, for example. That will be one of Rodgers' biggest challenges in 2014/15.
As it stands Gerrard is still very much an integral member of the starting XI- a fairly miserable few months for him make it easy to forget he came well he played last season- but, like his former rivals Scholes and Giggs, his influence will start to wane over the next year or two. That's only natural.
It's time for the likes of Henderson and Allen, players who have generally been in Gerrard's shadow since arriving at Anfield, to step up and take over the mantle. They were both signed for a lot of money, and as potential long-term replacements for the legendary skipper.
Henderson, in particular, looks the most likely to eventually become Liverpool's midfield lynchpin.
The 24-year-old has come on leaps and bounds over the last 18 months- some are even tipping him to be Liverpool's next captain once Gerrard steps down- and although not as naturally gifted as his illustrious teammate, you could imagine him being mentored by Gerrard and eased into the role.
There were many who wrote Gerrard off around the start of this decade, with niggling injuries affecting his form and his marauding style no longer at the world-class level it once was.
Some deemed him incapable of altering his style of play, but the way he has reinvented himself has been an absolute joy to watch. Rodgers certainly deserves a huge amount of credit for this.
It has allowed him to remain one of the most important players at the club, and his forthcoming new contract simply highlights how highly he is still regarded.
We've all been privileged to witness 15 years of Steven Gerrard at Anfield, and it's fantastic news that there is no sign of him going away just yet.
Let us know your thoughts on Steven Gerrard's imminent new deal in the comments section below.