With Champions League football back on the agenda at Anfield, would fourth place represent a successful 2014/15 Premier League finish? Nial Toner discusses.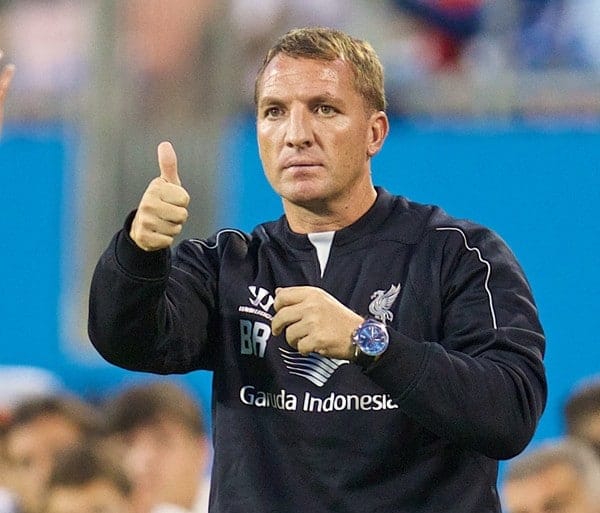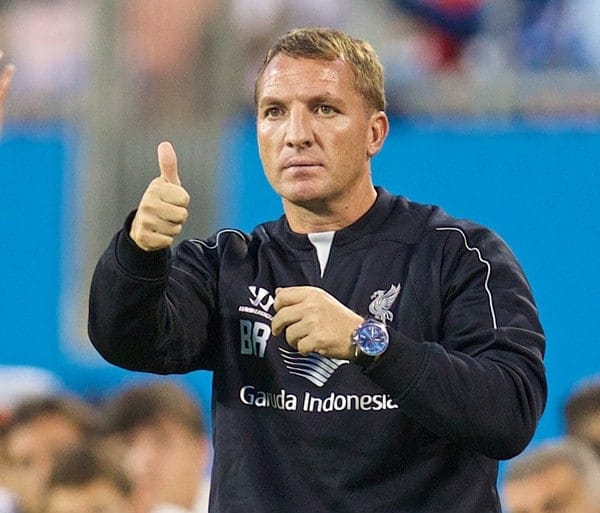 After the heroic exploits from the team last season when we came within touching distance of the title, for many fans, the next form of progression would be another title challenge in 2014/15.
While I feel the squad is in much better shape than last year, the loss of Luis Suarez may have taken away that little bit of magic that we needed to go all the way.
Like most fans I watched on last year and dared to dream as Brendan Rodgers led the team, fans and city on what can only be described as a rollercoaster ride. From the turn of the year we saw the best football played by a Liverpool team in modern times and we were disappointed to finish second!
This shows just how far we have come under Rodgers; the fact that we were disappointed with second. For me, this was more down to the way in which we finished second than the fact we actually finished here, but for me it has left one burning question all summer – would 4th place be a disappointment in 2014/15? For me, the answer is simple – NO!
We need some consistency
When I think back to 2009 when we finished 2nd under Rafa Benetiz, we had one of the best sides in Europe and were in a great position to push on as a club. Players like Pepe Reina, Jamie Carragher, Steven Gerrard, Xabi Alonso, Javier Mascherano and Fernando Torres; we had the basis of a team that should have challenged for the title for many years to come. It wasn't to be the case though and after losing some key players we managed to drop from finishing 2nd to finishing 7th, and it has been four long, hard seasons to get back up there with the elite.
Having lost Luis Suarez, the important thing for Brendan Rodgers and Co is that we stay in the top 4 this season, so for me, this means our target should be 4th place. A 4th place finish this coming season will be a success in my book; anything less can be seen as a disappointment.
Why 4th place can be seen as a success this year
Like most fans, if I'd have been offered 4th place at the start of last year, I'd have bitten someone's arm for it (if Luis wasn't there first – sorry, couldn't resist). I believe we overachieved last year, and in doing so, the expectations of many fans will have gone up this year.
While I would love nothing more than another title run in this season, and to see Anfield bouncing again, a regular run in the Champions League is something I think the majority of Liverpool fans would take for the coming years.
We have signed well over the summer and are one or two players shy of having a team that can really challenge for the title, but we now have a squad that can handle the demands for an increased number of games this year.
Everyone else has improved
The competition is also going to increase this year. If we look at the teams that finished outside the top 4 last year, Everton and Spurs haven't really lost anyone, and I'm expecting those sides to push the top 4 all the way this year. Man Utd will be a completely different side under Luis Van Gaal and the threat of these teams alone show how competitive the battle for 4th place is going to be.
Then we look those sides that finished in the top 4 with Liverpool last year – Arsenal, Chelsea and Man City. These sides have all strengthened, and unlike Liverpool, haven't lost their key player. Chelsea may have lost Frank Lampard but they have added quality in Cesc Fabregas, Diego Costa and Felipe Luis, while Arsenal and Man City have both added quality to their squad.
The big 4 has become a big 7
The strength of the top 7 sides has turned the big 4 table into a big 7 now, with each side capable of taking points of one another in any given game. This highlights the importance of finishing in the top 4, and for me, this increased competition for the coming season is a big reason as to why 4th place would be a success for Liverpool.
We have a young squad and will be dealing with the loss of Luis Suarez, so it's important to ensure we are still qualifying for Europe's premier competition next year. A 4th place finish come the end of the season would represent a good season for Liverpool, anything else will be an added bonus. It would be great to win a cup and get a good run in the Champions League, but for me, top 4 needs to be the priority.
Can we win the league?
I'm not going to say that we can't win the league because I think Brendan Rodgers has the team set up well to challenge and the players have a belief that has been missing for many years. I don't think we will win the league this year however as I feel Man City and Chelsea will both be too strong. I do however feel that we can consolidate our position in the top 4, and just like last season, if I was offered 4th place right now, I would take it.
Would you be happy if we finished 4th place this year? How do you think the team will fare out this season? Let us know below.