Contrary to what you may have heard, the footballing world of Liverpool does continue without Luis Suarez, writes Rebecca Parry.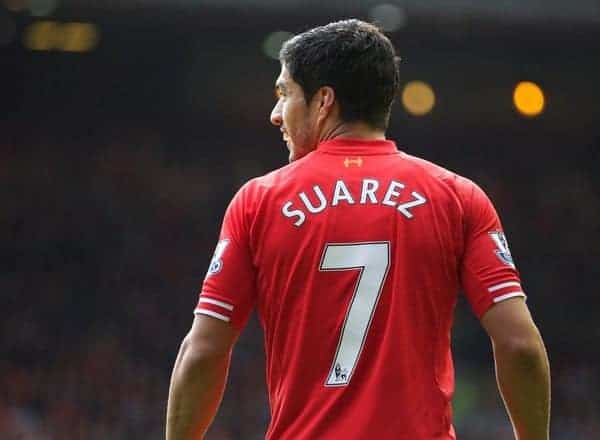 For the media and opposition fans alike (Gary Neville, I'm looking at you), Liverpool are seen as just another team scrapping for a top four place now that the Uruguayan made his inevitable move to Barcelona. Last year was seen by some as an anomaly, and it was thought that progress was only made due to the genius of Suarez.
What Suarez in fact did was help in the progression of this side as a whole. The final set of games last season, the 11 straight wins, took Liverpool that one step further. We were no longer just a decent side with a world-class player up front. The way the system worked complimented each individual's game, giving us the stepping stone we needed to go forward.
Losing Suarez was always going to be a hammer blow, but using him in that system did bring the best out of everyone else too. And bringing in the players we have this Summer, our players aren't exactly running round like lost puppies. In pre-season, we're not struggling to come up with the goals.
Team Strength
A striker is needed, yes, but it's so refreshing now to be in the situation where a striker is all we need – we are covered in every position. New players need time to settle in, but now we're faced with the luxury asset of A SUBS BENCH.
Of course, it's all talk until we see the so-called finished product in action, and according to Brendan Rodgers, we're still a couple of signings away from that. And as he likes to keep reminding us, we were a year behind schedule. His aim of getting back to the top, and fighting for the top prizes, was due in his third year.
Whether or not losing Suarez was inevitable even before the World Cup bite, worrying thoughts did start to creep in when you think of what he did for us last season.

Rodgers was praised for bringing in so many young players, but when it came to the big games, pundits would go on about how they're too young and inexperienced to deal with the pressure of a title race.
It wasn't the pressure that got to us last year, it was basic lapses of concentration which didn't need to happen. I don't think I need to bring up in analytical depth what happened at Crystal Palace again.
Sturridge
But there is so much to be positive about this year. With the signings we've brought in, with each one brings more and more promise. Being at the Dortmund game on Sunday, I can safely say I didn't feel uncomfortable with what I saw, completely the opposite.
It was difficult to nit-pick at where we could possibly improve in terms of what we are planning to do. Rodgers has correctly identified where we needed to, and has done so in numbers. The only somewhat "gap" left to fill, is the support for Sturridge.
Sturridge has always wanted the big-time. He's even admitted himself that he's always dreamed of being the main man, but is yet to have been given that opportunity. And as much as he was involved in the SAS praise, there was only one man who was being noticed on the world stage. Without even being in the Champions League at the time, Suarez was rightly being gifted the plaudits.
But, Daniel, you wanted your time, and now you've got it. One of the main things that our season hinges on, is his fitness. We've got no problems in creating these goals, it's just finishing them off, and he can do so brilliantly.

As a fan, it's so frustrating to see that Liverpool are still not being spoken about in terms of winning the title. Constantly you hear of how Chelsea and Man City are too strong, how Arsenal are coming back now because they've gone marquee in securing Sanchez, and how with a new manager, Man United are in the right direction of coming back up too.
I think we learned the hard way last year that it's not an easy journey, but a mightily enjoyable one. But I honestly believe that some of the football we saw towards the end of the season was just the beginning.
There's nothing more Brendan Rodgers could have done this Summer. Regardless of whether Suarez was going to leave or not, we had to bolster the squad, and that we have done.
And in terms of football, if the build-up to Henderson's goal against Dortmund is anything to go by, I'd say that losing our star striker wasn't exactly the apocalypse everyone predicted and some still predict to be.
Luis Suarez has played a big part in firing us back to where we belong in fighting for the title and being in the Champions League – it's now the completed Rodgers revolution's job to keep us there, and even go one step further. On Sunday, we go again.