Joseph Cousins pens a new Kopblog just in time for the new season with some interesting analysis on Daniel Sturridge's future.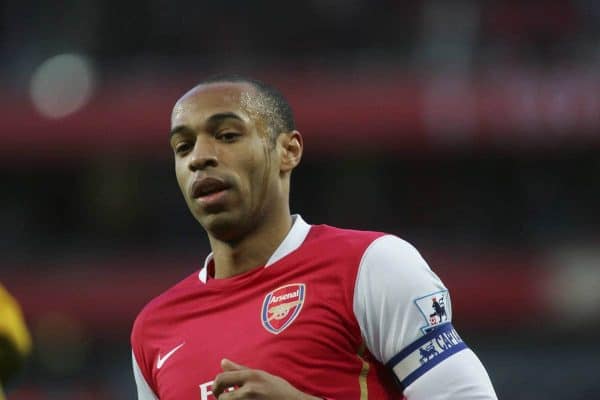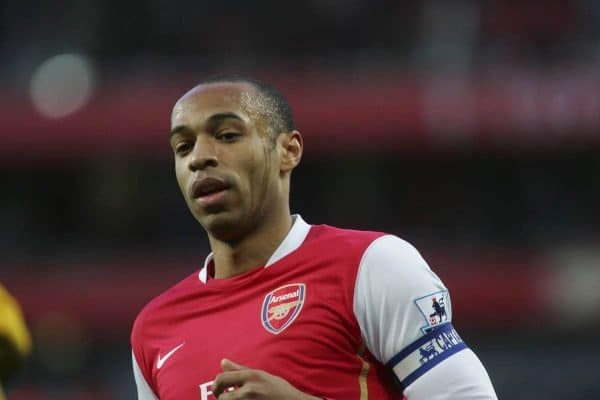 I was a massive fan of Thierry Henry. The very first time I watched him in a game was for Monaco against Man Utd at Old Trafford in the Champions League. He played on the left wing and was very impressive. From that moment I wanted Liverpool to sign him and hoped Gerard Houllier would be able to use his contacts to pull off a deal. Obviously that didn't happen and the player went on to impress for France in the 1998 World Cup before going to Juventus where he struggled and then signing for Arsenal in 1999/00.
Straight away he looked good, although he missed some easy chances in his first few months, he was clearly one of the best young players in the premier league. What I found very interesting though was whenever Arsene Wenger was interviewed around 1999-2002 and the reporter would gush over Henry's performances, Wenger would always say that there was so much more to come from the player, that he was some way away from fulfilling his potential. I always found it fascinating to hear this because as far as I was concerned Henry was already one of the best players in the league. So what exactly did Wenger mean? What was Henry capable of?
From around 2002 Henry's performances went from consistently brilliant to consistently breath-taking. He absolutely dominated the league with goals and creativity. Arsenal won 2 premier league titles and Henry plundered 130 league goals in 171 games. He won PFA player of the year twice and also won the European golden boot twice.
There is a good reason I've started an LFC blog going on about an ex-Arsenal legend and the reason is that I think Daniel Sturridge has the ability to do something similar. I think Sturridge has the ability to truly dominate the league with goals and creativity. Dominate it to the extent where he wins the PFA and Football writers player of the year awards. Dominate it to the extent where there is no doubt as to who the best player in the league is. I think Sturridge has that kind of talent. The question is whether or not he has the drive, determination and fitness levels to do it. That's not me being critical or questioning his attitude.
Sturridge didn't get to be Liverpool and England's first choice number 9 on talent alone. There has to be a high level of determination and focus. But I think the world's best players have a drive and determination on a different level. It's what propels them to the elite in my opinion. Players like Messi and Ronaldo do it week in week out year after year. Henry did it for Arsenal. I think Sturridge can do it for Liverpool.
Last season Suarez was the best player in the country by a distance and is regarded by most as the third best player in the world at the moment.
Here's how Suarez and Sturridge compared last season in the Premier League:
[table id=72 /]
Sturridge
There is a stat I'd like to refer to that is not on the table above. The percentage of available minutes played. For example playing the full 90 minutes in 38 games would be 3,420 minutes. Sturridge played 66% of that. It is quite difficult to dominate a league only playing 66% of the time. In comparison Suarez played 87% of the time. Despite the 5 match ban at the beginning of the season. Sturridge needs to play more minutes it is as simple as that. Otherwise we will need to buy a striker that is close to him in quality.
The stats that are in the table above tell us Sturridge has a fantastic goal scoring record. 0.83 goals per 90 minutes would be 30 league goals if he played an equivalent of 36 full games.

Shooting stats are good and are not that far behind Suarez as are the assists. Take ons and duels won are even better than the Uruguayan.
Where he significantly behind Suarez is key passes and chance creation which suggests either Suarez gets a lot more involved in attacks or is just a better creative player. Or maybe it is a bit of both.
Now that Suarez is no longer at the club, the manager is likely to go with a 4-3-3 formation, which will give Sturridge the opportunity to operate as a lone striker. He should get more involved in attacks and he'll get the opportunity to create more chances.
In his time at the club Sturridge has proven to be very creative. Some assists that stand out  are the assist to Suarez at Stoke, the back heel assist at Cardiff and just last week against Dortmund he produce some sublime play with the assist to Henderson. I think Sturridge can produce this type of creative play every week.
What will help Sturridge fulfil his potential and at the same time enable the team to be more competitive is having Sterling and Coutinho in the team more often than they were last season. Sterling played only 65% of minutes last season and Coutinho only 68%. I read a stat the other day which was tweeted by Andrew Beasely on twitter. Sturridge, Sterling and Coutinho have played a full game together just 4 times.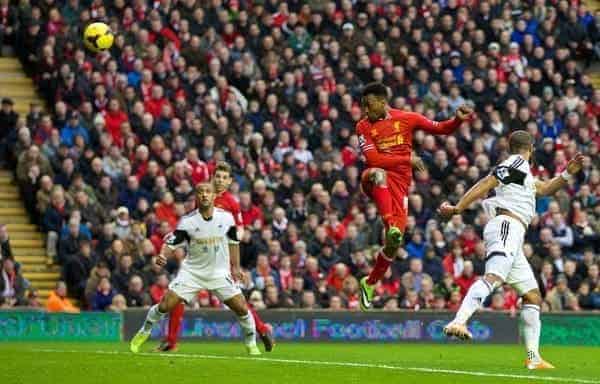 Sturridge has the talent to beat a player with skill or pace, he scores headed goals, left foot, right foot, outside the area, close range, tap ins, chips, lobs, power shots, toe pokes. He can dribble round the keeper or coolly side foot a one v one into the bottom corner. He has the confidence, the swagger and the self-belief.
Brendan Rodgers has said that the team is not relying on Sturridge goals. I interpret that as not trying to put too much pressure on the player. Brendan does like to emphasise how important the team is and realises that people will be looking closely at Sturridge (just like I am here). But privately I hope he has challenged Sturridge, in a similar way I think Wenger did with Henry. I could even see Shankly telling Sturridge he is the best player in the league by a mile and he'll easily score 30 goals. I want to see Sturridge get at least 30 goals and terrorise sides consistently.
Towards the end of last season both of our SAS strike force tailed off. When we needed them to push us over the line they were both found wanting. To date, Sturridge seems to be a streaky player, similar to Wayne Rooney where he'll be fantastic for 2 months but then just OK for a month, ineffective for two or three games and then fantastic for 2 months. Rinse and repeat. To be elite it's about being at least 8 out of 10 most weeks with a number of 9 and 10 out of 10 performances. Elite players don't play poorly often and when they do they still provide a couple of magic moments that can win a game or rescue a point.
It's looking increasingly like we won't be signing another striker so I think our fate very much depends on Sturridge's form and fitness. If he takes it to the next level we'll compete for the title. If he stays at the same level but plays more minutes – say 80% of available minutes I think we'll get a top 3 place. If he stays at the same level and misses as much time as he has through injury then we will have a struggle on our hands to secure a top 4 spot.
Goals from Midfield
It's not all on Sturridge but the other attacking positions in the team have depth. Lallana, Markovic, Sterling, Coutinho can all play either as a number 10 or as a wide forward. We'd have to be unlucky to have 3 of these players unavailable for any one game. (Although we currently have Markovic and Lallana unavailable for the match against Southampton).
In central midfield we have depth with Gerrard, Lucas, Hendo, Can and Allen. Coutinho can also play there. I wouldn't mind seeing Lucas upgraded though.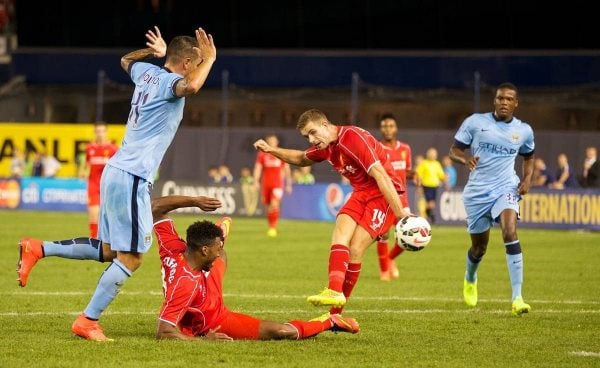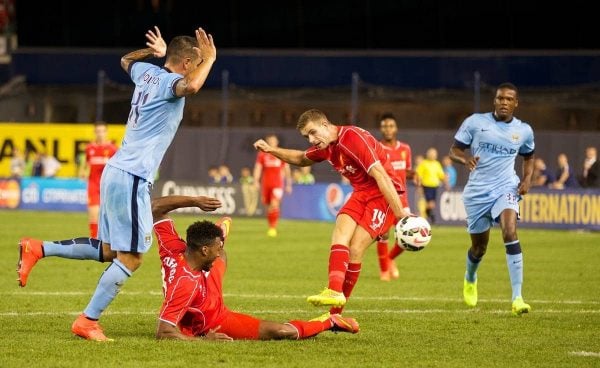 Moreno has finally signed (I think) meaning we are decent at left back with Flanno, Enrique and Johnson all able to play there. At right back we have Johnson, Manquillo and Flanno as options. It's not perfect (only because I've not seen either of the Spanish youngsters play) but it's decent.
Center back has been strengthened with the signing of Lovren so hopefully that improves things although I'm not convinced.
Goal keeper is a problem position for me but at least we won't be weaker there than last season. After my blog on Mignolet his form took a nose dive. He makes too many errors and doesn't command his box well enough. His kicking needs improving as well. He is capable though having shown that he can be a very solid keeper in the first few months of his Liverpool career. Hopefully he can get back to that level. I'm not sure why Brad Jones is still at the club. Seems a nice lad but he looks a bit of a calamity. A back up goal keeper is required I think.
Now, back to Sturridge. The only striker in the Premier League I rate above him is Aguero but he is a bit of a sick note having only played 45% of Premier League minutes for City last season and 56% of minutes the previous season.
Van Persie at 31 is past his peak in my opinion. Don't get me wrong he is still a superb finisher but I'd rather have Sturridge. Diego Costa is a very good player but again I'd rather have Sturridge. Our number 9 has more pace and flair and will score more goals.
No pressure then Daniel. All I ask is that you dominate the league, score 30 goals and win us the title. Cheers.