Liverpool's defence, and in particular new signings Dejan Lovren and Alberto Moreno, are under the spotlight after the 3-1 defeat to Manchester City on Monday night.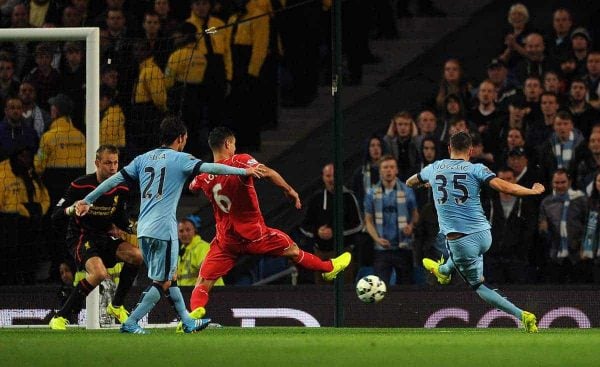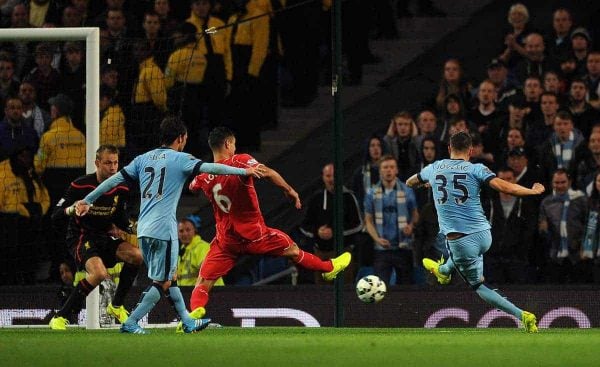 The Reds suffered defeat courtesy of Steven Jovetic's double and Sergio Aguero's finish seconds after coming on as a sub.
The first goal saw a weak header from Lovren and a hesitant clearance from Moreno, coupled with Steven Gerrard's failure to track David Silva's run, allow Jovetic to steal in and finish past Mignolet with a powerful strike.
The second goal saw Samir Nasri get in behind the back four with Lovren and Moreno having pushed up, while Martin Skrtel and Glen Johnson had dropped off – creating a quite horrible defensive line. With Jovetic's run from midfield not tracked, the Montenegrin had the whole penalty area free to finish from.
The third goal arrived just 23 seconds after Aguero was introduced, with fellow sub Jesus Navas setting the Argentinian free behind Lovren. He finished well, but Simon Mignolet was easily beaten at his near post.
All in all, there were many individual errors and clearly there will be some time before the new look defence are completely in tune – with Moreno's injury now looking to make that process more difficult.
The two new signings appear to be defenders used to playing a higher line, while Skrtel and Johnson are players who last season were often found dropping off, going deeper and inviting pressure.
This pictures and this headline from Carra doesn't go hand in hand for me. http://t.co/SpZ8mdUEYG pic.twitter.com/yiyTWCmER8

— Robin Fredriksson (@R_Fredriksson) August 25, 2014
Speaking on Sky Sports' Monday Night Football, former defender Jamie Carragher was critical of Lovren in particular.
"He didn't play well," said the former Liverpool centre-half.
"The whole back four never really functioned well and there were problems down that side with Moreno coming in for his first game. He has had a difficult night with Moreno on that side.
"Is it a one-off tonight in terms of the positions they've taken up or is it something that Lovren does a lot? They have got to come over and fill the space.
City are SO effective. But Lovren AGAIN and Mignolet done at his near post. This is very poor.

— Colin Spreag (@ColinSpreag) August 25, 2014
"We saw it with the Southampton goal last week and it's got to change – and change very quickly. Last week, when Lovren moved, Martin Skrtel never moved his position and there was a big space.
"That happened all night tonight. It wasn't so much in the central areas, it was more between the centre-back and the left-back.
"It's basic back-four work and it's something that Liverpool are going to have to work on because if it happens a lot in this league, you're going to get punished."
Lovren cant hold his position. He keeps running out when nobody else is following. Worrying.

— Matthew Sproston (@spros1) August 25, 2014
Fellow analyst Gary Neville agreed with Carragher, explaining:
"Liverpool never really had the tightness of Manchester City's back four," Neville said.
"It's down to training and I suppose you could argue that City's back four have played together for six months and Brendan Rodgers has got a new back four.
"It's obvious and it's a good thing for Liverpool that the problems are there and you can see them. Tonight, generally the problems were between Moreno and Lovren.
"Last week, you saw space develop between Skrtel and Lovren. These are things that are very easily rectified by video work, work on the training pitch and getting used to each other."
Rodgers not so happy with new-look #LFC defence. "You can spend as much money as you like, it doesn't guarantee you anything."

— Daniel Taylor (@DTguardian) August 25, 2014