According to reports on Tuesday, Reds defender Martin Kelly is set to join Premier League side Crystal Palace.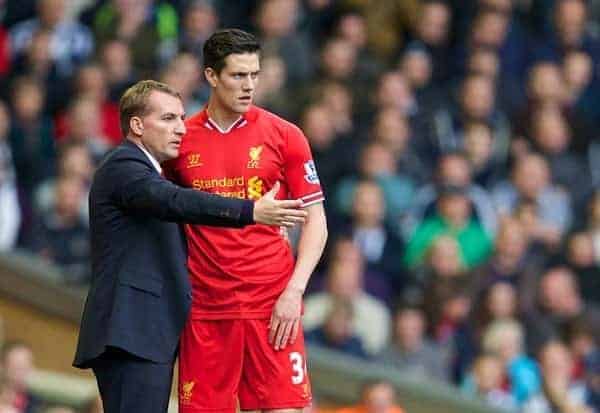 Reports claim Kelly will sign for fellow Tony Puli's Palace in a £1.5 million deal.
Garry Doolan, writing for the Daily Mail claims that "the 24-year-old and his representatives held talks with Palace officials on Monday and wrapped up the deal Tuesday morning."
The deal would end a lasting relationship with the club, with the Whiston-born defender having come through the youth ranks of the club.
Since his debut, against PSV Eindhoven in a 1-1 Champions League draw in 2008, Kelly has made 62 appearances for the club, scoring one goal.
These include 33 Premier League appearances, with the right-back having enjoyed a sustained run in the 2010/11 and 2011/12 seasons.
Kelly was long-considered one of the most promising young players to come through the Reds' academy, and was tipped to become one of the club's centre-back options in the years to come.
Such was the potential of the player, Kelly was called up to the England squad for the 2012 European Championships.
However, injury issues have impeded any real progress in the defender's career, and Kelly has slipped down the pecking order under Brendan Rodgers.

With Doolan reporting that the deal has been "wrapped up," this suggests that a medical is imminent, and any move will hinge on the player passing a thorough examination.
The defender recently declared himself fit for action, telling the Liverpool Echo "I'm feeling good and I've always said I just need to play matches. Hopefully I'll get that this pre-season and take it from there."
Kelly featured intermittently throughout the Reds' pre-season campaign, and looks to have convinced Palace manager Tony Pulis that fitness issues are behind him.
If the deal goes ahead, Kelly's transfer will signal the disappointing end to what was once a promising career on Merseyside.
Will a transfer to Crystal Palace be a good move for Martin Kelly? Let us know in the comments below.