Steven Gerrard's performances have come in for criticism so far this season, and manager Brendan Rodgers faces one of his biggest tasks in managing arguably the greatest player in the history of the club, writes Henry Jackson.

Liverpool's start to the 2014/15 Premier League campaign has been disappointing and one player who seems to be generating more criticism than most, both fairly and unfairly, is Steven Gerrard.
The 34-year-old legend, who has made 674 appearances and scored 175 goals since his debut in 1998, has shown his age at times in recent weeks, and his display in the woeful 3-1 loss to West Ham on Saturday was particularly flat.
The dominant, inspired performances from last year, in which he thrived in a deep-lying playmaker role to finish second to Luis Suarez in the Footballer of the Year voting, have not returned yet this season, and while it can be very easy to be knee-jerk this early into a new campaign, Gerrard's influence does appear to be on the wane.
His passing has looked a little more cagey and nervy, his set piece delivery has not been close to last season's high standards and his defensive reading of the game has been hit and miss.
If Gerrard is to remain an important player at the club over the next few years – there is absolutely no reason why he can't remain at Liverpool into his late 30s – the role Brendan Rodgers has to play is enormous.
There's also a problem by the name of Steven Gerrard that Brendan Rodgers seems blind to.

— Jim Boardman (@JimBoardman) September 20, 2014
The Northern Irishman has shown that he is not afraid to make big decisions since arriving at the club in the summer of 2012, but having the strength to start rotating Gerrard will be his biggest task yet. For the good of both the team and the skipper, he must.
Paul Scholes, Ryan Giggs and Frank Lampard were all gently eased out of their respective sides by Sir Alex Ferguson and Jose Mourinho, and while we might not always like to praise the ruthlessness and self-belief of the Scot and Portuguese managers, Rodgers has to emulate them in that respect.
It was imperative that the 34-year-old was rested for Tuesday's unforgettable Capital One Cup clash win over Middlesbrough at Anfield, with the Merseyside derby on Saturday looming. There are those, of course, who may not even start him against Roberto Martinez's side.
The legendary midfielder has carried several average Reds teams over the last decade or so, and it is time that the younger players now go up a gear and take on the mantle. Henderson is already well on his way to doing that – Rodgers naming the 24-year-old the club's new vice-captain shows he sees him as Gerrard's successor as captain – and Allen and Can both have the potential to follow suit.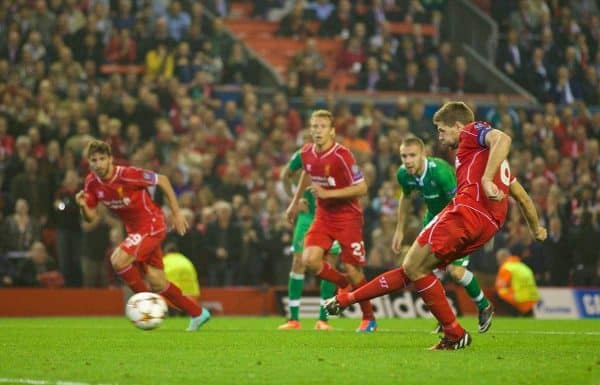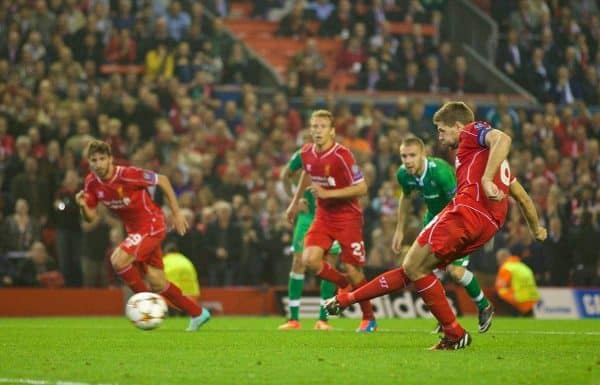 Although Gerrard's displays have been deservedly pilloried by some, there is still an ageism bias that comes into play. All it seems to take is for him to miss one tackle or spray one pass out of play and the groans begin, whereas Henderson, 10 years his junior, will do the same and nobody will utter a word. Sadly, once a player hits 30 they are immediately under more scrutiny, and one bad performance sees them deemed as 'past it'.
The former England captain still has plenty to offer his side. He still has the best range of passing in the squad, and his experience and leadership can be vital in key moments. His nerveless last-gasp penalty against Ludogorets in last Tuesday's Champions League clash is the latest example of that. Players of his ilk can simply never be written off until they leave the pitch for the final time in their career.
It is a sad moment in many ways- a generation of Reds fanatics have grown up idolising him- but the time was always going to come when Gerrard was no longer seen as a definite fixture in Liverpool's side week in, week out.
There is no doubting that he can still remain a force for a few more years to come, but Rodgers now has to show bravery in leaving him out of games, and intelligence in the way he uses him from this point on.
[poll id="247″]