In the first of a new weekly column, Neil Poole, regular TIA contributor and editor of the We Are Liverpool Fanzine, reviews the last seven days in the world of Liverpool FC.

It could have been worse. It could have been Tony Hibbert.
Instead, it was Phil Jagielka with the injury time screamer that ripped our still beating heart out of our collective chest and volleyed it out of Simon Mignolet's reach into the top right corner of the Kop goal… and with it three vital points.
It capped off a week that was markedly less grim than the week before but nonetheless culminated with one Liverpool fan doubled over, knees bent like he'd suddenly felt the urge to curl one out while his hands gripped his head as he braced for a nasty brown explosion. This fan may have looked a bit like me.
The Capital One Cup game against Middlesbrough set the tone for a typically eventful week for Liverpool. As a town, one of Middlesbrough's claims to fame is that the old ICI plant which continuously billowed smoke and lit up the Teeside skyline through the dead of night served as the inspiration for the futuristic cityscape of Ridley Scott's Blade Runner.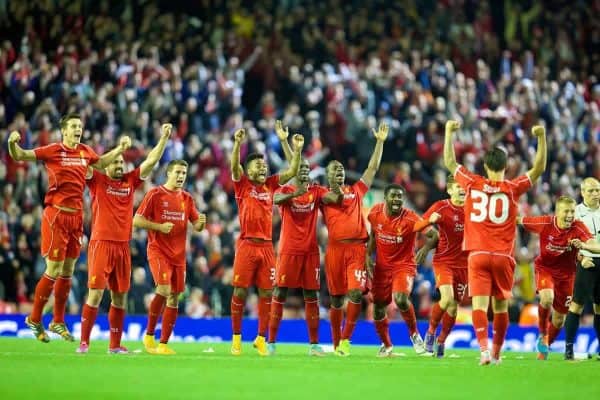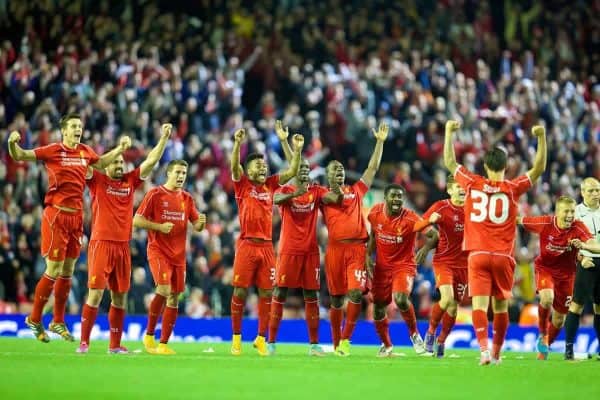 It's with this in mind that Middlesbrough fans felt quite at home under the glow of the Anfield floodlights, which were the the only remaining lights on in the whole of Liverpool as the penalty shoot-out finished around four in the morning.
Some very honest Reds have admitted to being open to being knocked out at any point past the 412th penalty just so they could get to bed.
Regardless of what they tell you about Scousers, some of us did have to get up for work in the morning. Call me old fashioned, but I'd personally rather wake up still in any cup competition regardless of how long it had taken to get the win.
The good thing about the 14-13  penalties victory was that it cheered everyone up and took the edge of the fact that being pegged back twice against a Championship side wasn't that cheery in the first place.
Even Brendan Rodgers raised his first smile since he had a laugh at Mario Balotelli missing the target against Spurs before the international break when it looked like we were going to be boss again
As a quick aside, contrast Rodgers' laid back reaction to the aforementioned miss a few weeks back with his violent contortions and grimaces when Mario missed from yards (technically saved by Howard) against the Blues, and it's safe to say we can file the answer to 'why do men smile during football matches?' in the Dwight Yorke draw. This is to say, it's very easy to smile when you're regularly winning.
I don't want to jump in with the mob and give Mignolet a shoeing while he's down on the floor. I can't help but feel sorry for a fella who's innocent face looks like it's permanently pushed up against a window, peering through at the popular kids, wanting to belong, but whose searching eyes betrays the fact he knows they don't like him very much. Well except Lucas Leiva. But Lucas likes everyone.

However, even I, seemingly the sole human being in existence that doesn't mind Mignolet raised an eyebrow when the players ran to him to celebrate in the aftermath of the final penalty. Call me picky, but to my mind saving only one of 14 penalties and then standing by as a lad who doesn't even look like he was arsed anymore balloons one into the kop, means that the victory is not really down to you, is it? Nonetheless superb practice for Berlin next May.
Interspersed between the Middlesbrough and Everton games were crisis reports that Liverpool could fall foul of Financial Fair Play rules. Luckily no one really understands FFP including UEFA themselves. Therefore, I wouldn't worry too much; we'll probably be able to send them a beer mat with a random number scribbled on in crayon and we'll get away with it.
One of the other daily scaremongering stories was that Real Madrid want Raheem Sterling and they always get their man. Can they buy him now? No. Did some space need to be filled in a newspaper that day by a man who has to fill that space otherwise he's out of a job? Yes.  Let's play a word association game!
If. Happens. Cross. Bridge. When. Come. To. It.
Into the Everton game and there's no doubt in my mind we deserved all three points. On the whole there were positives to take out of the game, not least the growing stature and performances of Adam Lallana who was everywhere and seemed to be involved in everything.
And although the feeling wouldn't last it's always great to see Steven Gerrard get his customary goal against Everton and put in a much improved performance. You get the feeling that those cupped hands around his ears may well have been directed at the section of our own support all too quick to throw him on the fire to show how rational and enlightened they are.

Mamadou Sakho left Anfield after he'd found out he'd been dropped. Apparently Kolo Toure tried to put a positive spin on the fact it was he who had took Sakho's place by clapping his hands in front of his face and shouting encouragement. Reports are this tipped Sakho over the edge. (That's not true – but I hope it is.)
Whether you think Sakho's the sinner or has been sinned against will probably decide on the judgement you've already made of him. He apologised now via social media. He probably should have used the hashtag #prayforsakho because he'll need a miracle if he thinks he's getting a game anytime soon.
Finally, Sunday bought us news that Rodgers had sacrificed his Sunday to train with Daniel Sturridge. Some say it's because he's a great man manager. This is true. It was probably also to explain that 'Sturridge Fantastico, Sturridge Magnifico' really just doesn't have the same ring to it, but if he wants it he can have it! Come back soon Daniel.
Please.
[Strokes Daniel's face]