The decision to allow the club's "mascot" Mighty Red on the pitch at Anfield on matchdays has caused a stir this week, with fans divided over whether it matters or not – but it's not really about the mascot per se.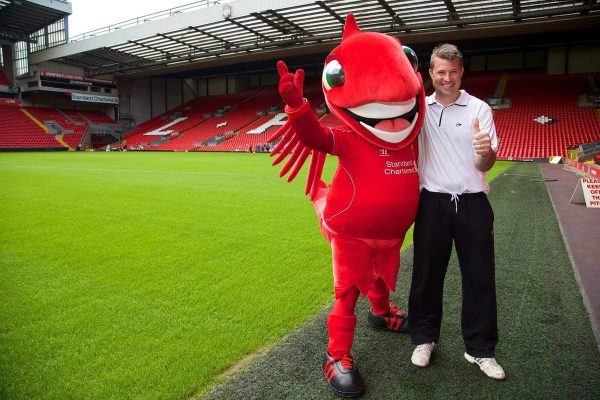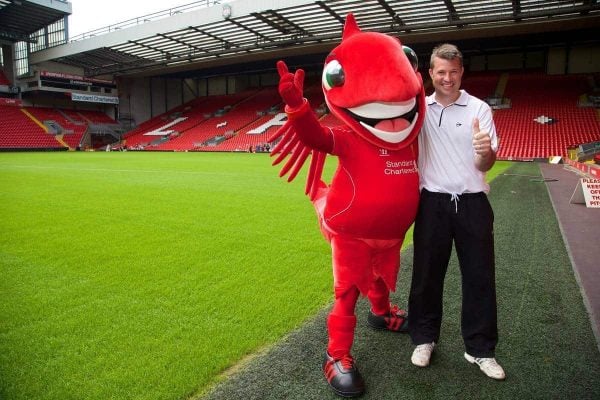 When "Mighty Red" was first introduced two years, it was done "to help engage with kids at community events". He wouldn't be seen prancing around Anfield on a matchday.
For those asking, Mighty Red won't be going anywhere near the pitch next season – he's here to help engage with kids at community events

— Paul Rogers (@PaulRogersLFC) July 8, 2012
The club have now changed his role, with his first matchday appearance being against Southampton, assisting the club's actual young mascot for the game.
Liverpool is a club that, traditionally, haven't had a "mascot". So is the move to allow Mighty Red to be part of the matchday environment going against tradition? Does it really matter?
Are Liverpool now becoming just another generic club, with comedy mascot and all?
Of course, it seems pretty daft that we're even having this debate, but this isn't really about a mascot, it's about what the mascot represents – a break from traditions, a move towards becoming just another club, eroding what was unique about the club.
@Lost_Sophist @spiritofshankly Resigned to a lot of things nowadays. As long as they only release the thing a long time before kick off…

— Jim Boardman (@JimBoardman) September 11, 2014
Liverpool were the last Premier League side to have a scoreboard, Liverpool didn't have a mascot until now on matchdays, Liverpool don't play music after a goal. Those things made Liverpool, and Anfield, that little more special, authentic and unique.
Arsenal, Man United et al. have a mascot. Why should we do like them?
The club, and those who think that it's much ado about nothing, claim that the mascot is "for the kids" – but which kid grows up remembering a matchday mascot when they just watched their actual idols, Steven Gerrard and co, on the pitch in front of them?
Blue kits. Mascots. Come not to play. Bring on the cheerleaders, goal music and bears running with flags when we score. #matchdayexperience

— Gareth Roberts (@robbohuyton) September 11, 2014
The traditional matchday experience, and why Anfield is so revered worldwide, has no gimmicks – just the fans, the pitch and players that you love to watch and sing about.
Let's be honest, it's not really "for the kids" it's just another commercial gimmick to make the club more like all the other modern clubs out there.
Perhaps this isn't about Mighty Red, it's about what it represents; a devaluing of the club's traditions and removal of another thing that made Liverpool that more unique.
Nobody cares about Mighty Red either way, the kids or the adults, but people do care about Liverpool preserving their traditions and being unique, authentic and special.
[poll id="244″]