Alex Saldanha charts the progress of Raheem Sterling, the teenage attacker has gone from peripheral youngster to key man in less than a calendar year.

There is something about White Hart Lane and Raheem Sterling. Last season it was the ground on which he first earned his position as a regular in Brendan Rodgers' side, and eight months later it is the stadium in which he has produced the latest in a string of man of the match performances further enhancing his reputation as one of, if not, the world's most exciting young talent.
Such has been the rise of the teenager, it is strange to think that just 12 months ago some Reds fans were writing him off: a dire performance at the KC Stadium in a 3-1 defeat seemed to be the cause, a loan move to Swansea was mooted to kickstart his young career.
And then things began to change. Firstly he scored an 88th minute goal in 5-1 victory against Norwich – a sidenote in a game centred around the brilliance of Luis Suarez but a confidence builder for the youngster. He would follow this up with a decent performance in the 4-1 midweek victory against West Ham but it was one week later at White Hart Lane where he really exploded to life.
In the Reds' 5-0 victory, Sterling was truly sensational tearing Tottenham's defence, and in particular Kyle Naughton, to pieces. On top of his wonderfully taken goal, Sterling was excellent with the ball at his feet carrying the Red men up the field and time and again getting past Naughton in to dangerous positions. Defensively he was also good, more than playing his part in the Reds' pressing game making three tackles and an interception.

From that point on the 19-year-old hasn't looked back: from that day he has provided a succession of top quality performances for the Reds, contributing 10 goals and 5 assists in the process.
All areas of his game have been impressive: in the passing stakes Sterling has boasted an 80% completion rate and made 38 key passes. Defensively he has been solid winning the ball back with 25 tackles, completing 9 clearances and making 18 interceptions. And offensively Sterling has really shown his quality completing 65% of his take on attempts and boasting a 28.5% chance conversion rate, a figure even the best strikers in the world would be proud of.
What Next?
So where from here for Raheem? What is clear is that Sterling is only going to get better as he matures under Brendan Rodgers' tutorship. For someone so young his tactical acumen is extremely impressive, as exemplified by his ease at adapting to numerous different positions, and his raw skill set is top notch: he really has all the ingredients to one day being considered amongst the best, if not the best, players in the world.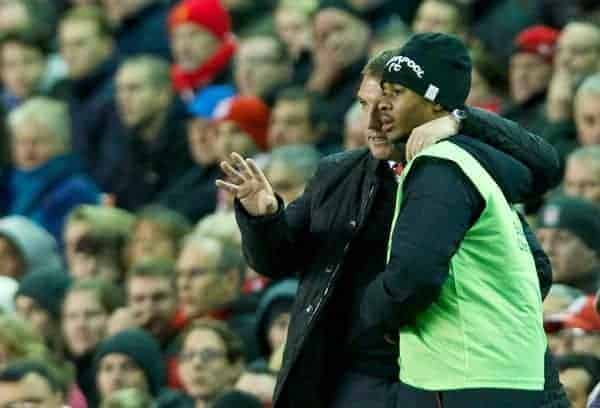 The one question mark that can currently be levelled at him is over his end product. Although for one so young his total of 10 goals and 5 assists over 26 games is impressive, to be considered amongst the very best he needs to up the regularity of which he adds to these tallies.
The start of the 2014/15 season bodes well on this front: in three games Sterling has already recorded two goals and an assist. The importance of his goal involvement has also to be noted: his two goals have both being the opening goal of the game and his assist was to set up Daniel Sturridge for Liverpool's winner against Southampton.
Big players turn up when their teams most need them, Sterling is certainly doing that. In fact Sterling's importance to this Liverpool team can be seen in the fact that he has gained Sky Sports' man of the match award in each the Reds' two victories: when Sterling plays well the Reds fire, he is key to the team.
Whatever Liverpool achieve this season it is a sure thing that Raheem Sterling will play a large part in their successes. If he maintains his current form and progresses as expected he is a safe bet to be the recipient of the PFA's Young Player of the Year award come the end of the season and do not be surprised if he is a strong contender, or winner of, the main gong itself.
Under Brendan Rodgers' tutelage Liverpool have the capacity to go a long way this season and expect Sterling, perhaps Rodgers' finest pupil, to be prominent.