Lee Coates perfectly pens the contempt some Liverpool fans have for the England national football team and everything that comes with it — including Roy Hodgson.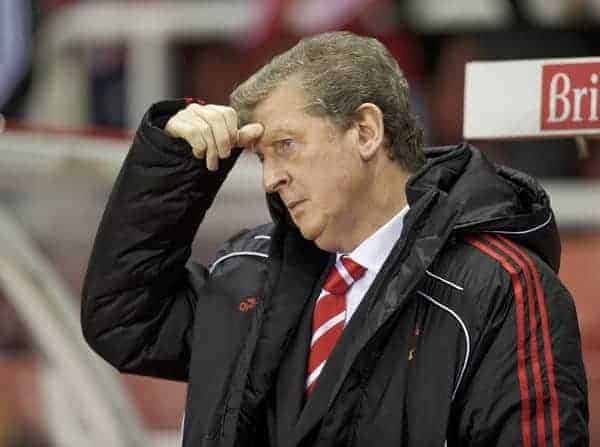 I saw an old girlfriend out and about with her new boyfriend. You poor sod. That's what I thought. I know the nonsense you are putting up with. You really poor sod.
That one disastrous relationship.
Roy Hodgson was Liverpool's. At the time, we knew we had to get out of it. For all that was true about Liverpool FC, we had to get out of it.
How glad we are that we're out. We see him with England now. We laugh. We pity. We don't lament or suffer in the same way that others do. England are England and Liverpool are Liverpool. Leave them to it.
Hodgson flows with tides instead of making waves. England drop positions. One by one, England fall.
Hodgson knows all about the rankings. It's how he measures football matches. Switzerland (9th) are up next for England (20th). A real underdog story.
It'll be a miracle if England can get anything out of the game. That's what Hodgson will tell you. We know this because we had this. We lived through this. It was never about progression with Hodgson. It was about stability. It was about taking one day at a time and just hoping you survived it.
Utopia
"To get a result here would have been utopia."
Those were Hodgson's words after losing 2-0 to Everton on October 17th 2010.
"We deserved our point."
A 2-2 draw at home to Sunderland.
"A famous victory."
A 1-0 away win at Bolton.
Don't mistake this as arrogance or right of status. Every team has to continually fight to be the best team they can be. Nobody is guaranteed a comfortable win. The best teams at getting these win the league. This is about setting a benchmark for the players. A benchmark far and above winning 1-0 away to Bolton.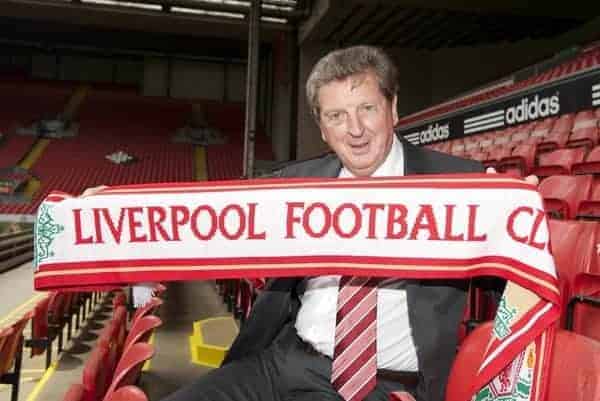 There was never a dream of anything big for Liverpool under Hodgson. Football is a sport. You play to get better and better and better. There's no room for clinging on.
Hodgson isn't the sole reason for the indifference in England's performances on Merseyside. England is the reason. As a port city, Liverpool's identity was formed on the personalities that graced it from Ireland, from Wales, from abroad, from anywhere.
A natural construction of community and social integration, Liverpool lived in England but adopted little from it.
This attitude was returned from recent governments. Margaret Thatcher didn't believe Liverpool was part of England. She broke the United Kingdom into a million shards but only picked up a choice few pieces. The rest were swept up and cast aside. Liverpool received nothing from its parent.
In the 1960s, The Kop was a stage show based on Liverpool and its people. The city (or half of it) coming together and believing in one thing. There was nothing like it in the country. It was Scouse, not English.
The songs were local. The humour was local. Bill Shankly described The Kop as one extended family. It is. It's everything a country should be but everything that England isn't. A country with no unity. England's football team goes through the motions without any direction, passion or even general interest in its occurrence.
Shankly also claimed Liverpool is a holy trinity of players, manager and supporters. This is why we support Liverpool. This is something we all believe in. It's a setup that alludes Hodgson and his football teams. Conflict exists with Hodgson. There's no agreements. Levels are uneven. They know where they stand but they don't know where they are going.
The England football team compromises Liverpool and that's something we must accept. The more Hodgson 'tests Sturridge's resolve' by playing him through injuries, the more our resentment is tested.
There's nothing we can do about it. All we can do is wait. We wait until these disjointed, lethargic and lame lions have feigned interest in their white shirt and they return to their clubs.
Then we see the red again. The magnificent red of Liverpool FC and the holy trinity back together in the presence of The Kop singing its very own national anthem.