Mark Pearson reflects on Liverpool's start to the season, the tactics and philosophies applied by Brendan Rodgers and sees no reason why the Reds aren't starting every game with a 4-4-2 diamond midfield.

"Football tactics are rapidly becoming as complicated as the chemical formula for splitting the atom"
— Jimmy Greaves
Simple
I like Brendan Rodgers. I would like to make that clear right at the start. I think he has moved us onwards to unrecognisable levels from when he inherited a disjointed team and possibly disjointed club.
I admire the way in which he has enabled this Liverpool team to have a flexible approach to games, players being comfortable in a variety of positions. That can only be a good thing.
Rodgers' Liverpool team has a style of play, we have an identity, and every successful team I can recall in my mind had a way or style of playing. So why then am I feeling a little frustrated at the start Liverpool has made this season?
It could be because Liverpool has lost two of the opening four games of the Premier League. It could be because we made an absolute mess of overcoming Champions League minnows in our return to European Top Table football.
But I am mainly frustrated because I see that Rodgers' best teams over the last 18 months have played with a diamond formation. So why are we not doing that from the start in all our games?
We did once this season, against Spurs, and we crushed them.
Tactics
Every manager up and down the country these days seems to be talking about philosophies, so much so I have to check sometimes when watching Match Of The Day that I haven't accidentally tuned onto the History Channel whilst they have an Ancient Greece Weekend Bonanza running on Aristotle and his chums.
Tactics are important yes, and, as I have already stated above Liverpool have a style of play. It's usually fast paced, explosive, like a swarm of ants over a jam sandwich there is movement everywhere.
This usually comes about when Liverpool play with a diamond shaped midfield and two strikers. You see for all the philosophies and tactics and false nines's and inverted wingers and wing backs and inside lefts and so on and so forth football is simplistic.
If you score more goals than the team you are playing you win. If football was less to do with that and more aligned with philosophies then Oxford United would probably be serial Champions of Europe.
Liverpool has consistently shown over the last season and a half that we play better in a diamond formation, so why are we not doing so?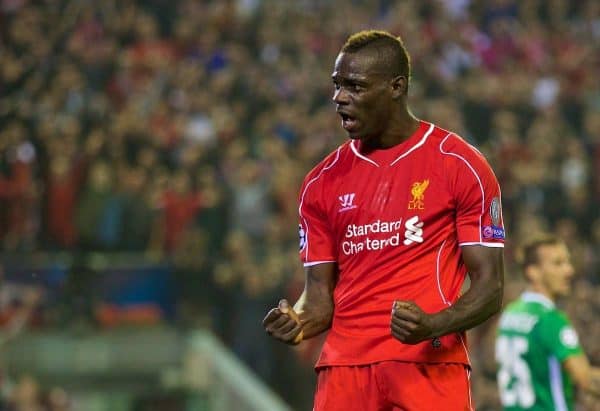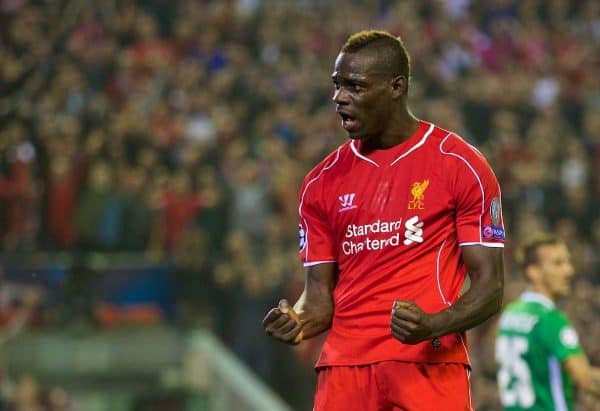 Mario Balotelli
One of the keys to success last season was our movement of the strikers. Daniel Sturridge and Luis Suarez seemed everywhere in the final third of the field, just a blur of movement and cunningness. They were ably supported at the tip of the diamond by either Raheem Sterling or Philippe Countinho.
Opposition defenses were being pulled all over the place and didn't know who to pick up, who to drop off from, frankly, no clue what to do to stop us, with the exception of Chelsea who decided to play a 9-0-1 formation.
I can only assume that Rodgers feels that Mario Balotelli doesn't give us that same movement, and, having watched him playing its true.
Balotelli isn't one for running into the channels, he likes the ball to feet, so he can turn his marker. It seems with his lack of movement Rodgers feels the best way of compensating is to play three wasps behind him.
Our last two games have had Lazar Markovic/Sterling, Countinho, Adam Lallana darting around behind a largely stagnant Mario and as such we have reverted to an almost Rafa Benitez style 4-2-3-1.
This raised the question of whether Balotelli was really what we needed this summer. Does his involvement compromise the style and identity we had created under Rodgers? There is certainly an argument for the prosecution on that one.
Forward
There is one piece of evidence that we can still play with a diamond whilst accommodating Balotelli's lack of mobility and that was the display against Tottenham.
In almost every way that one performance this season reminded me of that style of play. Yes, we conceded possession as can happen when playing with two strikers but every time we came forward we looked dangerous, penetrative, exciting, like Liverpool.
These last two performances against Villa and Ludogrets looked that exact opposite. We looked forced not fluent, we looked rigid not fluid, it looked anything but the Rodgers Liverpool we are now accustomed to seeing.

There is a problem to solve with Mario, and from what I have seen so far it's not with his attitude but his lack of mobility. With Sturridge alongside like at Spurs and Sterling behind we can cover for that and look good.
In the absence through injury of Sturridge it might be best to have Sterling up front alongside and Countinho at the tip. Henderson on the right, Lallana on the left and Gerrard at the base.
We need to get back to what we are good at, playing simple, forget philosophies, forget overly complex tactics let's just play the Liverpool way, let's get our identity back or if we can't then let's look at the summer transfer window and ask did we buy the right player?