It's been a rocky start to the season for Liverpool, and goalkeeper Simon Mignolet is one of the men coming increasingly under the spotlight.

When Brendan Rodgers arrived at Anfield he had a series of problems he needed to fix, one of which was the goalkeeping situation. Pepe Reina hadn't quite been himself for 2 seasons and in the summer before his second year in charge, Rodgers acted ruthlessly by sending the Spaniard on a season loan Napoli to reunite with former Reds manager Rafael Benitez. The 'committee' decided that Belgian keeper Simon Mignolet was the man to fill the gap.
His life at Anfield couldn't really have started any better with a last minute penalty save earning the Reds 3 vital points in the 1-0 victory over Stoke on the opening day of the season. But as the season progressed mistakes crept in, cleans sheets became a rarity and questions were raised. Rodgers has put his faith in him by not signing another goalkeeper, was that a mistake? Let's look at what the stats say.
Clean Sheets
One of the obvious places to start when assessing a goalkeeper is clean sheets. If a team doesn't concede it means they only have to score 1 goal to win the game, which is fairly obvious but George Graham's Arsenal and more recently Jose Mourinho's Chelsea both had great success by applying this principle.
Premier League Clean Sheets 2013/14
Petr Cech – 16
Wojciech Szczensy – 16
Tim Howard – 15
Artur Boruc – 14
Hugo Lloris – 14
Joe Hart – 14
David De Gea – 12
Simon Mignolet – 8
Obviously the style of Liverpool's play means that the opposition will probably score more goals, but Arsenal don't exactly play a defensive game and Wojciech Szczesny had the joint highest number of clean sheets. And for all Manchester United's woes, David De Gea managed to make 12 clean sheets, 4 more than the Belgian.
Indeed, even John Ruddy, Julian Speroni, Vito Mannone and Brad Guzan kept more clean sheets than Mignolet last season.

The most worrying part of Mignolet's game for me is the amount of errors he makes. Even more concerning is that he's still making the same mistakes this season, he doesn't appear to have improved his game.
Against Ludogorets, he came running out towards the attacker but he was never going to get there before him, instead getting caught in goalkeeper's no man's land. He made up his mind for the forward and it gave him the easy job of simply taking the ball around him and placing the ball into the empty net. Had it not been for an even worse mistake by the Ludogorets keeper, that would have cost us two points and even more importantly it would have dented our confidence greatly.
It is to be accepted that goalkeepers will make mistakes and the likelihood is that when they do they will be punished for it, but you don't want them to occur in important games. At the Ethihad last season for example, Mignolet flopped at a poor shot from Alvaro Negredo which ended up being the winner. Title's often come down to fine margins, who knows what would have happened if we'd have drawn that game.
Crosses and Decision Making
Another area of his game Mignolet needs to improve on is his ability to deal with crosses. 50% of the goals we conceded in the first 16 games last season came from crosses. Even more remarkable is that Mignolet only claimed 12 crosses in this period whereas Aston Villa's Guzan claimed 48. The Belgian's ability to deal with crosses is very surprising when you consider his size; which suggests his decision making when choosing whether to come for a cross or not is the real problem here.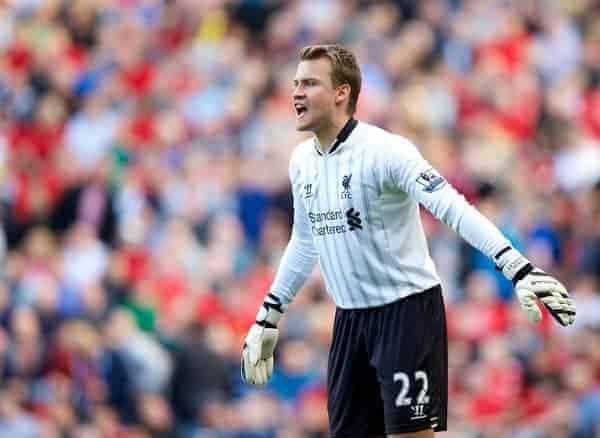 With the style of play Liverpool utilised last year, a goalkeeper with good technical ability with the ball at his feet would have been highly beneficial for us. He could have offered another passing option whilst in possession and alert to the ball over the top of our defence if it was played. Unfortunately he's quite poor when the ball's played back to him and his passes regularly don't find its target, putting us under pressure when our defence isn't organised. It's not a necessity to have a goalkeeper who can pass, but it can be the difference between a very good team and a title winning team.
We shouldn't write Mignolet off just yet, we should support him for as long as he remains at Anfield. However, an upgrade in this department might be one way to improve our defensive deficiencies and having a world class goal keeper behind them may also improve the performance of our back four. At the end of the day, we can't improve on the 101 goals we scored last year but we can certainly improve the 50 we conceded.
Jake Askham