In a well timed article, Liverpool have explained their fitness and recovery methods in an interview with first-team coach Mike Marsh.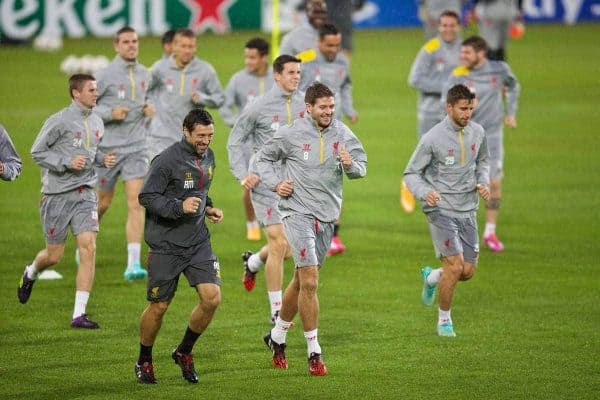 The interview arrives on the back of Roy Hodgson questioning the club's need for fast players to have two days recovery following matches.
Hodgson, you see, wasn't content with the damage already done by publicly embarrassing Raheem Sterling in interviews both before and after England's 1-1 draw in Estonia on Sunday and again ran to his media chums to give further quotes that were published in Tuesday's papers.
Hodgson states:
"We have never had any problems with that [Liverpool's policy] but I don't think there is a lot of medical evidence to support the two-day recovery so, if you want to, you might want to research that."
Of course, there is actually plenty of research explaining the need for two days recovery, with even the most lamen athlete knowing the effects of DOMS (delayed onset muscle soreness) two days after high intensity.
Brendan Rodgers is a manager who has a high understanding of sports science, being a knowledgeable and modern manager, the opposite of 67-year-old, never won a trophy outside of Scandinavia, Hodgson.
Marsh explains Liverpool's training programme, ahead of a fixture list that sees Rodgers' side face seven games in 21 days:
"Our fitness programmes have been well documented. We try to recover the players as best we can to prepare for the game. We have a couple of days' recovery after the game and we work with the group of players for the next game.

"We do quite a lot of analysis with the players so we break them up into smaller groups and feed back in different ways."
In an interview earlier this year, head of fitness and conditioning, Ryland Morgans, explained how players at Liverpool follow individualised training plans:
"All players follow an individual plan off the grass. Each player is different, so elements such as age, playing position, injury background, strengths and weaknesses, are all considered when putting these plans together."
Rodgers' pre-match press conference this week could be interesting viewing.