Roy Hodgson's comments on the recent fatigue of Raheem Sterling have drawn great criticism, but the onus falls on Brendan Rodgers too, writes Jack Lusby.

On Sunday morning, England's players followed their usual morning routines in the grandiose Tallinn; Wayne Rooney wistfully orates a Malory eulogy as Fabian Delph, Andros Townsend and new boy Nathaniel Clyne listen, ponderously.
Meanwhile, England manager Roy Hodgson eagerly calibrates his pre-Estonia disquisition into a national crucifix, with which Raheem Sterling will be pilloried so mercilessly, his jowls drenched with glee.
The 67-year-old's comments, prior to England's dour 1-0 away victory over the Eastern European minnows, recounting the Liverpool forward "feeling a bit tired" have sparked welcome debate—who is misusing Sterling's talents?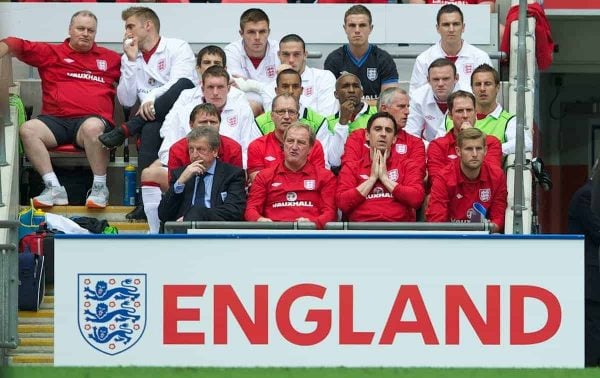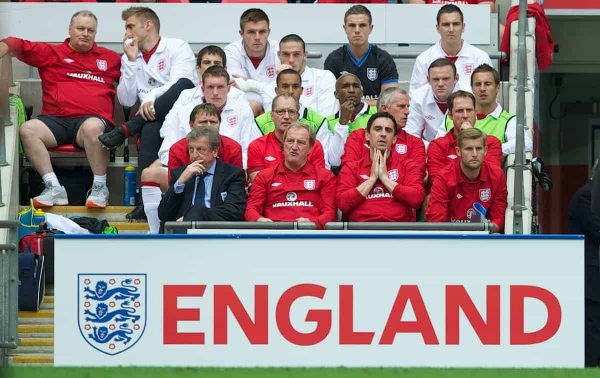 Roy Hodgson: England Manager
Roy Hodgson is "Against Modern Football" in his own special way.

— Jim Boardman (@JimBoardman) October 13, 2014
Managerial philistine Hodgson is regularly criticised for his methods both on the field and in the media, and quite justifiably too.
The main proponent of this accusation of inadequacy to stem from this Sterling fallout is Hodgson's overriding tendency to deflect the blame from himself, from England's poor performances, onto his players.
England just scraped a 1-0 victory over FIFA-ranked 81st side Estonia and every post-match piece has been focussed on 19-year-old Sterling.
Raheem Sterling is a doubt for Liverpool's trip to QPR on Sunday, after Roy Hodgson threw him under a bus last night.

— Paddy Power (@paddypower) October 13, 2014
https://twitter.com/ManhattanDoc/status/521593760044441600
The former Liverpool manager is a deceptive master of self-preservation, and will be squirming with joy at this most recent delivery.
Besides this, however, the attention raised by Hodgson onto Sterling "feeling a bit tired" underlines a lack of nuance in Hodgson's approach — a young player is to be protected, and resting said player should fall on the shoulders of the manager.
Players both current and retired alike gave their two cents on the matter almost immediately, with comments from Liverpool legend Robbie Fowler and former Manchester United man Philip Neville standing out:
"I take my hat off to Raheem. What he did was for the benefit of the team. Not everyone puts the team first like that. For a lot of players the priority is just getting caps and goals. Raheem was more concerned about three points and a win for England."
– Fowler on Sterling.
Raheem Sterling is a teenager. Teenagers do get tired and even moody. He's young, still developing, we should cut him some slack.

— Gary Lineker (@GaryLineker) October 12, 2014
Sterling – tired, fair play to him. English players are normally too proud to do that unlike our foreign friends. #FreshWhenItMattersMost

— Rio Ferdinand (@rioferdy5) October 13, 2014
As Raheem gets older and stronger he will be expected to play 50 plus games a season as the top players do. But at 19 we need to protect him

— Jamie Carragher (@Carra23) October 14, 2014
https://twitter.com/fizzer18/status/521545685322452992
https://twitter.com/fizzer18/status/521565895374938112
It came with no surprise that the speak-before-you-think punditry icons Alan Shearer and Robbie Savage were the most critical of Sterling in the aftermath:
"I genuinely have never heard something like that in my career. Certainly not in a squad I was involved in. If I had, as either captain of Newcastle or England, I'd have gone straight up to the player and said 'are you sure?' and that's putting it mildly."
– Shearer on Sterling.
Absolutely ridiculous sterling too tired to start ,45 mins v San Marino, you have so much time to relax on international duty

— Robbie Savage (@RobbieSavage8) October 13, 2014
Shearer's comments, predictably, could be found in The S*n.
The overwhelming majority understand the benefits of resting players, and particularly young players, and in Hodgson's latest criticism of Rodgers' training techniques, wherein which he claimed "I don't think there is a lot of medical evidence to support the two-day recovery," the England manager once more proved his ineptitude.
There is, by the way, as outlined excellently by Matt Ladson for The Metro.

Raheem Sterling
The overuse of Sterling this season comes off the back of an extended run in the Liverpool first team last season and, reflected in the Reds' poor form so far, is clearly affected by a physical and mental trauma stemming from the side's ultimately-futile 2013/14 title run, as well as England's ill-fated World Cup challenge.
No problem with Sterling telling Hodgson he was tired, played a lot of football already this season on the back of a WC.

— Jamie Carragher (@Carra23) October 12, 2014
Towards the end of that campaign, and with the effervescent talents of Luis Suarez and Daniel Sturridge in consideration, Sterling was Rodgers' best performer.
As such the 19-year-old has made himself indispensable to both the Liverpool manager and his national counterpart.
Roy Hodgson on Raheem Sterling, says both club & country are aware of his situation "he's played a lot of matches"
…1/2

— Ian Dennis (@Iandennisbbc) October 11, 2014
2/2 Roy Hodgson, "we want him to play the games… You don't want to leave your best players out of the team"#bbcfootball

— Ian Dennis (@Iandennisbbc) October 11, 2014
Hodgson's comments, posited on the poles of nurturing a prodigious young talent and unleashing said talent whenever possible, reflect that of Rodgers so far this season.
However, with 15 appearances so far this season already, with 2014/15 still in its infancy, Sterling runs of the risk of being run into the ground by his respective managers.
So much talk about Raheem Sterling. His playing workload has almost TREBLED over the last 12 months: #SSNHQ pic.twitter.com/LWl1wznuoD

— Sky Sports News (@SkySportsNews) October 13, 2014
Rodgers and his backroom staff, fortunately, understand the need to provide a player with the scientifically required recovery period after a game, as explained by Reds first-team coach Mike Marsh:
"Our fitness programmes have been well documented. We try to recover the players as best we can to prepare for the game. We have a couple of days' recovery after the game and we work with the group of players for the next game.

"We do quite a lot of analysis with the players so we break them up into smaller groups and feed back in different ways."
Rodgers and Marsh will have swathes of highly-detailed notes on their players' fitness regimes and the failures of predecessors of a Merseyside persuasion and from further afar; perma-crocked Michael Owen being a prime example.
In the current England camp, even, you only have to look as far as Jack Wilshere to see the limitations overplaying a young player imposes in the future.
Jack Wilshere played 4,020 minutes of competitive football in the season he turned 18. He didn't play again for a year.

— Dan Kennett (@DanKennett) October 13, 2014
Sterling is arguably of higher potential than that most-promising Wilshere of old, and his development should be treated with the upmost care by both Liverpool and England.

Club vs Country?
This is unlikely the last we hear from both managers on the matter, with Rodgers' pre-QPR press conference set to be a tasty proposition, and whilst the Liverpool manager comes out of this struggle with the most credibility, both parties are to blame for Sterling's fatigue.
Sterling story not really about Sterling. Not at its heart. It's club v country in all its destructive glory with a kid stuck in the middle

— Oliver Holt (@OllieHolt22) October 13, 2014
Instead of flirting with garbage ideas like B-leagues, Greg Dyke should devote more energy to getting FA and PL to work together.

— Oliver Holt (@OllieHolt22) October 13, 2014
Quite understandably, Rodgers utilises Sterling whenever possible for the Reds, and his resting the teenager against Villa was a rare reprieve for Liverpool's young talent.
However, for all of the Ulsterman's preaching of recovery days and nurturing Sterling's talent with care, it is for Liverpool that the forward has played the most minutes so far this season—120 minutes in the Capital One Cup victory over Middlesbrough an outstanding example.
Difficult part is why Sterling's tired. Is he being overplayed? And whose responsibility is it to rest him? Always Hodgson's?

— Oliver Holt (@OllieHolt22) October 13, 2014
Hodgson will take for the flak for Sterling's fatigue, and his transgressions in revealing the teenager's plea prior to the Estonia game somewhat justify this, but it is also down to Rodgers to carefully negotiate this.
Otherwise the Liverpool manager runs the risk of completely burning out the talents of a player who can arguably become of the club's true greats and have a Merseyside Wilshere on his hands.
The ongoing struggle between Hodgson and Rodgers over the Liverpool manager's players is akin to an ugly custody battle, with the former seeking the benefits the poor Sterling would manifest.
Rodgers just needs to ensure his most cherished youth doesn't get stuck in the middle of this war.
Should Brendan Rodgers accept some of the blame for Raheem Sterling's fatigue? Let us know in the comments below.