The league table doesn't make good reading heading into the international break. Joseph Cousins fears The Reds being cut further adrift if things don't go well in the six games after the break.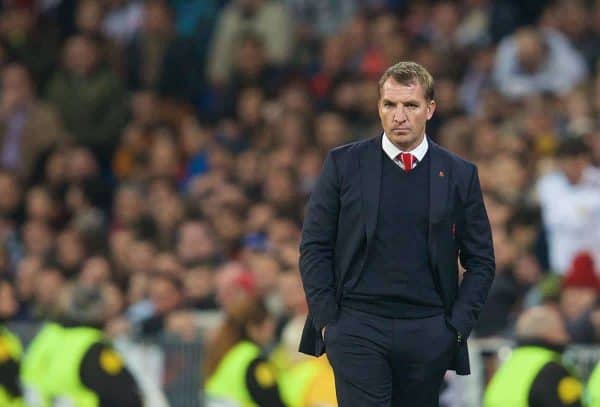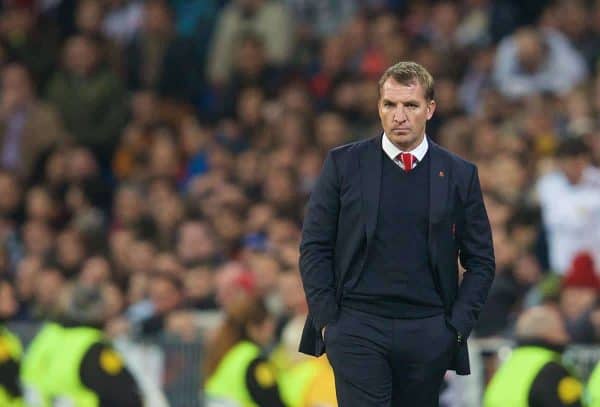 The Great Pit Of Carkoon
There is a scene in Return of the Jedi where the rebels attemptted rescue of Han Solo from Jabba the Hut goes a bit wrong. Luke Skywalker gets caught and he and Han are consequently sentenced to death via a trip to the great pit of Carkoon. Waiting at the bottom of the pit is the Sarlacc.
There's a bit where Lando Calrissien almost falls into the pit and as Han and Chewbacca try to pull him to safety the Sarlacc extends a tentacle and wraps it around Lando's leg to pull him in.
Think of that great pit of Carkoon and the Sarlacc as the mediocrity of the Premier League. The 10 clubs that usually finish between fifth and 14th. These clubs rarely get involved in a relegation scrap but don't have a prayer of winning the title. Neutrals or casual observers couldn't give a shit about these teams. Basically they are there to make up the numbers.
Think of LFC as Lando and our next six games as the tentacle of mediocrity trying to pull us into the abyss.
You see, the next six games are fucking huge. Two Champions League games where we need 6 points to ensure qualification to the last 16. I hear people saying four points will be enough but I'm not sure. It's possible Basle get something at home to Real Madrid. If they do then we need six points as our goal difference is shocking.

Are you confident that we'll beat Ludogorets away and Basle at home? Me neither. Not even with the return of Pele Sturridge. However, with the Europa League ready to embrace us should we slip up, anything less than 6 points is unthinkable.
Thursday evening football on ITV4 against Dinamo Minsk. No thank you.
We also have 4 premier league games coming up that need winning.
Palace (A), Stoke (H), Leicester (A), Sunderland (H)
Six wins on the trot (if Newcastle can win four on the trot, we can manage six!) would take us into the United and Arsenal games with much higher confidence and then positive results in those games totally transform our feelings about the season. We'd be in the last 16 of the Champions League and probably in the top four, if not close to it.
Do badly in those games however and instead of Han Solo shooting the Sarlacc's tentacle and pulling us to safety like Lando. We end up like Everton Boba Fett, fall into the pit and get eaten by the Sarlacc where in its belly we are slowly digested over a thousand years.
Ok, maybe a thousand years is a bit of an exaggeration but we are getting to the stage where if our results don't improve we will start to get cut adrift from the top four. We are already 11 points Southampton in second place, four points behind West Ham in fourth. We are below teams like Manchester United and Newcastle who everyone has said have had awful starts to the new season.
Only twice have we had a poorer 11-game start to a Premier League season. In 1992-93 we had 12 points after 11 games and in 2012-13, Rodgers' first season, we also got 12 points. We went on to finish sixth and seventh in those seasons respectively.
Some have been going on about the team not firing on all cylinders in the first half of last season and referring to the infamous game against Hull etc. but there is no comparison the first part of last season to this season. See stats below. We are far worse in every category.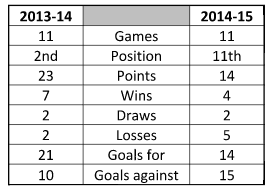 The most disappointing part for me is the lack of goals. We are not even creating chances. Especially at Anfield. Attacking play, creating chances and scoring goals is supposed to Brendan's forte. It was supposed to be our new identity. Now for whatever reason – and we all have our ideas what those reasons might be – we couldn't break down a fucking sandcastle let alone a stubborn Premier League defence.
The international break has come at a good time with our next game being two weeks away. Sturridge should be fit enough to take part at Crystal Palace. Whether or not he starts I don't know but just having him back will be a positive and should help get the best out of the likes of Balotelli, Coutinho and Sterling.
There has got to be a turning point at some stage. Hopefully a two-week break for the club followed by the return of our best goal scorer will be the catalyst.