Simon Mignolet faces a fight to keep his first-team place for Liverpool after high-profile errors, writes Jack Lusby.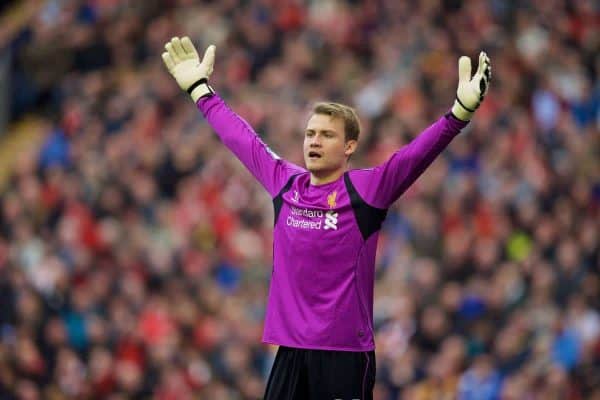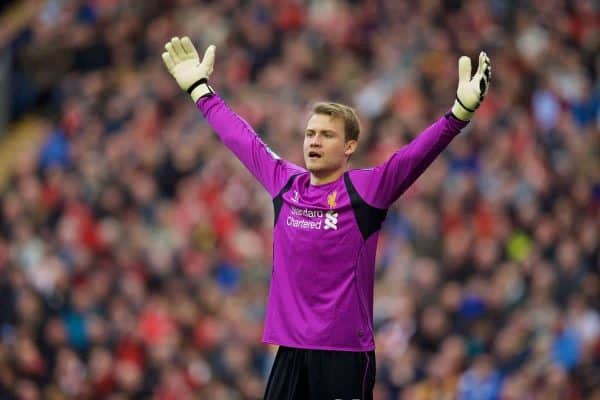 Following Simon Mignolet's miserable error two minutes in to Liverpool's 2-2 draw away to PFC Ludogorets Razgrad on Wednesday night, Brendan Rodgers offered the goalkeeper equal measures of criticism and assurance.
Dani Abalo capitalised on Mignolet's spill to put the Bulgarian side ahead in the Champions League, and the goalkeeper looked a player bereft of confidence once more.
Rodgers told reporters that "The goal was a massive setback for the team but we need to keep his confidence as high as we can. We have to look to the weekend and keep a clean sheet."
"As a goalkeeper you have to be able to let these things go."
With Liverpool hosting Stoke City on Saturday afternoon, however, Mignolet may struggle having looked far from his best in the Premier League throughout the season so far.
Rodgers' comments give the goalkeeper short-term assurance, but perhaps if performances don't go Mignolet's way this festive period, Liverpool may be looking to upgrade on a crucial area in the January transfer window.
Potential?

Mignolet announced himself in style in a Liverpool against Stoke in last season's corresponding fixture, with a late penalty save ensuring the Reds kicked off their campaign with all three points.
After that game, Simon Mullock of the Daily Mirror wrote that "if the Belgian international was daunted by the prospect of replacing Kop favourite Pepe Reina, he can breathe a bit easier now."
Mullock also quoted the goalkeeper as claiming "I'm a popular man? Let's keep it that way."
Unfortunately for Mignolet, this status has not endured, and with Rodgers' words on Thursday this underlines not only a failure to develop since his £9 million move last summer, but perhaps even a depreciation in quality from the No. 22.
Based on his form for Sunderland prior to moving to Merseyside, Mignolet's strengths were his shot stopping, with the goalkeeper always more capable with his hands than his feet.
However, errors such as his spill against Ludogorets in midweek underline how a major drop in confidence has seen this area suffer, too.
Find out why Bruce Grobbelaar says Simon Mignolet is worse than Dracula http://t.co/tunBcT5jVc #LFC pic.twitter.com/WbkdbAoHGh

— BBC Sport (@BBCSport) November 26, 2014
Former Reds goalkeeper Bruce Grobbelaar recently criticised Mignolet for his performances in an interview with BBC Sport.
Grobbelaar claims: "I've likened Mignolet to worse than Dracula because at least Dracula comes out of his coffin now and then. He seems to stay on his line and that's it. That whole area, not just the six-yard area, is the goalkeeper's."
While the 57-year-old is rather ill-judged in his literary comparisons, Grobbelaar makes a fair analysis of Mignolet's deficiencies in goal for Liverpool.
With this in mind and with no evidence of improvement so far, it is unlikely that Mignolet will develop into a top goalkeeper at Liverpool.
Competition

One key factor behind Mignolet's poor form could be that the goalkeeper has little to no competition so far in the Liverpool ranks.
Grobbelaar suggested Liverpool's current back-up goalkeeper should take the reins in Mignolet's stead, claiming he "would give Brad Jones a chance to see if he can come to the party and put Mignolet on the bench."
However, in reality, Jones has never been a Premier League quality goalkeeper and, while Mignolet is in terrible form for the Reds, the former Middlesborough man would not solve Rodgers' problems.
In almost 15 years in professional football, Jones has made just over 100 league appearances, spanning spells with such high-calibre forces as Stockport County, Rotherham United, Blackpool and Derby County.
This includes eight Premier League appearances for the Reds.
Mig's confidence is absolutely shot. Needs taking out of the team like Lovren…but it's Brad Jones……….

— Dan Kennett (@DanKennett) November 26, 2014
A hugely likeable figure on Merseyside, Jones is a lifelong Liverpool supporter, and on signing a new contract at the end of 2012, maintained that "there were two things I said when I was eight years old; one was that I was going to play for Australia, which I have, and the other was playing for Liverpool, which I've done too."
Rodgers also spoke on this renewal that Jones has "stepped up to the plate and shown he is a very capable No. 2."
However, while Jones can offer passion and loyalty—two reasons why he is so suitable to a back-up role—his quality in goal is not up the standard of a Premier League regular, and as such cannot confidently challenge Mignolet, or provide the goalkeeper with motivation to perform.
If Mignolet is guaranteed a starting role whatever the circumstance, how can Rodgers ensure his performances improve?
Rodgers' Last Stand

Rodgers' quotes, that his error at Ludogorets was a "massive setback for the team," suggest that, while also offering support in declaring "we need to keep his confidence as high as we can," the manager is unhappy with his goalkeeper's performances.
Mignolet's lack of confidence between the sticks is hampering any progress made in the defence, with Kolo Toure standing as the only authoritative presence within the Liverpool ranks.
Rodgers needs a confident, on-form goalkeeper in order for his side to shut up shop as winter draws in.
https://twitter.com/_ChrisBascombe/status/537741924585574401
His press conference claim that "it won't always go your way, so you fight harder," could well be a veiled nudge in the back for the No. 22.
The manager's criticism stand as a last-ditch motivational tactic—without competition or any natural development in Mignolet so far, this is all Rodgers can use prior to the January transfer window.
Grobbelaar continued his criticism by concluding that for Liverpool to succeed they "have got to shore up the back. Get yourself someone in goal who can actually only let in 30 goals a season, or fewer than 30 goals."
Mignolet has so far failed to suggest he is that goalkeeper.

Rodgers has proffered that "Simon is strong enough to deal with criticism," and the goalkeeper himself recently suggested he was his own "biggest critic" underlines this.
However, Mignolet needs to back up this mentality with his performances.
With Petr Cech and Victor Valdes linked with a move to Anfield so far this season, and Brendan Rodgers' criticism perhaps a final shot at spurring his current charge into life, Liverpool may have to upgrade on Simon Mignolet to help relieve their defensive issues.
Can Simon Mignolet find form at Liverpool, or should Brendan Rodgers sign a replacement in January? Let us know in the comments below.