As promising substitute Lazar Markovic was red-carded against Basel on Tuesday, this embodied Liverpool's Champions League failings, writes Jack Lusby.

Liverpool saw their Champions League dreams dashed with a 1-1 draw at home to Group B opponents FC Basel on Tuesday night, with the Swiss champions advancing to the knockout stages along with group-leaders Real Madrid.
For large portions of the contest Liverpool were second best—drab and lifeless—and manager Brendan Rodgers can have no complaints as his side now face Europa League contention.
One bright spark was provided by half-time substitute Lazar Markovic, but his vibrant cameo was cut short after receiving a red card on 60 minutes.
Nevertheless, Markovic's 15-minute intervention should have proved a lot to Liverpool's board, and hopefully Rodgers himself—it should serve as an It's A Wonderful Life-style provision of clarity.
The Starting Line-Up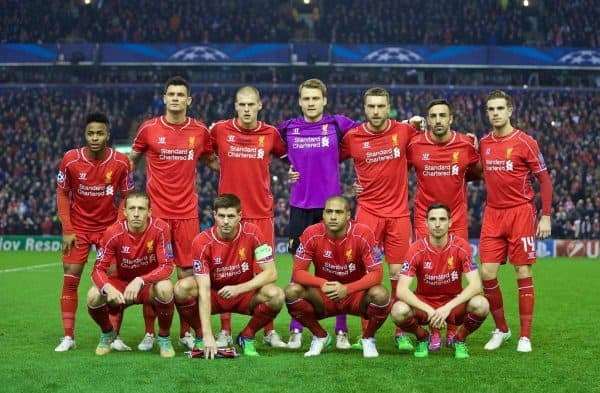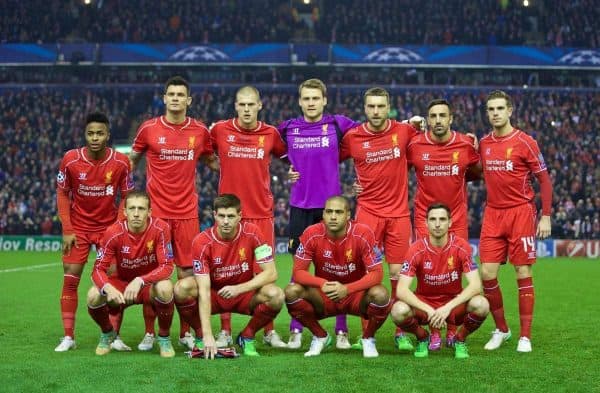 There has been great merit in Rodgers' selection of experience recently, as the likes of Lucas Leiva and Kolo Toure have helped improve Liverpool's form.
However, the manager went totally off the scale with his approach to this game.
After talking of "folklore" before the game, and attempting to absolve Steven Gerrard of responsibility, Rodgers looked to lean on his most experienced players.
The line-up of Simon Mignolet, Glen Johnson, Martin Skrtel, Dejan Lovren, Jose Enrique, Lucas, Joe Allen, Raheem Sterling, Gerrard, Jordan Henderson and Rickie Lambert was of an average age of 27.2.
This is over a year older than the 25-man squad's average age of 25.9.
Furthermore, it saw under-performers like Johnson, Lovren and Enrique favoured, with stronger options Javier Manquillo, Mamadou Sakho and Alberto Moreno either on the bench or in the stands.
Should he complete 90, it'll be Lambert's 6th full match in the space of 16 days tonight. From no games to all the games. #LFC

— Sam Tighe (@stighefootball) December 9, 2014
So the only centre forward option from the bench is Markovic? Wonder if Borini has got the message yet?

— Dan Kennett (@DanKennett) December 9, 2014
More alarmingly, 32-year-old Lambert was playing his sixth game in 16 days, with no established centre-forward back-up on the bench.
There's no surprise this selection struggled at Anfield on Tuesday night.
The Attacking Changes

In criticism of Rodgers' approach after the game, former Reds manager Roy Evans was very vocal on matters concerning both the starting line-up and the manager's tactics:
The way we approached the game was a bit negative for me. We started the game—a game we needed to win—with a really low tempo. We didn't put them under pressure and I'm thinking, 'go for them'. If you need to win, why not put them under pressure from the word go?
Rodgers' starting line-up may have been wise if Liverpool were in Basel's position.
The Swiss side needed just a point to secure their qualification from the group, given Ludogorets were always doomed to fail against Real Madrid.
I've said this before but Johnson, Skrtel, Lovren & Enrique should never start the same match again. Like the 4 horsemen of the apocalypse

— Dan Kennett (@DanKennett) December 9, 2014
But fielding Liverpool's worst possible back four in Johnson, Skrtel, Lovren and Enrique, along with both Lucas and Allen in similar holding positions, and Gerrard behind an extremely fatigued Lambert invited pressure from the opposition.
This was evident with Fabian Frei's opener, with Liverpool's midfield absent.
#LFC utterly devoid of the zip/vibrancy that made them so irresistible last season. Accept Suarridge a massive miss

— Ben Smith (@BSmith) December 9, 2014
Rodgers clearly noticed this, and at half-time introduced Markovic in place Lambert, along with bringing Moreno on in place of the dire Enrique.
Markovic and Moreno are arguably the club's paciest players, along with Sterling, and would have offered Rodgers a more intensive attacking flexibility from the start.
Operating in an attacking midfield role, with Gerrard moving into a bemusing false-nine position, Markovic was a revelation—bold, driving, intelligent and creative.
Markovic only played 15 mins yet completed more take-ons than any other Liverpool player tonight pic.twitter.com/6leKQxKjhw

— Andrew Beasley (@BassTunedToRed) December 9, 2014
However, 45 minutes in and one goal down, this proved too late.
Too Little,Too Late

Just as swiftly had Markovic's substitution helped perk up a flagging Liverpool side, the No. 50 was dealt a harsh blow with his red card on 60 minutes.
An errant thrash of his right arm caught the face of Basel defender Behrang Safari who, albeit lightly, fell to the ground clutching his nose. While it is considered a controversial decision, Markovic was well aware of Safari's position before acting, and a red card was arguably just.
Looks like the Markovic player got shot in the face there. https://t.co/q9gqFDL5wo

— LFC Fans Corner (@LFCFansCorner) December 9, 2014
Markovic looked at his opponent twice and then flailed his hand towards his face. Sadly, that's a red card. Even tho opponent faked it.

— Ian Ladyman (@Ian_Ladyman_DM) December 9, 2014
Markovic left the field, to his bemusement, and effectively consigned the Reds to defeat—unable to commit wholly to attack with 10 men, Liverpool struggled.
This 15-minute cameo, and its subsequent derailment, serves as a picture of Rodgers' approach to the Champions League this season.
We start to see the Markovic that we wanted when we bought him – and that happens. If you wanted any other indication this season is cursed.

— Dan Shepherd (@TheCarteI) December 9, 2014
A more ambitious team should have started at Anfield on Tuesday night.
As described, the clash was tactically set out for Liverpool to dominate offensively, as the performance of Markovic proved, as this was a must-win.
Rodgers, unfortunately and bizarrely, opted for a reticent approach, and this failed.
His opportunity to make amends for this came at half-time, and the introductions of Markovic and Moreno helped to turn the tie in Liverpool's favour. However, this proved too late both on the night and in the competition.
Liverpool's approach to the Champions League in general this season has seen a tactical naivety in Rodgers, and a stubbornness in his selecting particular personnel; the manager arguably threw the towel in at the Bernabeu.
Even so, Markovic was probably still the Reds' best player on the night.

— Paul Tomkins (@paul_tomkins) December 9, 2014
Markovic's individual display was unfortunate to be curtailed, but must now stand as a catalyst for Rodgers.
Under immense pressure heading into Sunday's Premier League encounter with rivals Manchester United, Rodgers must use this promising glimpse as a basis for his tactical layout.
No more favouritism, no more defensive naivety, and a return to swashbuckling attacking form.
How should Liverpool approach this weekend's visit to Manchester United? Let us know in the comments below.