As claims surface that Raheem Sterling is "nowhere near" signing a new contract with Liverpool, Jack Lusby believes the club cannot afford to lose the star.

If things couldn't get any worse for Liverpool fans at the moment.
Following the side's exit from the Champions League on Tuesday night,reports emerged on Wednesday that star player Raheem Sterling was "nowhere near" reaching a conclusion to contract talks with the club.
Henry Winter of The Telegraph writes that "Liverpool's new offer is understood to be £70,000 a week with handsome bonuses for progress in the major competitions."
However, he continues: "Now that Liverpool are out of the Champions League and labouring in the Premier League the prospect of additional payments is clearly less likely. The offer was described as 'nowhere near acceptable' by [a] source."
Liverpool could face another phase of rebuilding soon, and that must start with Sterling.
Within reason, whatever the player wants, Liverpool should endeavour to provide this—the club cannot risk losing such a huge prospect.
The Threat of Leaving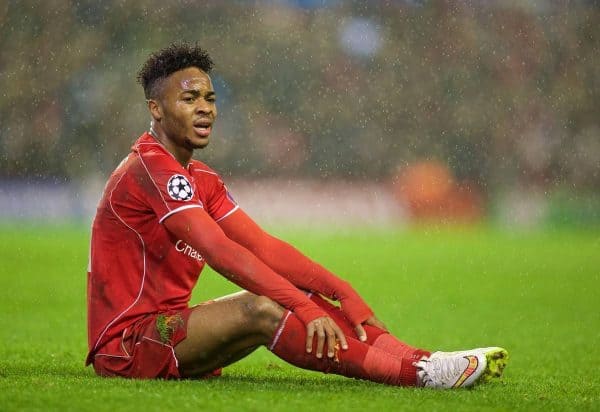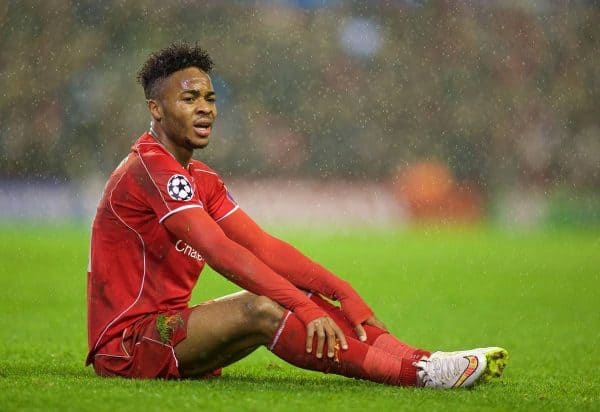 The main caveat to be drawn from this report, is that there is a very real threat of, if his terms aren't met, Sterling could leave Liverpool for a club who is willing to pay for his services.
It has been oft-reported that Real Madrid are highly interested in the 20-year-old, with Spanish football expert Guillem Balague recently claiming that, if Sterling's progress continues "there will be a point where Real Madrid say 'ok, you can be the next Galactico.'"
As Gareth Bale's recent move to the La Liga giants proves, the club are a very real and viable attraction for Premier League stars.

Arguably, at this point, Sterling wouldn't find a place in an attack featuring Bale, Cristiano Ronaldo and James Rodriguez, but Madrid are clearly more than happy to stockpile.
And they are clearly more than happy to pay players what they feel they are worth.
Another obvious comparison in this situation is that of Ashley Cole, who moved from Arsenal to Chelsea in 2006.
Cole claimed, in his autobiography, that "When I heard [my agent] Jonathan Barnett repeat the figure of £55,000-per-week, I nearly swerved off the road." Arsenal were reasonable, but Chelsea bloodthirsty.
In the end, Arsenal received just £5 million, along with France defender William Gallas, in return for Cole.
Cole went on the become a major feature in a hugely successful Chelsea side under Jose Mourinho and a plethora of successors.

Liverpool cannot find themselves in a situation where a rival club, like Chelsea, Manchester City, or even Manchester United, are willing to pay through the nose for a player as talented as Sterling, and lose out on the one world-class youth product to break through since Steven Gerrard.
United are quite happy to pay the going rate for their young stars—take Luke Shaw for example, who, at 19, signed a deal with the club at a reported £120,000-per-week.
It may seem an extortionate fee, one which Mourinho claimed "would be very negative" from his position, but United have likely secure Shaw—a talent arguably as prodigious as Sterling—from the grasp of any future, lurking suitors.
In his criticism, however, Mourinho continued: "Because when you pay that much to a 19-year-old kid…[we would] get players knocking on our door and saying how is it possible that I play for this club 200 games and won this and that?"
This raises the question of comparative value.
Liverpool Wages

Brendan Rodgers faced an extensive battle to cut down on high-earners at the club upon his arrival as manager.
As we reported previously, on becoming owners of the club, "FSG were shocked by the size of Liverpool's wage bill, especially players on vast wages who were not key members of the squad."
Near the time of their acquisition, John Henry declared that "[Liverpool will] never again waste resources on inflated transfer fees and unrealistic wages. We have no fear of spending and competing with the very best but we will not overpay for players."

This saw the likes of Alberto Aquilani (£90k), Joe Cole (£90k), Maxi Rodriguez (£70k), Dirk Kuyt (£70k), Stewart Downing (£70k) and Andy Carroll (£85k) sold.
However, in accordance to Rodgers' view of their importance to the Liverpool first-team, several players such as Glen Johnson (on a reported £120,000-per-week contract) and Martin Skrtel (£70k) remain on the books.
Rightly, Liverpool should be looking to reward first-team players with suitable contracts.
Henry's claim that Liverpool "have no fear of spending" saw them reward Luis Suarez with an £200,000-per-week contract at the end of 2013, making him the top earner in the club's history.
Photo: How's this for an early Christmas present, Reds fans? Luis Suarez signs his new long-term #LFC contract pic.twitter.com/rNRSu4crsS

— Liverpool FC (@LFC) December 20, 2013
This was due to the striker's immense value to the side, and this is why Steven Gerrard has long been on such high wages.
The club must consider Sterling within this bracket, as the 20-year-old is already one of Rodgers' most fundamentally important players, and this has become even more apparent this season.
Sterling's Importance

This season, Sterling has featured for more minutes in the Premier League than any other outfield player at the club—only Simon Mignolet tops the forward, and this is due to lack of competition in goal.
No player has scored more league goals than Sterling; Gerrard is equal on a rather pitiful three, but only one of these was scored from open play.
No player has made more league assists than Sterling who, with four, sees vice-captain Jordan Henderson into second with three.
No U-21 player in Europe's top 5 leagues has created more chances than Raheem Sterling this season (36). pic.twitter.com/RTNQoAef6j

— Squawka Football (@Squawka) December 8, 2014
At 20 years old, Sterling is more often than not the player that Rodgers must turn to in order to change a game, and in order to sparked his side into anywhere near the attacking form of last season.
As Winter puts it, Sterling "has come to embody the Liverpool that Rodgers and their American owners want to portray: young, swift, clever and attack-minded."
If Sterling is to feature (and he undoubtedly will) against United on Sunday, it will be his 100th appearance for the club—a supreme feat for a player so young.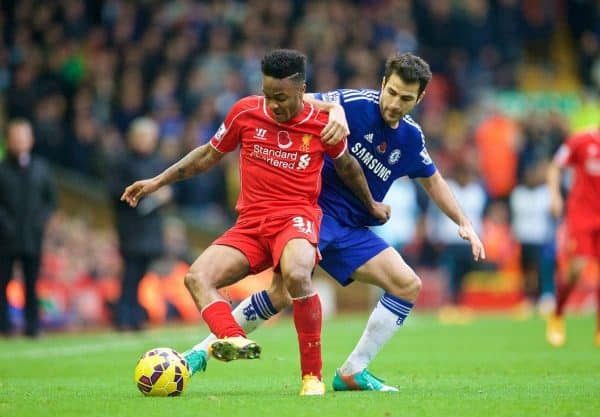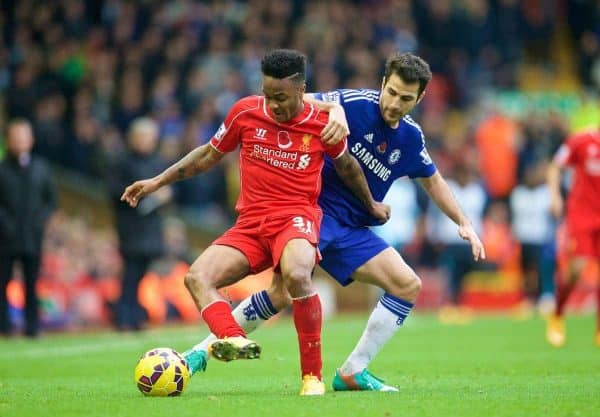 The club are likely apprehensive in terms of offering increasingly handsome wages to a 20-year-old, but Sterling is so important already, and has so much potential, that a wage of at least £90,000-per-week would perhaps be more suitable.
As this season so far has shown, with the loss of Luis Suarez, Raheem Sterling is one of Brendan Rodgers' most important players at Liverpool, and the club must not hold back in terms of rewarding this, or face losing the forward to the highest-paying rival.
How much is Raheem Sterling worth to Liverpool? Let us know in the comments below.