With Brendan Rodgers comparing the two, the potential for Raheem Sterling to emulate Alexis Sanchez at Liverpool is clear, writes Jack Lusby.

Liverpool welcome Arsenal to Anfield on Sunday, along with their most-coveted summer transfer target in Alexis Sanchez. Without him in the side, manager Brendan Rodgers will be looking Raheem Sterling to emulate his ability on Merseyside.
Earlier this week, Rodgers pined over Sanchez. "To not get him was obviously bitterly disappointing," he said, "He's a world class player with outstanding quality and even bigger work rate. He would have been perfect for us."
It was clearly a disappointment for all—it is widely consider than signing Sanchez would have transformed Liverpool's fortunes this season.
Without him however, Rodgers must look elsewhere.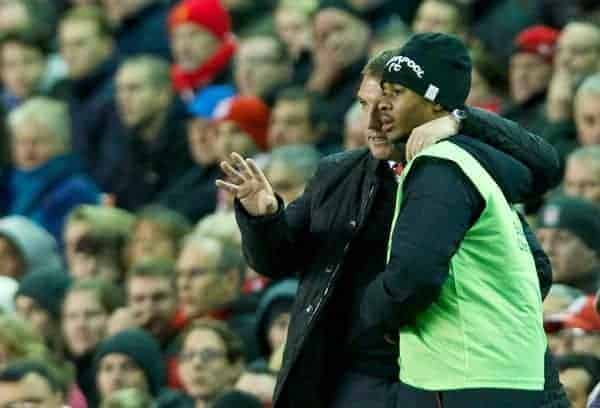 He did so after the loss to Manchester United last weekend, claiming: "At Old Trafford [Sterling] was unfortunate not to score and in that role he plays you think of Sanchez when he plays for Arsenal."
At 20 years old, Sterling has a long way to go.
But if he is going to make it to the top, Sterling should be looking to emulate the success and playing style of Sanchez, as they are already hugely similar.
Goals and Assists
https://twitter.com/Arsenal/status/537723881809645569
The main aspect Liverpool are lacking without Sanchez are goals—particularly with primary goalscorer Daniel Sturridge suffering long-term injury this season.
So far at the north London club, Sanchez has scored nine goals, prior to this weekend's clash.
Furthermore, the Chilean has made five assists, in particular working well in tandem with England striker Daniel Sturridge—a player similar in style to Sturridge.
Over his 15 Premier League games this season, Sanchez has also lead the Arsenal side in terms of chances created and through balls made.
In the Arsenal team this season A.Sánchez has the most:

Goals (9)
Assists (5)
Chances created (41)
Through balls (7) pic.twitter.com/jNx7ivtbRk

— Squawka Football (@Squawka) December 19, 2014
On average, Sanchez makes 2.8 key passes and 0.5 through balls per game.
Sanchez is Arsenal's key man, both in converting and creating chances.
Sterling isn't quite at his level in terms of a return in goals or the creation of chances, but is arguably Liverpool's most important player on both of these levels.
With three goals and four assists in 15 league games so far this season, Sterling tops the charts at Liverpool—only Steven Gerrard has scored as many league goals, but only one of these has come from open play.

Sterling makes 2.5 key passes and 0.1 through balls on average per game.
The difference in these comparative returns is age: At 26, Sanchez is six years Sterling's senior and naturally, on this level, the Reds No. 31 will improve with age.
Style of Play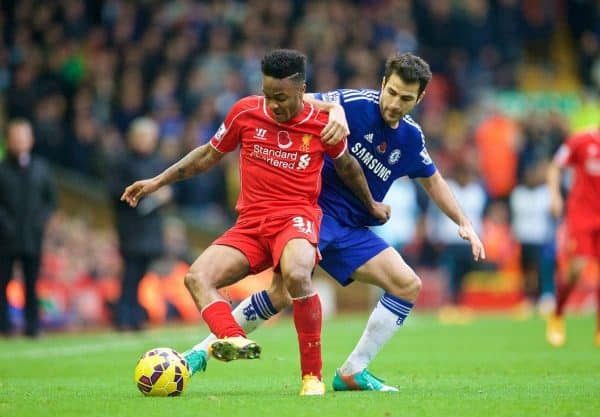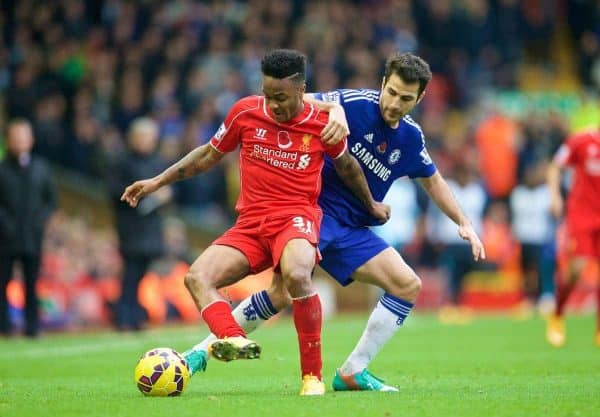 Where the pair are perhaps most fairly compared is in their respective styles of play.
Prior to Sunday's Anfield tie, Arsenal manager Arsene Wenger claimed Sanchez chose a move to the club as he convinced him he could "help him to develop the quality of his game, that the way we play football would suit him."
Arsenal are a patient, attack-based side and Sanchez's direct style suits this, but the player has arguably transformed their style.
This can be seen in his dribbling ability—a key component on the counter—and this is similar to that of Sterling.
caasi un GOLAZO, Alexis Sánchez vs Stoke City #Arsenal https://t.co/AdqdrHQv70

— ????????? ?????s ? (@guilleyisus) December 6, 2014
A devastating solo charge in Arsenal's 3-2 loss away to Stoke City is the perfect evidence of this; Sanchez made his way past several Potters defenders, embarrassing them in the process.
Sterling did something similar in the midweek Capital One Cup victory over Bournemouth:
https://twitter.com/MostarLFC/status/545344542308708355
Both have the pace and dribbling ability to terrorise opposition defences, and as Rodgers claimed "how I ask teams to play[,] speed is critical."
Another way Sanchez has transformed Arsenal's style is in a way akin to that of Luis Suarez at Liverpool last season—the complete forward's attribute of defending from the front.
Wenger recently described Sanchez as a proprietor of "street football," and the forward's average of 1.9 tackles per league game this season is the most of any Arsenal attacker.
https://twitter.com/Arsenal/status/540799804654505984
Sterling averages at 1.3 tackles per game, behind Adam Lallana and Jordan Henderson of Liverpool's more advanced players.
However, it is clear to see how Sterling's pressing game and impressive strength benefits Rodgers' style of play—in the last two games, Sterling has pressed and harried diligently.
What is perhaps even more clearly comparable with the two is their ability to do this in a wide variety of positions.
Versatility

In his recent praise of Sterling and Sanchez, Rodgers outlined how "[Sterling] can play across the front line," continuing "His best position is on the left, dipping inside, making runs in behind, creating one-on-ones. I put him in the position because I believe he can play in it."
Like Sterling, Sanchez has a best position—that being just behind the striker in an attacking midfield role—but is able to operate all across the front line.
Sanchez's versatility can be highlighted by his starting positions this season across both the Premier League and the Champions League.

Sanchez has started in seven different positions for Arsenal, suiting various tactical outlines and formations.
No surprises here then, as the comparisons with Sterling continue.

Sterling has also started in seven different positions this season, and has been effective in most of these roles.
Rodgers' recent experiments with Sterling as a lone, mobile striker highlight his faith in the 20-year-old's ability to perform consistently across a wide variety of positions, and this is very similar to that of Sanchez at Arsenal.
Sanchez offers Wenger a similar tactical versatility.
Congratulations @sterling31, who was today announced as the winner of the prestigious 2014 European Golden Boy award pic.twitter.com/v76Ab90KAk

— Liverpool FC (@LFC) December 20, 2014
Clearly Sterling has a fair way to go to reach the heights that Sanchez has at Arsenal, and previously Barcelona, but his 2014 European Golden Boy win underlines his potential to do so.
Brendan Rodgers missed out on Alexis Sanchez in the summer, and has seen his side flounder as a result, but perhaps elevating Raheem Sterling to his level is the next best option.
Can Raheem Sterling be Liverpool's Alexis Sanchez in the future? Let us know in the comments below.