Steven Gerrard hopes there are "many more fantastic memories to come" for Liverpool at Anfield after the club confirmed the stadium expansion is set to begin.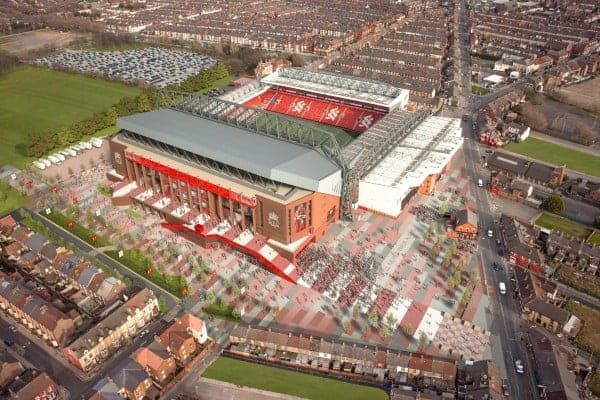 A Main Stand redevelopment will see its capacity rise by around 8,500 seats, meaning the stadium will be able to hold 54,000 spectators.
Captain Gerrard has yet to decide whether to commit to an extension to his current Liverpool contract, which expires at the end of the season.
But the 34-year-old, who has spent his entire career with Liverpool, is thankful Anfield will remain home to the club who have been English league champions 18 times. Liverpool abandoned plans to leave the stadium for a larger new home two years ago, and news that building work will start on Monday has highlighted a long-term commitment to the arena.
Gerrard said: "It's very exciting news that we have finally got around to extending Anfield. For me, it was all about staying at Anfield. As much as I like new stadiums, I'm more traditional and I like the old stadiums like the Camp Nou and places like this, where all the history and all the memories happen."
He added: "There have been so many unbelievable nights and memories here, it would have been a shame to leave it all and for this to have become houses or apartments.
"Now that they are going to extend the stadium, it's going to become even bigger, better and noisier. Hopefully there are many more fantastic memories to come."
Liverpool manager Brendan Rodgers believes increasing the number of supporters that can pass through the Anfield turnstiles is key to the club's long-term success.
"It's very important. When you look across the globe and football, some of the stadiums hold up to 80,000 or 90,000 people," Rodgers said.
"So it's very important commercially and very important for football that's aligned and it benefits the football club, because first and foremost there are more supporters getting in.
"It is vital to have another tier on top of the main stand here and that will be amazing. Obviously commercial revenue is very important in football and how that can be built up allows you to compete in the future."
PA