Nobody can replace Steven Gerrard, but his summer departure will leave a hole that needs filling at Liverpool. Jack Lusby identifies five current players who will be needed to step up and lead the club in his absensce.

With Steven Gerrard leaving Liverpool in the summer, Brendan Rodgers is losing not only an able midfielder, but also the club's most important player in terms of the acclimatisation of signings, club representation and overall leadership.
Gerrard is Liverpool's talisman, and represents both their history and their ideals.
As such, the damage Gerrard's summer departure will make to Liverpool can be found on a more intangible level: It is not in the goals he scores or creates; more the authority he exudes.
Therefore, Liverpool will need to find a way to replace this.
This can start from within, and here are five players who need to fill Gerrard's role as he leaves Liverpool for the MLS in the summer, starting with his current understudy, Jordan Henderson.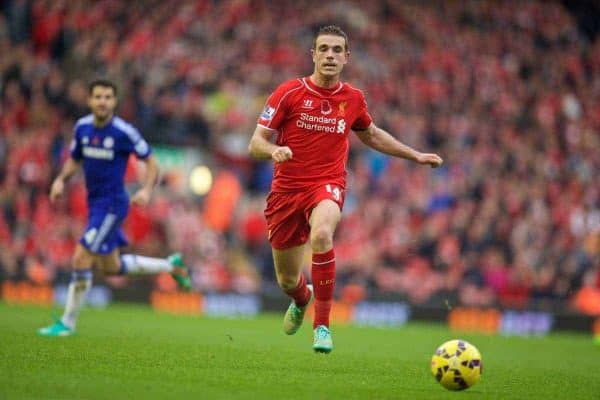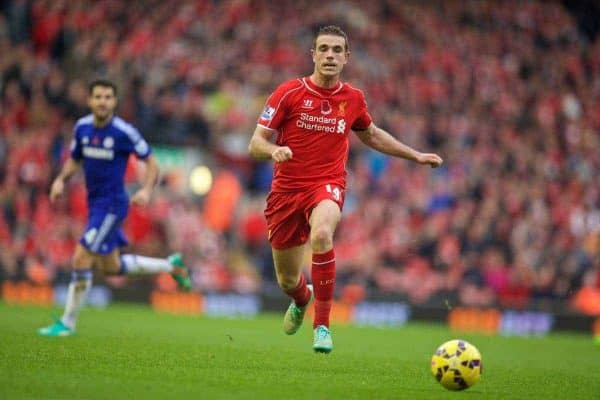 Named vice-captain following the sale of Daniel Agger to Brondby in 2014, Henderson's contribution on and off the pitch was clearly recognised by Rodgers.
On the announcement of Henderson's promotion, Rodgers was effusive in his praise of the diligent 24-year-old, comparing his approach to Gerrard's:
"Both he and Steven are examples to others in how they conduct themselves on and off the pitch. It's how they live their lives, it's how they train and it's how they approach their work.

"Jordan is completely dedicated to the game and his leadership qualities come from the example he sets. It's another great story for Jordan in his journey as a Liverpool player and it shows the great progress he has made."
Naturally, it is expected that Henderson will be made Liverpool captain on Gerrard's departure, and as such the midfielder must be perfectly placed to assume the 34-year-old's various roles at the club, from top to bottom.
Henderson has the loyalty and the passion, as well as the ability to influence his teammates; next season and beyond, this must be magnified.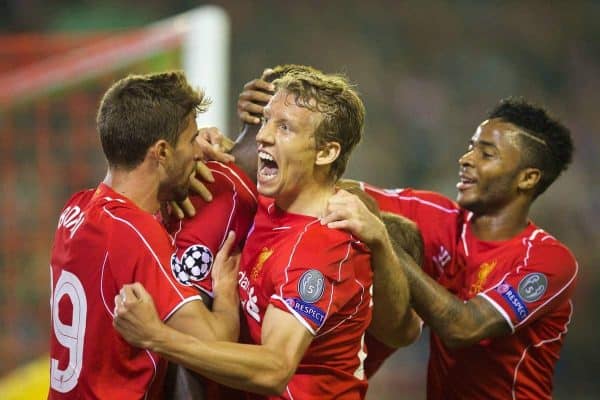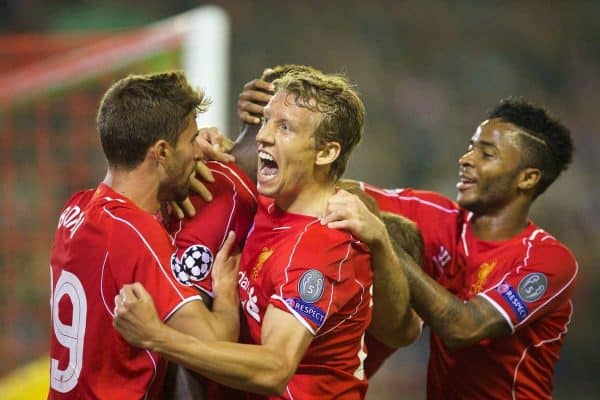 Performing somewhat of a resurrection act this season, by forcing his way back into Rodgers' first-team plans with a series of diligent defensive displays, Lucas Leiva could well have secured his future with the club.
And when Gerrard leaves, Liverpool's longest-serving player mantle will fall to fellow midfielder Lucas and, as this season has underlined, the Brazilian's experience moving forward will be vital.
This can be astutely evidenced by Lucas' role in the signing of Coutinho, with the Liverpool No. 10 claiming at the time:
"I never spoke to the manager before I signed. But I spoke for a long time with Lucas and he explained the methods here. Lucas passed me all the information I needed. He told me how the club works, the style and the structure of the club and how we play. When I signed I already had all the background information I need."
Integrating new signings will have been an important role for Gerrard, but Lucas' may well be just as crucial.
Kolo Toure

Much like Lucas, Kolo Toure has become a vital on-field component for Rodgers this season; however, his influence off the pitch may be even more important.
On signing the centre-back on a free transfer in 2013, Rodgers hailed Toure's "winning mentality."
Elsewhere, former Liverpool defender Martin Kelly outlined howToure was "a big character for the club and helped a lot around the dressing room," continuing: "Whether he's on your team or not in training, he's giving advice to everyone."
As one of Liverpool's few title-winning squad members, with experience at Arsenal and Manchester City, Toure's experience is invaluable.
And as he has proven this season, he can still be important on the pitch as well as off it.
Toure's contract is set to expire at the end of the season, but Gerrard's announcement should prompt Rodgers to open negotiations with the experienced defender.

Enjoying a growing importance to the side this season alongside Henderson, midfielder Adam Lallana can be hugely influential as Liverpool lose Gerrard in the summer.
Having captained previous side Southampton in the Premier League, Lallana is well-versed in the interpersonal approach required to maintain a strong team spirit both in the dressing room and on the field.
Lallana stressed the importance of a strong dressing room during Liverpool's run of poor form earlier this season:
"All the top clubs have it. You can't always play well to win. Sometimes you have got to have an off day and still win—that's what the best teams do. Then when you play well, you're more likely than not to win."
Off the field Lallana seems intelligent and amiable, much like the departing Gerrard, and the former Saints man will be instrumental as Liverpool move on without his compatriot.
Mamadou Sakho

Another former club captain, Mamadou Sakho will be another squad player important as Liverpool move on without Gerrard.
Named Paris Saint-Germain captain on his Ligue 1 debut in 2007, Sakho lead his hometown side out at just 17 years old, and it was the centre-back's ability to lead by example that prompted this.
Having also captained his national side, Sakho is well experienced in the area, and France manager Didier Deschamps declared, prior to the defender's first outing as captain of Les Bleus that Sakho was a "natural" leader.
"It's a whole bunch of things from what he does on the pitch to how he is off it. It's something natural for him, I don't want to hold him back."
So long as Rodgers doesn't hold Sakho back, in favour of the miserly Dejan Lovren, the 24-year-old can grow to be an extremely influential player at Liverpool.
Who else can help fill Steven Gerrard's leadership role at Liverpool next season? Let us know in the comments below.