As well as being a time of anticipation for what the future might hold, New Years is a time for reflecting on the year that has just past. In that spirit, I look back on Liverpool's 2014 and profile three heroes and villains from what has been a rollercoaster year for Kopites.
Heroes
1. Brendan Rodgers

Any manager that takes Liverpool within touching distance of their first Premier League title deserves to be acknowledged as a hero. The 41-year old Northern Irish man was instrumental in the Reds' remarkable 2013/2014 campaign, which concluded with the Merseysiders still having a mathematical chance of clinching the title on the final day of the season, even if everyone knew it was a long shot in reality.
His tactical versatility and attacking emphasis meant that Liverpool produced exquisite football for Kopites to enjoy every week, while also securing results, as the Reds experienced an unforgettable first half of 2014, winning 15 out of 19 League games and losing only once.
Undoubtedly, Rodgers has areas requiring development. Most notably, he needs to work out how to improve his leaky defence. However, the astounding success that the club enjoyed under his guidance and inspired by his footballing philosophy entitles him to time to turn things around, and earns him a place among Liverpool's heroes of 2014.
2. Luis Suarez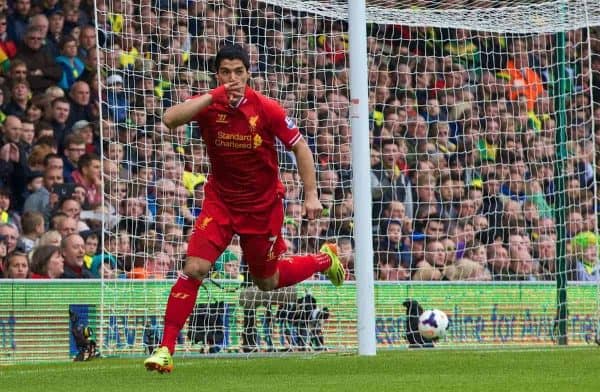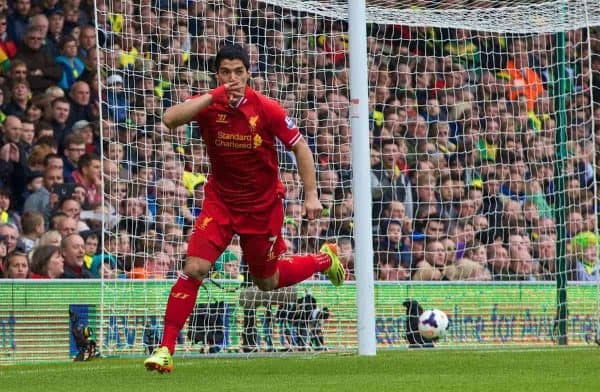 He could so easily be placed in the villain category as a result of his acrimonious departure from Anfield following bite gate 3.0. However, Suarez's scoring record makes it impossible not to ultimately view him as one of the Reds' heroes from2014.
12 of his 31 League goals in the 2013/2014 season came in 2014, and there is no doubt that Liverpool would not have been challenging for the title in May had Suarez not been scoring like it was going out of fashion.
The Reds' declining fortunes following his sale to Catalonian giants Barcelona for £70 million in the summer perfectly shows how much Suarez contributed to the club, and for that he will always be remembered fondly on Merseyside, even if the rest of the country continues to hate the 'marmite' figure.

Suarez's sidekick, Sturridge matured into the exceptional striker he has always promised to be this year. Netting 14 times in 2014, the England forward revelled when given the opportunity to play centrally and formed a duo with Suarez so dynamic that it came to be affectionately known as the 'SAS'.
Alongside Suarez's departure, Sturridge's injury problems are a major determinant of Liverpool's woes during the current campaign, and many are pinning their hopes on him being the hero who comes to the rescue to fire in the goals that propel the Reds up the table in 2015.
Villains
1. Liverpool's defence

Put simply, Liverpool's defence cost them the title in 2014. Shipping a grand total of 50 goals in the 2013/2014 season, which was 13 more than main title rivals Manchester City conceded, the Reds' back line relied on being bailed out by the brilliance of their teammates at the other end of the pitch.
Stoke City 3-5 Liverpool, Liverpool 4-3 Swansea, Cardiff City 3-6 Liverpool and Norwich City 2-3 Liverpool spring to mind as particularly embarrassing games for Liverpool's defence. However, no shoddy defensive display was as costly as the one at Selhurst Park on the penultimate matchday of the 2013/2014 season, when the visitors somehow conceded three goals in nine minutes during the closing stages to throw away a three goal lead and all but end their title chances.
Things haven't got any better in 2014 either. In fact, considering the substantial sums that were invested in defenders like Lovren, Moreno and Manquillo over the summer, in real terms Liverpool's defence has deteriorated even further. Only a remarkable and much needed turnaround will prevent Liverpool's defence retaining its place in the list of villains at the end of 2015.

One excuse that Liverpool's defence might offer is that it is difficult to defend well when they have such an unconvincing goalkeeper behind them. They'd have a point too, since Simon Mignolet has been simply dreadful this year. Indecisive and hesitant at set pieces, the Belgian stopper looks like a mistake waiting to happen with the ball at his feet and has failed to redeem himself with his shot-stopping ability.
Surprisingly dropped against Manchester United, he sat out matches against Bournemouth and Arsenal before receiving an unexpected recall at Burnley on Boxing Day after his replacement Brad Jones picked up a thigh injury. His time out of the limelight on the sidelines did not seem to have the desired effect, though, as he produced another worryingly poor performance.
There seems little way back for Mignolet now, and it won't come as a surprise if he leaves Liverpool in the January transfer window.
3. Mario Balotelli

What can I say about Balotelli that hasn't already been said?
The Italian has always been a liability and Rodgers himself admitted that he took a huge gamble when, in an act of desperation, he signed Super Mario from AC Milan for £16 million in the summer.
That speculative punt has spectacularly backfired, as the number 45 has managed a measly two goals in 15 games. Moreover, he has got in trouble off the pitch once again as well after the FA handed him a one match ban for posting a racist and anti-Semitic photo on Instagram. Perhaps most frustratingly, his attitude on the pitch has been atrocious, with his body language rarely suggesting anything other than complete and utter disinterest.
Rodgers has recently warned Balotelli to expect a spell on the bench, and it might be a long time before he can win back the many supporters who justifiably see him as one of Liverpool's villains of 2014.