Liverpool return to European action this week, but not in the competition we'd like to have been. Rowan Dix isn't very enthused at the prospect and would prefer not to risk key players.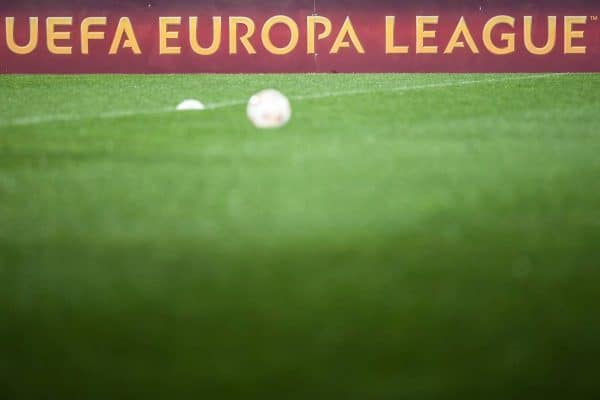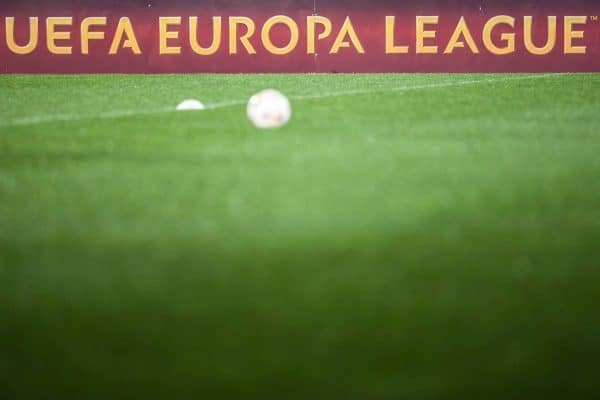 Sorry to start controversially, but this article won't work unless I'm upfront from the start…
I couldn't really give a velvet stuff about the Europa League.
It's evolved into an "also rans" league. A "consolation" league.
I'll still watch the games of course, and naturally prefer us to do well. But unlike all other competitions, my heart and soul won't be painfully tied to success. My viewing will be relaxed and dispassionate. I won't be shattered, or even particular bothered, by elimination.
The nature of Europa League qualification is failure. Most teams are there because they failed to achieve their actual ambitions (either missing out on this season's Champions League altogether, or being eliminated in the group stage).
For me, there are three trophies that really matter for a top English club (in the following order):
Ul>
The historic and fundamental sacredness of the League title;
The epic and prestigious bonus of winning the Champions League;
The romantic tradition of the FA Cup.
Essentially, all cup competitions are really bonuses to the true definer of league success – but the two just mentioned are, nonetheless, pretty special and glorious bonuses.
But frankly, in my book, the Europa League is even less important than the League Cup. The LC at least has a "best team wins" dynamic. To hold the Europa League trophy aloft in May wins you the right to say "hooray – we're the best of the clubs who aren't good enough to compete with Europe's elite".
Sure – it's not completely worthless. And the newly-introduced Champions League qualification that comes with winning it (in the very rare event of going all the way) is a very, very welcome development. But it's not worth sacrificing other priorities for.
That said, there's one great opportunity the Europa League offers Liverpool – youth development.
So, here are three reasons why Brendan should play the kids:
1. The obvious – it'll help the kids develop
Liverpool's stand-out young talent (and sentimental Scouse favourite to become the "next Steven Gerrard"), Jordan Rossiter, is unfortunately injured.

But if 18-year-old Cameron Brannagan is going to fulfil his exciting potential, he needs games very soon.
If Jordan Williams is going to push-on from his initial Carling Cup appearance against Middlesbrough, he needs much more first-team football.
If Jerome Sinclair has the ability to become a natural Premier League goal-scorer, he'll need the confidence and experience of jumping in the deep end.
And at 20-years-old, with Jon Flanagan injured and Glen Johnson seemingly pushed to the fringes, it's starting to look like now-or-never for promising right-back, Ryan McLaughlin.
Academy youngsters like Phillips, Chirivella, Kent and Trickett-Smith could also have exciting futures.
Liverpool has some very talented young prospects coming up behind Raheem Sterling and Jordan Ibe. As usual, most of them sadly won't make it as Liverpool players. But a few could become priceless success stories… if they're trusted with the early opportunity.
The mid-range teams you face in the Europa League are the perfect opponents for these youngsters to face while still feeling their way at senior level.
We might ultimately sacrifice Europa League "success" by playing those youngsters (and I've expressed underwhelming regard for that "success")… but if it kick-starts their senior careers, we'd be investing in something far more precious down the track.
2. Resting key players
Liverpool's key goals this season should now be winning the FA Cup and finishing in the Premier League top four.
But those goals become virtually impossible if our best players are constantly playing on Thursday nights, and then more important games on weekends.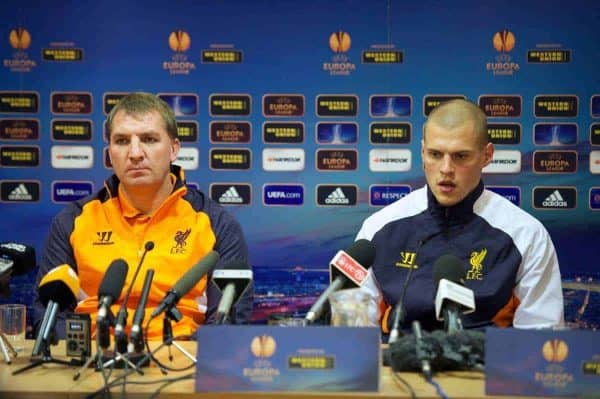 Without European football last season, Liverpool charged home in the league – winning 11 straight games before falling at the final hurdles. The mental and physical freshness that came from not playing regular midweek games was undoubtedly a major factor.
If our major players are kept clear of regular Europa League duty on Thursday nights, surely there's a good chance of recapturing that fast-finishing advantage?
At the time of publication (just prior to first EL Besiktas game), an already stretched Liverpool squad have another 13 league games to play this season, plus up to three FA Cup games (or possibly four, if a replay is required in the QF round). That's up to 17 more games in about three months (as well as any arduous extra-time needed to help settle cup games).
Add nine Europa League games to that (ie. reaching the final) and you're looking at more about 25 more games… virtually eight games per month… virtually two games a week… relentlessly… non-stop (and again, add-in some possible gruelling 120-minute torture-fests in Europe as well).
If it was the Champions League title we're striving for, that all-or-nothing gamble might be worth it.
But playing the likes of Sterling, Gerrard, Coutinho, Sturridge and Henderson in most of those EL games risks destroying them mentally and physically, and badly sabotaging any chance of league (top 4) or FA Cup success.
3. More training and less travel for key players
It's the least important of the three points, but still relevant…
Again, without European competition last season, Rodgers had a lot more time on the training field with his players. Along with the rest factor, that extra tactical work and team cohesion was undoubtedly a huge advantage as the season progressed.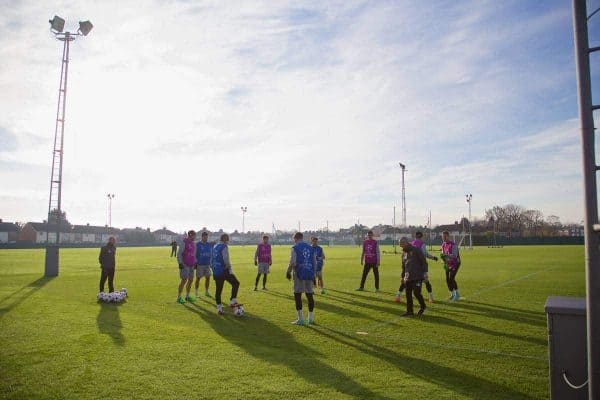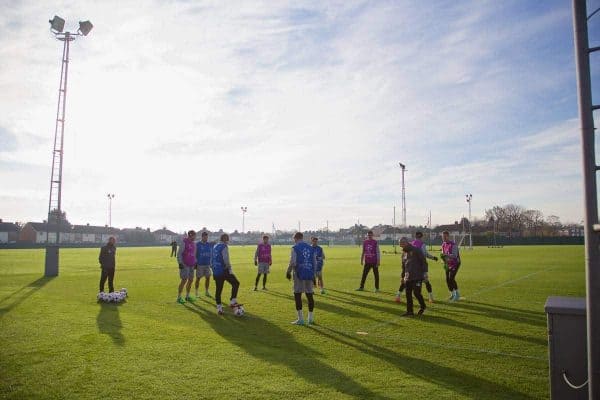 Trips to Europe effectively knock one-and-and-a-half valuable training days out of that routine. Even home games affect it, and necessitate a non-training rest day for any senior players who take the field.
Mush less European travel for senior players is also an advantage.
Sure – have a few of those top players on each Europa League bench as an insurance policy.
But constantly hauling Gerrard, Sterling, Coutinho, Sturridge and Henderson all the way to Turkey or Italy or Russia and back – and then expecting them to perform in a match that really does matter on the weekend?

Or leaving them at Melwood for some useful but low-intensity training with the senior coaches, while the kids and squad players handle the Europa business as best they can? I know which I'd prefer.
Finally – I can hear the main screaming protest being levelled at my argument…
"You fool! Winning the Europa League is our best chance of qualifying for the Champions League next season! That's our life-blood. We have to take it seriously and play our best team!!"
It's a very worthy argument, and I'm not denying that there's an element of 'gambling' either way. As ever, I badly want us to qualify for the CL next season, and understand the ramifications for our finances and attracting and keeping top players.
But if that means prioritising the Europa League avenue, I'll respectfully disagree, for two reasons:
1. Banking your seasonal success on a cup win is an epic gamble. Successful cup runs need a strong piece of luck. One slip-up and you're gone. Compared to the FA Cup (where Chelsea, Man City and Spurs are gone), Liverpool's chances of playing all those 30 gruelling matches and winning the Europa League are fairly slim.
While neither option looks particularly favourable right now, I still believe Liverpool's best chance of CL qualification is through fourth place in the Premier League, not the Europa League – especially if we keep key players fresh by sacrificing, or at least heavily limiting, their involvement in the Europa League.
2. As discussed, if our senior players play those exhausting 25 or so games that would go with reaching both finals, they'll be exhausted and / or injured.
In that circumstance, I simply cannot realistically see a scenario where we could succeed on any of our three fronts. The players will be dead on their feet, and in no shape to win cup finals or make the final push needed to achieve top four.
And frankly (perhaps for this particular gut-wrenching season only), if we end-up failing on both Champions League qualification options but finally put a cherished trophy (FA Cup) in the cabinet, I think I'd just about take that.
Quite simply, hammering our best players on all three fronts risks failing on all three fronts.
There has to be a pragmatic sacrifice. Play the kids in the least-prestigious Europa League, and make that sacrifice a truly beneficial one.
[poll id="316″]