We spoke to ex-Liverpool midfielder Jason McAteer as part of Ladbrokes' transfer deadline day party.

It may have been a remarkably quiet deadline day for Liverpool, but there was still much to talk about as we sat down with former Liverpool man Jason McAteer at the Ladbrokes #ForTheFans Transfer Deadline Day party.
Jack Lusby asked McAteer about potential summer signing Danny Ings the futures of Rickie Lambert, Simon Mignolet and Dejan Lovren at the club, Liverpool's young loanees and life as a Liverpool wing-back.
On LFC's interest in Danny Ings…

"Danny's a good player, he's a great striker. [But] no disrespect to Danny, I think he's doing a fantastic job at Burnley but when you sign for a club like Liverpool…the amount of pressure that comes with it, it doesn't give you the guarantee of goals.

I'd like to see a more finished article come to the club—a player who's international quality, a player that's been around, who knows the pressure of playing for a big club.

As potential goes I think, for Liverpool, Danny Ings would be a great buy but it's not the player I'd look at where I'd want to throw him straight in."
On Rickie Lambert…

"I find [speculation linking Lambert with Aston Villa on deadline day] strange really. Rickie was always brought in to play second fiddle to players [like] Sturridge, Coutinho and Sterling.

Rickie was always 'plan B', a player who was never going to play week in, week out, he was a player who was always going to play in cup games or come on for Liverpool when they were under the cosh, maybe when Brendan wants to change his tactics—go more direct—I think he was always going to be the option.

So why has that all of a sudden changed?"
On Liverpool's young players leaving on loan…

"I think you're looking at young players coming through you've got Jordon Rossiter knocking on the door and Jordon Ibe now who's come back, but I think Jordon shows you what can happen when you go out on loan.

He was fantastic at Derby; you learn a lot when you go out on loan in the Championship. It's more physical, there are games Saturday-Tuesday-Saturday, you learn a lot when you're away from the club and I think it makes you hungrier as well.

Hopefully [after his loan] Ibe will have that Sterling progression: get into the team, get a few more games under his belt and hopefully he'll stay in there."
On Simon Mignolet's improvement in form and his future at the club…

"I certainly think Liverpool will stay in the market for a 'keeper, but [Mignolet's] performances have risen since he was taken out the team.

We saw it with Joe Hart last season when he was taken out of the team and all of a sudden I think it was a kick up the backside for Joe and he realised that he's not a player who's first one the teamsheet, he can be dropped—he came back a different player and with a different attitude.

I think the same thing has happened with Simon Mignolet. I think some of the criticism was unfair for Simon, I think the whole back four at the time certainly weren't helping him—they were leaking goals and he was left exposed too many times—and I think he'd become a bit of a target really.

His confidence was knocked by what was happening, but he seems to have come back and I think the back three's certainly helped him…and when you're winning games you always look a better player don't you?"
On Dejan Lovren's Liverpool future…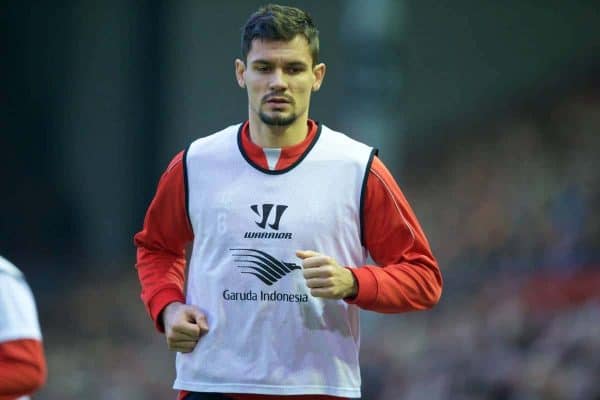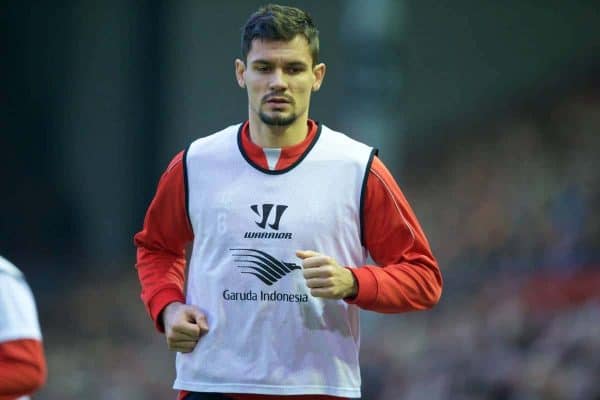 "I think it's healthy to have competition for places. He's a quality player, he knows what he's doing. He was introduced into a Liverpool team that was struggling and he found it difficult to adapt and a little difficult to cope.

I think Steven Gerrard, when he ended up playing holding midfield and there was no pace and the pitch wasn't getting stretched ahead of him, everything was condensed and I think that meant that Steven was dropping a lot deeper.

In the end he was dropping in behind the back two, behind Lovren sometimes and even alongside him to pick up the ball, and I think Lovren wasn't too happy with that.

Then there was a formation change, then Lovren found himself out of the team, and to be fair to the lads that have come in have actually held onto their position.

Sakho's been outstanding since he came in and he's grown in confidence, Skrtel—I think he was ever-present anyway—he's given his 100% as well, and I think Emre Can coming in was a plus-point."
On Liverpool's wing-backs…

"I'm a big fan of the wing-backs, I think it's an important position. You have to know how to play it (Note: McAteer often played right wing-back for Liverpool), I think you need players behind you as well who can help you.

Obviously I had Mark Wright behind me and John Scales, who are very good centre-halves. I enjoyed that position because you can get forward [and] you don't have to defend all the time, because you've got the player behind you—the security blanket.

It's a position I like and it's one I like to see back at Liverpool."
Jason was speaking to This is Anfield as part of Ladbrokes' #ForTheFans Transfer Deadline Day party, see the full video below: