Liverpool Football Club today announced that the Club will be returning to Australia in July as part of their 2015 pre-season tour. The first team will play games in Adelaide and Brisbane, making this their very first visit to these two world-famous cities.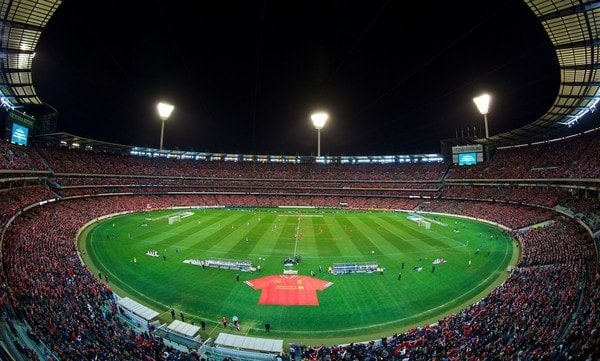 The Reds kick-off in Queensland against Brisbane Roar at the Suncorp Stadium on Friday 17th July and will then line-up against Adelaide United at the Adelaide Oval on Monday 20th July.
Liverpool FC's fixtures in Queensland and South Australia are just one element of a programme of activity that the Club is delivering in 2015 to bring Australian fans closer to the team they support.
Ian Ayre, Liverpool FC Chief Executive Officer, said: "We visited Australia for the first time two years ago and the support we received from our Australian fans was incredible. Liverpool FC has over 600,000 supporters in Australia and we look forward to meeting as many of them as possible while we are in the country.
"Pre-season is an important time for the team as they prepare for the upcoming season and the matches against Brisbane Roar and Adelaide United are an exciting part of that preparation, giving our supporters a chance to see the team up close, no matter how far away from Anfield they live", he added.
As well as a full LFC squad, the touring party will include coaching staff from the Liverpool FC Foundation to carry out work in the community throughout the visit as well as taking part in events with official supporters' clubs.
Hospitality tickets go on sale today and can be purchased from www.ticketek.com.au/lfctour2015 where fans can also pre-register for general admission tickets.
Liverpool FC will be contacting local Official LFC Supporters' Clubs, local LFC Official Members and those who attended the Reds' game at the Melbourne Cricket Ground in 2013 with details about a ticket pre-sale.
Tourism and Events Queensland (TEQ) Chief Executive, Leanne Coddington, said "Liverpool FC is one of the world's greatest football institutions and securing the match further built on Brisbane's reputation as a premier events destination.
"High-profile events such as this play an important role in enhancing Queensland's tourism profile and TEQ is proud to support Liverpool FC's tour," Ms Coddington said today.
"The match will be a highlight among a fantastic sporting line up of events for Brisbane in 2015 which will be promoted as part of It's Live! in Queensland.
"Queensland is home to three-time A-League champions the Brisbane Roar who will have the opportunity to play against one of the world's top clubs."
South Australia's Acting Tourism Minister Tom Koutsantonis said securing a Liverpool game at the world-famous Adelaide Oval is a huge coup for the state.
"A stadium packed with Reds fans from throughout Australia and the world will be a magnificent showcase for the Adelaide Oval and South Australia. Such world-class sporting events are huge drawcards, and we also anticipate a global TV audience for the game, so it is the perfect platform to showcase Adelaide to the rest of the world" he said.
For more information on ticketing and general tour details visit www.LFCTour.com.