Steven Gerrard's next appearance for Liverpool will be his 700th for the club; we look back at his previous milestone appearances and how each game panned out.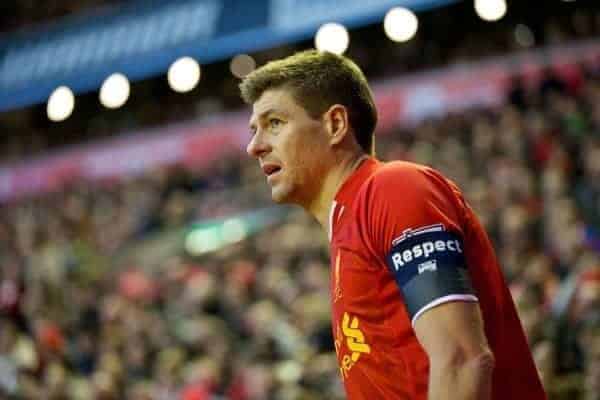 The Reds' legendary captain will reach yet another landmark moment in his unrivalled career when he next walks out for Liverpool, probably against Bolton in the FA Cup replay on Wednesday night.
It's an amazing achievement by the 34-year-old, and he will join Ian Callaghan and Jamie Carragher as just the third player in Liverpool's history to play 700 times for the club.
Here are how Gerrard's other milestone appearances for the Reds panned out.
100th- Liverpool 1-1 Boavista- 11th September 2001
Scorers: Owen (29); Silva (3)
LFC starting XI: Dudek, Carragher, Henchoz, Hyypia, Vignal, Hamann, McAllister, Gerrard, Murphy, Heskey, Owen.
This Champions League group stage clash back in 2001/02- coincidentally on the same day as the 9/11 terrorist attacks in America- was Liverpool's first ever game in the competition since it changed from the European Cup in 1992, barring the qualifying round win over FC Haka.
Michael Owen levelled matters for Gerard Houllier's side, following a shock early opener by Boavista striker Elpidio Silva, and they had to settle for a slightly disappointing point in the end.
Gerrard was starting to establish himself as one of Liverpool's star men, despite still being just 21 at the time, and he had produced a virtuoso display for England 10 days earlier in their 5-1 mauling of Germany. There was much more to come from him though.
200th- Charlton Athletic 3-2 Liverpool- 28th September 2003
Scorers: Smicer (15), Owen pen (52); Lisbie (31,43,83)
LFC starting XI: Dudek, Finnan, Hyypia, Biscan, Riise, Diouf, Gerrard, Smicer, Kewell, Heskey, Owen.
What promised to be a memorable afternoon for Gerrard at the Valley back in the 2003/04 season turned into a nightmare, as Houllier's men succumbed to a late defeat.
'Captain Fantastic' was just a few weeks away from being named Liverpool's new skipper, and he was beginning to emerge as one of the finest young midfielders in Europe.
His influence on the side was growing by the week, and 2003/04 saw him drag the Reds through many games single-handedly.
Despite leading through Vladimir Smicer, Kevin Lisbie's double turned the game on its head before half-time. Although Owen equalised from the penalty spot, Lisbie completed his hat-trick from range after 83 minutes.
300th- Aston Villa 0-2 Liverpool- 5th November 2005
Scorers: Gerrard pen (84), Alonso (89)
LFC starting XI: Reina, Finnan, Carragher, Hyypia, Riise, Sissoko, Alonso, Gerrard, Garcia, Morientes, Cisse.
Gerrard's 300th appearance in a Liverpool shirt proved to be a memorable one for the lifelong Reds fanatic, as Rafa Benitez's produced a late flourish to earn all three points at Villa Park.
By this point in his career, Gerrard was widely regarded as one of the best players in world football, and arguably the finest central midfielder on the planet. He was a European champion, and although still just 25, was already an Anfield icon.
The skipper calmly dispatched a penalty with just six minutes remaining to send the away fans into raptures, and Xabi Alonso put the icing on the cake with a clinical last-minute finish.
400th- Liverpool 1-1 Arsenal– 28th October 2007
Scorers: Gerrard (7); Fabregas (80)
LFC starting XI: Reina, Finnan, Carragher, Hyypia, Riise, Mascherano, Alonso, Gerrard, Kuyt, Voronin, Torres.
As has been the case so often throughout Gerrard's magical career, he stepped up to the plate on another milestone occasion back in 2007.
His blistering strike after just seven minutes sent Anfield wild, in what was a typically close encounter against a talented Arsenal side. Cesc Fabregas equalised late on, however, as the Reds had to settle for a share of the spoils.
Fabregas summed up the Englishman's brilliance at the time in a pre-match interview:
"I would love to have Gerrard in my team. He is the player who four or five years ago when I was in my house I was looking up to him.
"And now I have the chance to play against him, which is fantastic for me to keep learning, because he is one of the best midfielders in the world."
500th- Blackburn Rovers 0-0 Liverpool- 5th December 2009
LFC starting XI: Reina, Johnson, Carragher, Agger, Insua, Lucas, Mascherano, Gerrard, Benayoun, Reira, Kuyt.
It's fair to say that Gerrard's 500th Liverpool appearance was far from the most memorable, as Benitez's men struggled to break down a stubborn Blackburn side.
Gerrard, the reigning Footballer of the Year at the time, was still the Reds' standout player on the day though, outlining his enormous influence at that stage in his career. There is an argument to say that 2009 was his absolute prime.
The skipper had chances to win the game, as did David N'Gog late on, but it wasn't meant to be. After such a brilliant 2008/09 campaign, Liverpool finished seventh this time around, and Benitez's time at Anfield came to an end.
600th- Liverpool 1-1 Newcastle– 4th November 2012
Scorers: Suarez (67); Cabaye (43)
LFC starting XI: Jones, Wisdom, Skrtel, Agger, Enrique, Sahin, Allen, Gerrard, Suso, Sterling, Suarez.
By this point Brendan Rodgers had taken over as Liverpool manager, bringing a new style of football to the club. Despite his slight decline from his absolute peak, Gerrard remained a key man for the Reds.
Yohan Cabaye produced a brilliant strike to give Newcastle a half-time lead, but a moment of individual genius by Luis Suarez levelled matters midway through the second-half.
His sensational chest control and finish from Jose Enrique's pass was undisputedly one of the goals of the 2012/13 season.
What are you predicting from Gerrard on his 700th Liverpool appearance on Wednesday? Let us know in the comments section below.