With Daniel Sturridge suffering yet another injury this week, Liverpool need to sign a first-team striker this summer, and Jack Lusby offers 10 options.

News this week that Daniel Sturridge had suffered another injury, this time leaving him on the sidelines for up to a month, should stress one thing to Brendan Rodgers: a new, first-team striker is a priority this summer.
This is only made worse by the poor output of Mario Balotelli, Fabio Borini and Rickie Lambert this season, all of which will likely be sold if possible when the transfer window opens.
At present, Raheem Sterling is Liverpool's most dependable centre-forward, and he is arguably more effective in an attacking midfield role.
So who are the options for Liverpool in supporting Sturridge this summer?
Michy Batshuayi (Marseille)
While soon-to-be Liverpool striker Divock Origi has toiled in Ligue 1 this season, with just six goals in 25 games, another France-based Belgian has been quietly going about his business in a 19-game, bit-part role: Marseille forward Michy Batshuayi.
Behind 16-goal centre-forward Andre-Pierre Gignac, Batshuayi has had to make do with a substitute's role for most of the season; however, this has yielded eight goals from just 718 minutes.
While traditionally used as a target man, Batshuayi has a large amount of pace and is able to play off the shoulder of opposition defenders, much like Sturridge.
Javier Hernandez (Manchester United, on loan at Real Madrid)
When Real Madrid loaned Javier Hernandez from Manchester United last summer, it represented one of the most needless transfers of the season—the Mexican was hardly getting games at Old Trafford, how would he fare as Karim Benzema's backup?
Unsurprisingly, Hernandez has made just 13 La Liga appearances this season so far, with just one coming as a starter; however, he has scored three goals and made one assist in just 217 minutes.
Hernandez has the pace, movement and, importantly, knack for finishing, that would make him a success in this Liverpool system.
Stevan Jovetic (Manchester City)

With Manchester City signing once-Liverpool target Wilfried Bony in January, Stevan Jovetic was given the ultimate snub in being left out of their 21-man Champions League squad in Bony's favour.
Jovetic was said to be assessing his options after this decision, claiming being left out had "killed" him, and the 25-year-old will likely leave City this summer.
Liverpool would represent an ideal destination for him, particularly if Rodgers' side are able to achieve Champions League qualification this season, and Jovetic would be an ideal signing, too.
A hard-working, intelligent centre-forward, Jovetic would suit Rodgers' Reds.
Mauro Icardi (Inter Milan)
Mauro Icardi piqued the interest of Liverpool fans earlier this season by declaring his joy at being linked with a move to Merseyside: "If the rumours about Liverpool are real, I would be honoured, because they are a big club."
Despite Inter Milan's struggles this season, Icardi has performed consistently, scoring 15 goals in 27 Serie A games—the Argentine is a pure, lethal finisher.
At just 22 years old, Icardi represents one of the finest young attacking talents in Europe, and could develop into a truly world-class centre-forward at Liverpool.
Theo Walcott (Arsenal)

Lazy rumours spawned last week linking Liverpool with a move for Arsenal forward Theo Walcott, amid the England man's contract negotiations, and those of the Reds' own Sterling.
However, while these are highly dubious, there is merit in Rodgers moving for Walcott—so long as his storied injury issues are limited to Arsenal's prehistoric medical methods.
Pacey, intelligent and with an eye for goal, Walcott would make an astute addition to the Liverpool squad.
Pierre-Emerick Aubameyang (Borussia Dortmund)
Borussia Dortmund's dramatic slide has now halted, and Jurgen Klopp's side are now looking to climb the Bundesliga table and consolidate a top-half finish, but such disappointment could see some of their star names look elsewhere—if so, Liverpool should target Pierre-Emerick Aubameyang.
Signed for £9.5 million from Saint-Etienne in 2013, Aubameyang has quietly impressed at the Westfalenstadion, becoming a key feature of Klopp's attack.
With his defining feature an unstoppable acceleration, and able to operate all across the front line, Aubameyang has scored 12 goals and made four assists in 25 league games so far this season.
Luciano Vietto (Villarreal)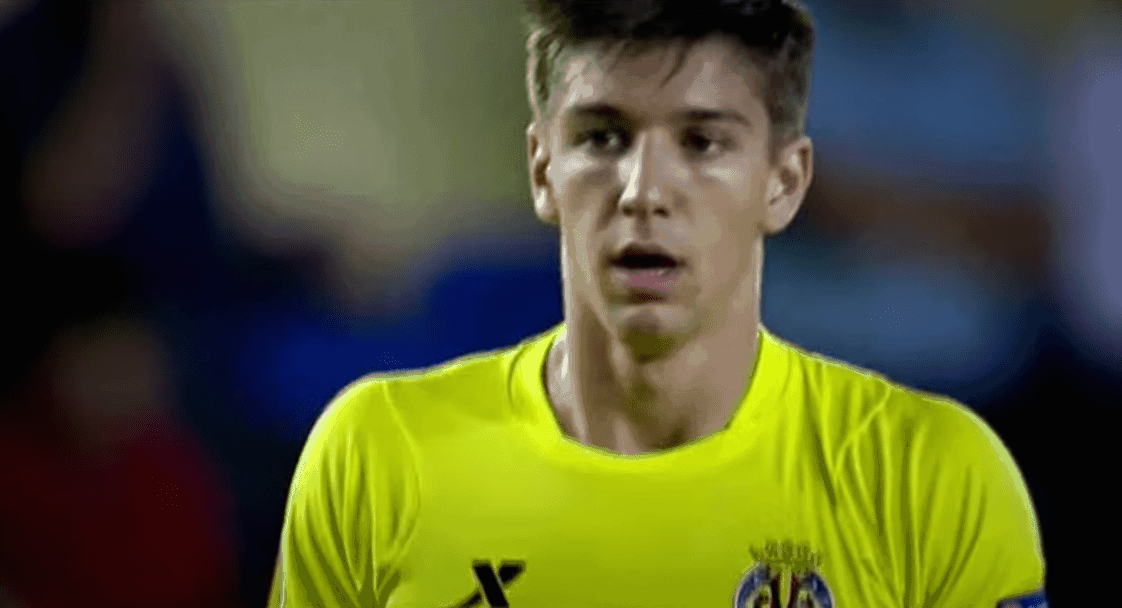 One of the most likely options for Liverpool this summer will be Villarreal's 21-year-old striker Luciano Vietto.
Suggested to be available for around £12 million this summer, a young, 18-goal, 36-game striker should be a no-brainer for Liverpool.
Tenacious, technical and with much potential to develop, Vietto would be a wise addition to Rodgers' squad this summer, and his La Liga output this season would suggest he could comfortably stand in for Sturridge when required.
Nabil Fekir (Lyon)
Lyon forward Alexandre Lacazette is garnering the majority of the transfer speculation during the Ligue 1 side's storming 2014/15 season, but it is his striking foil that Liverpool should perhaps target this summer.
In 26 league games this season Fekir has scored 11 goals and made seven assists, with 1.4 key passes and 2.7 dribbles per game, the Algerian possesses the attacking effervescence that Liverpool need.
Lacazette will be a popular man this summer, but Fekir could be just as promising a signing for Rodgers.
Paulo Dybala (Palermo)
Touted for a big move away from Palermo all season, 21-year-old striker Paulo Dybala has continued the form that has made him such hot property.
With 12 goals and seven assists in 27 games makes him one of the most prolific in Serie A, and Palermo chairman Maurizio Zamparini claimed he was "evaluating a series of offers in a calm manner for the good of the lad's future."
Dybala is one of Europe's most frequent dribbling centre-forwards, with 2.6 on average per league game.

There is much speculation surrounding whether Burnley striker Danny Ings has already agreed a deal to Liverpool this summer, with the latest word claiming a deal is "looking more and more likely."
Shouldering much of the goalscoring burden for Burnley this season, Ings has managed nine goals in 27 games, but it is his high work rate and technical ability which will endear him to Rodgers.
Reportedly available for just £3 million in compensation, Ings would be a great signing who is already well-versed in the demands of the Premier League.
Which striker should Liverpool make their priority to cover Daniel Sturridge next season? Let us know in the comments below.