Liverpool's 4-1 defeat to Arsenal was horrible to watch in so many ways, but the evident lack of experience and ruthlessness was truly alarming, writes Henry Jackson.

The Reds' Champions League hopes took an almighty blow in north London on Saturday afternoon, as an extremely below-par performance saw Brendan Rodgers' side taken to the cleaners by the Gunners.
As impressive as the home side were, Liverpool's incompetence was there for all to see. Joe Allen's sloppy touch within the opening seconds was the first of countless individual errors on the day, and the hapless Kolo Toure was the most culpable, putting in arguably one of the worst performances of his career.
Lack of a leader

It would be unfair to barrack the Reds too much for their display — every football team has bad days at the office with individuals enduring miserable games — but it was a day that once again highlighted the flaws in this talented group of players.
It's great to see FSG and Rodgers promoting youth in many ways, with so many of the current squad aged 25 or under, but it also means there is an alarming lack of leadership. That was hugely apparent at the Emirates.
With Steven Gerrard and Martin Skrtel suspended, and Toure seemingly on another planet to anyone else on the pitch, there was nobody to take the bull by the horns and rally the troops in their hour of need.
They were bullied at times by a side not remotely known for their physical prowess, with Lucas Leiva and Joe Allen anonymous in midfield and Lazar Markovic and Philippe Coutinho too lightweight.

The magnitude of the occasion seemed to get to many of the players, with only Simon Mignolet, Emre Can and Mamadou Sakho really showing any fight.
Even captain-in-waiting Jordan Henderson does not yet have the natural leadership of the very best skippers, and his influence was affected even more by being deployed as a wing-back.
That crazy opening 10 minutes needed a calming influence, as did the spell following Hector Bellerin's opener. Instead, there appeared to be nobody taking control.
Perhaps Sakho deserves criticism in that respect, given he captained Paris Saint-Germain at the age of just 19. Or Lucas — now an established Liverpool player, but he certainly didn't carry himself like one on Saturday.
Lack of nastiness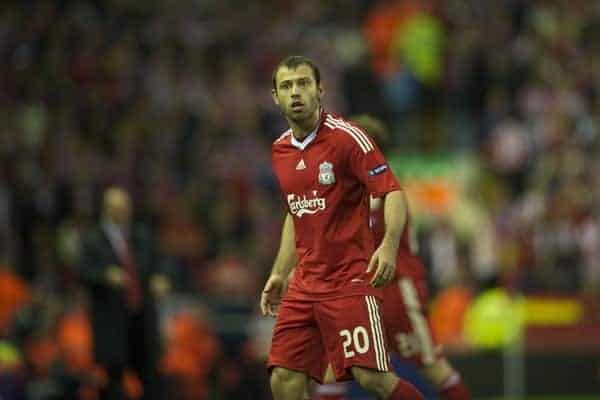 This Liverpool side also lacks a ruthless edge to it, both in terms of the football they play and the characters in the team.
When you look back at the successful sides Gerard Houllier and Rafa Benitez built, they were full of born winners who had the ability to grind out victories.
Sami Hyypia, Jamie Carragher, Markus Babbel, Didi Hamann, Gerrard and numerous others were physically and mentally strong during the cup treble-winning season of 2000/01, while Javier Mascherano, Xabi Alonso and Dirk Kuyt brought the same steel and know-how under Benitez's reign. Where are those players currently?
Luis Suarez was one who encapsulated that never-say-die attitude under Rodgers, but he is long gone. His footballing ability was clearly a huge reason for his influence on the team, but it could be argued that his nasty, ultra-competitive side was even more so.
The current crop feel far similar to Roy Evans' side of the mid 1990s, who had enormous amounts of talent but lacked that gritty edge that helps make a team great.
It'd be unrealistic to expect a clean sweep, but 7 wins and 18 goals from 15 games against the current bottom 10 teams is very poor #LFC

— Andrew Beasley (@BassTunedToRed) April 5, 2015
That side was arguably no worse than Man United were at that time, but when it came to ruthlessly taking their chances and grinding out important wins, there was absolutely no comparison.
This season's Chelsea can be atrocious to watch, but they are masters at gaining three points when they have to. They love time-wasting, intimidating the referee and creating a siege mentality.
It might not be particularly sporting, but Liverpool could do with using the dark arts a little more often. They are too nice.
Equally, they look toothless in front of goal, and are not taking their chances at key times. Adam Lallana's miss against United two weeks ago proved pivotal, and Lazar Markovic's woeful pass to Raheem Sterling against Arsenal with the score at 0-0 was just as costly.
The goals have dried up this season, and the fact that Henderson is now Liverpool's joint-top scorer in the Premier League in 2014/15 with just six is damning.
Failure in the big games

The top sides are often judged by their ability to produce their best performances in the biggest games, and in that respect, Liverpool have failed this season.
The Reds have gained just one point from their four combined matches with Arsenal and United, conceding 11 times. That is why their top-four challenge has now likely ceased to exist.
They froze at home to Louis van Gaal's side, long before Gerrard's ludicrous sending off, and they did the same against Arsene Wenger's men on Saturday.
Equally, they failed to show up away to Manchester City and at home Chelsea, with poor defending and a lack of belief once again evident. Credit must be given for earning maximum points against Tottenham and Southampton though, and for overcoming City at Anfield.
Credit to Arsenal though. 3 terrific finishes and just far more ruthless. This is exactly why they get top 4 year after year and we don't

— Henry Jackson (@HenryJackson87) April 4, 2015
In these last few weeks, Arsenal and United have shown exactly why they have rightly been deemed favourites to finish in the top four ahead of Liverpool this season.
They have ground out victories relentlessly, particularly the Gunners, and then shown how ruthless they can be in dispatching of the Reds.
It may hurt to hear it, but Rodgers and his young stars have been taught a lesson by older managers and more battle-hardened players.
Conclusion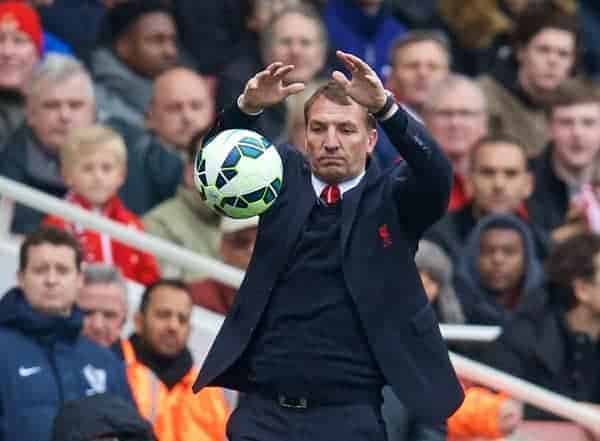 There will no doubt be the usual calls for Rodgers to be sacked from some Liverpool fans, as is the norm following a defeat of such significance, but that is all far too knee-jerk.
The Northern Irishman remains a young manager still learning his trade, but he has easily shown enough to suggest he will become a truly top-class manager at Anfield in the coming years.
FSG's preference for buying potential over experience is actually the biggest thing holding Rodgers back right now, and that needs to change.
Sign proven quality, not players with potential again #LFC #FSG

— Billy Liddell (@Liddellpool) April 4, 2015
This season has shown that, while having an abundance of exciting young players can be a joy to watch, there simply has to be more established players signed this summer with a proven winning mentality.
If Liverpool could bring in three or four of these types of player — proven internationals in their mid to late 20s — alongside the youth of Can, Moreno, Markovic, Coutinho and Sterling (if he stays), it would make them far more of a force.
Whilst continuing to sign unproven quality and youth, as appears to be the policy, it's hard to see how Liverpool are going to reach the next level.
Do you agree with the article, or are Liverpool a side waiting to mature into a team of leaders? Let us know in the comments below.