Dejan Lovren's first season at Liverpool took another turn for the worse against Crystal Palace, and Henry Jackson looks at whether his time is already up at Anfield.

Sometimes a picture can tell a thousand words, and in the Reds' 3-1 defeat to Crystal Palace on Saturday, there was perfect evidence of that.
Although the day rightfully belonged to Steven Gerrard, with the skipper receiving an emotional send-off on his last game at Anfield, it was an image of Lovren that left an indelible mark.
Career ending photo for Lovren this haha pic.twitter.com/QalpcQoUp4

— hewonitfrombrock (@wonitfrombrock) May 17, 2015
The snapshot shows the 25-year-old being bullied once again by the lively Yannick Bolasie, as Brendan Rodgers stands with his hands over his eyes in the background.
That single freeze-frame perfectly sums up Lovren's shocking first year on Merseyside, which has been nothing short of a disaster from start to finish.
Big-money failure

When the Croatian signed for £20 million from Southampton last summer there were many eyebrows raised. But he had enjoyed an impressive 2013/14 campaign with Southampton, and was touted to be the man would shore up the Reds' leaky defence.
Back in July, Rodgers claimed that Lovren would bring much-needed leadership to the back-line; something clearly required because of Jamie Carragher's retirement the previous summer.
"Dejan is very commanding and has great leadership qualities," he said.
"He's a front foot defender, he's not a waiter. He's aggressive, he goes and attacks the ball. He's a good character and he can play. But first and foremost a defender has to be able to defend and he can defend."
The Liverpool boss couldn't really have been more wrong in hindsight, with Lovren looking a weak-link time and time again throughout the season.
It is very telling that Rodgers has come out on Sunday stating that there is still a lack of leadership within the squad, especially with Gerrard set to depart for Los Angeles. It sums up how disappointing Lovren has been.
Whether it be the shaky early weeks, when he looked a disaster waiting to happen on the ball, the dreadful, almost fatal, cameo away to Sunderland or the crucial penalty miss against Besiktas in the Europa League, nothing has gone right. Saturday's game was the final straw for many.
Palace humiliation

The loss to Palace was incredibly poor on so many levels, but Lovren was far and away Liverpool's worst player on the day.
He was run ragged by the pace of Bolasie in particular, which was highlighted in alarming fashion for the Eagles' second goal, eventually finished off by Wilfried Zaha.
His clear lack of speed was not the only issue, however. His use of the ball was generally poor, with a number of long passes intercepted with ease, and his all-round performance was panicky and unconvincing – the story of his season.
He is not strong enough, despite his seemingly impressive physical frame, and his positional sense is laughable at times.
Quite what has happened to the player who looked so assured and imposing at Southampton last season is baffling, but there are potential reasons for his 2014/15 capitulation.
Dependant on the midfield?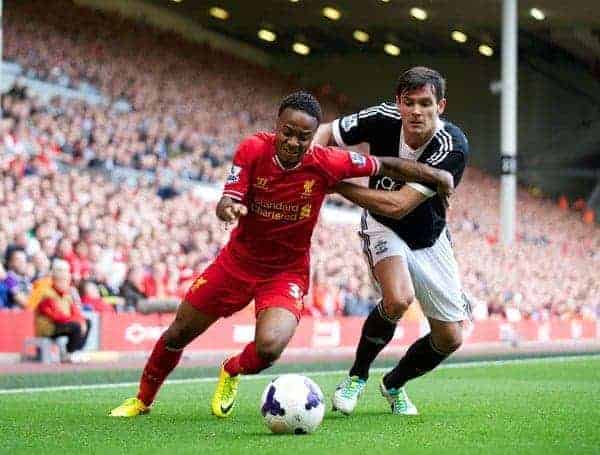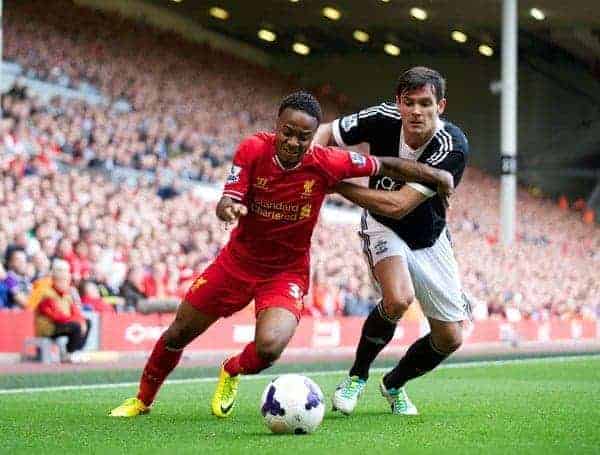 It's hard to work out whether it can be used as an excuse for his ineptitude this year, or whether Lovren's deficiencies were simply masked last season, but the centre-back has had two very different midfields in front of him over the last two seasons.
At Southampton, he had two holding midfielders of genuine quality in front of him, in the form of Victor Wanyama and Morgan Schneiderlin.
They provided a superb barrier in front of the Saints' back-four, qnd it was rare that Lovren was put into a one-on-one situation against a fast, tricky attacking player. Compare that to at Liverpool, and the difference is huge.
Lovren has invariably only had one holding midfielder ahead of him in a 4-3-3 formation, and Rodgers' use of the 3-4-3 system has often left him exposed when Alberto Moreno has pushed forward in his left wing-back role.

Lovren has been at his worst when Gerrard has been at the heart of the midfield, with the skipper's lack of pace and defensive discipline providing little cover in front.
Gerrard was deployed in that position both home and away against Palace, with Lovren enduring miserable performances both times.
Even when Lucas Leiva and Joe Allen have sat in front of the defence, neither have had the dynamism and influence of either Wanyama or Schneiderlin.
This is not saying that Lovren is blameless, far from it, but it's easy to see why he has looked such a different player at Liverpool than at Southampton.
He made just one defensive error in the Premier League in 2013/14, compared to a hugely worrying six this time around.
Time to say goodbye?

There are plenty of footballers who endure poor first seasons at new clubs before kicking on in their second year and proving the doubters wrong. It just doesn't feel like that will happen with Lovren though.
The former Lyon man has been so poor, and has shown so many weaknesses to his game, that it is very hard to see him ever recovering in a Reds shirt.
There have been the odd glimpses of quality – his form had improved in recent weeks in the lead-up to his shambolic Palace display – but Liverpool can and must do far better.
https://twitter.com/jacklusby_/status/599632924804255744
Mamadou Sakho has shown that he is the far better option in a left-sided centre-back role when fit, and there are plenty who could put the Frenchman's first-team place under more threat than Lovren.
The 25-year-old's commitment cannot be put into question, regardless of what some may unfairly say, but it can only get you so far at a top club, when your every move it scrutinised.
Bringing in a top-class defensive midfielder certainly wouldn't harm Lovren if he does stay, but there is a lingering feeling that he is simply not good enough for Liverpool Football Club.
All statistics via Squawka.
[interaction id="5559b103dd6f6a88442ec881″]