FSG were conspicuous by their absence on Saturday and Aaron Cutler asks if their no-show raises deeper questions about Liverpool's ownership.

Saying goodbye was never going to be easy so Liverpool's owners chose not to do so at all. An emotionally charged Anfield was packed to the rafters on Saturday evening as fans descended en masse to pay tribute to their favourite son.
But while thousands of supporters bartered for tickets, many succumbing to exorbitant fees simply to secure one final glimpse, those in charge of the football club remained unmoved; safely cocooned in their Boston local 3,000 miles away.
The latest of multiple shows of disinterest, you have to question whether John Henry and his team of merry men even tuned in to this a monumental occasion. Five years the custodians of a sporting institution they are yet to grasp the Liverpool Way, an alarming point.
The ownership issue has long been a provocative one. The cancerous reign of Tom Hicks and George Gillett set Liverpool back years, our fall from grace brutal and not easily remedied.
In ousting their fellow countrymen and seizing power FSG were always likely to be met with caution. Finely tuned rhetoric was unlikely to wash with supporters previously hoodwinked. Once bitten, twice shy.

Nevertheless for ridding us of Tom and Jerry and instigating an epic swindle, goodwill was initially extended. That credit is about to expire.
For John Henry has visited Anfield just once in two years. Between them the ownership group have taken in less than ten home games.
Some may jump to their defence here and argue they have various business interests, the majority of which are based stateside. Nevertheless, their own reticence should at least be placated with the presence of someone on the ground; a board member relaying messages direct and making decisions on behalf of the trustees (Ed note: Michael Gordon appears to have increasing influence and was part of the letter from the owners on the official site signed 'John, Tom and Mike').
Liverpool FC is too big and too precious to be consigned to a portfolio of business ventures. If the rich history that initially enticed Henry and co is to be built upon it cannot be deemed a mere afterthought, third in line behind the Red Sox and the New England Sports Network. It needs day-to-day management, a figurehead who does more than tweet comedic quips.
Fenway have championed the moneyball approach which, though admirable, is never likely to pay footballing dividends. Sure, profit margins may improve and balance sheets will inspire internal pats on the back but frugality is unlikely to breed trophies.
The sad fact of the matter is that in 2015 there are no footballing shortcuts. If a low cost fast track to the Promised Land existed it would have been unearthed long before Fenway rode into town proclaiming themselves visionaries whilst introducing Mighty Red.
You can only cheat the system for so long before you are found out and relegated to the status of also-rans. Liverpool are on that sharp decline.
Granted, Financial Fair Play can prove restrictive but make no mistake it was Liverpool's policies as opposed to their spending power that so derailed this season. An obsession with buying youth and adhering to pay structures has left us in a state of flux.

Alexis Sanchez is lamented as the one that got away but rather than damn his wife's taste for London hotspots should we not be asking why he slipped through our fingers? Could we not have demanded his inclusion in the Luis Suarez transfer? Could we not have blown Arsenal out of the water – outbidding them both with the size of our offer and the pay packet provided? Someone other than Ian Ayre may have changed that course of history.
Gerrard's leaving exposes a squad shorn of any experience, in its place a team of kindergartens developing apace but still years away from their peak. When dips in form occur there is now no voice of reason, no calming influence, no totem. But then that is not reflected upon spreadsheets.
Brendan Rodgers' calls for experience are loaded with want. He realised long ago you 'win nothing with kids', at least not without Luis Suarez. The Northern Irishman knows all too well he is expendable and the likely fall guy if and when this grand masterplan unravels.
Admittedly, in business quarters investing in youth is a sensible approach. Companies should forever be focused on the future. But in sport the here and now facilitates that very future.
The likes of Raheem Sterling, Philippe Coutinho and Jordon Ibe may blossom into world beaters but can Liverpool afford to sit and wait for their potential to be realised? What if banking on their coming of age results in an extended Champions League exile?
Will any of the aforementioned stick it out and spearhead the revival, ala Steven Gerrard? The sad reality is most, if not all, will jump ship before reaching their peak years, thanking Liverpool for the development and thus confirming our status as a feeder club. Such drifting cannot be tolerated, never mind embraced.
Understanding business is one thing, understanding football is something entirely different. Five years into their stewardship you would like to think Fenway are a little more attuned to the intricacies of the beautiful game. Instead they seem none the wiser.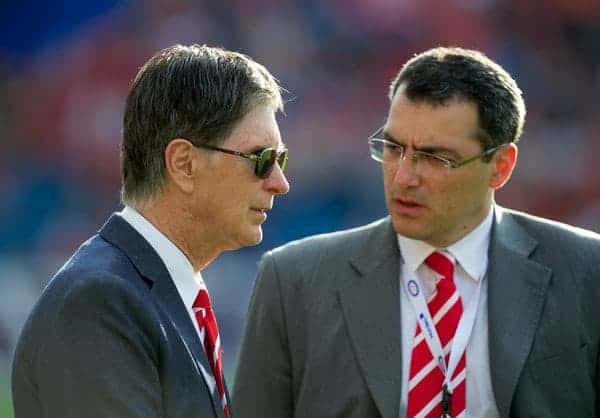 In appointing Damien Comolli – first as Director of Strategy, then Director of Football – they appeared happy to glean advice from one man. When that failed they ripped up the blueprint and established the now mystical transfer committee – its own lack of transparency and appalling track record undermining that thought process entirely. What next? The Sporting Director Rodgers refused to work under? Yet more instability and another five year plan?
FSG are far from disastrous owners, Newcastle supporters would confirm as much and negotiate an immediate swap. But they have hardly covered themselves in glory either. Rightly or wrongly there is a clear disconnect between Boston and Anfield, a sad fact underlined by Saturday's no-show.
An exclusive interview with the Liverpool Echo, given by Tom Werner, is no kind of send-off for the club's greatest player. It was a half-arsed effort from owners seemingly half-arsed about Liverpool.
We are someway short of protest marches and online terrorism but we are approaching a crossroads.
Next season, year six of the FSG project, will be the campaign on which they are judged. Ours is a fan base divided; fears over ticket prices and a dwindling atmosphere exasperated by tacky sponsorship deals and the erection of a new stand designed purely to encompass hospitality.
Even Gerrard's farewell was marred by some ill-advised PR – next season's kit unveiled and some tactical lead questions fed to him. Ayre again muscled in on the photo op just as he did when Pele came to town last month.
Such moves can be ignored, if not endorsed, providing a winning team emerges from said guff. When mediocrity looms our crowd are less forgiving and sights will be trained on our own Boston Stranglers.
Steven Gerrard's sad if understandable departure removes the final link to our glorious past. Our future lies in the hands of FSG; let's hope they don't forget about us.