With Aston Villa target man Christian Benteke heavily linked with a move to Liverpool, Jack Lusby suggests Manchester City's Edin Dzeko as a more suited alternative.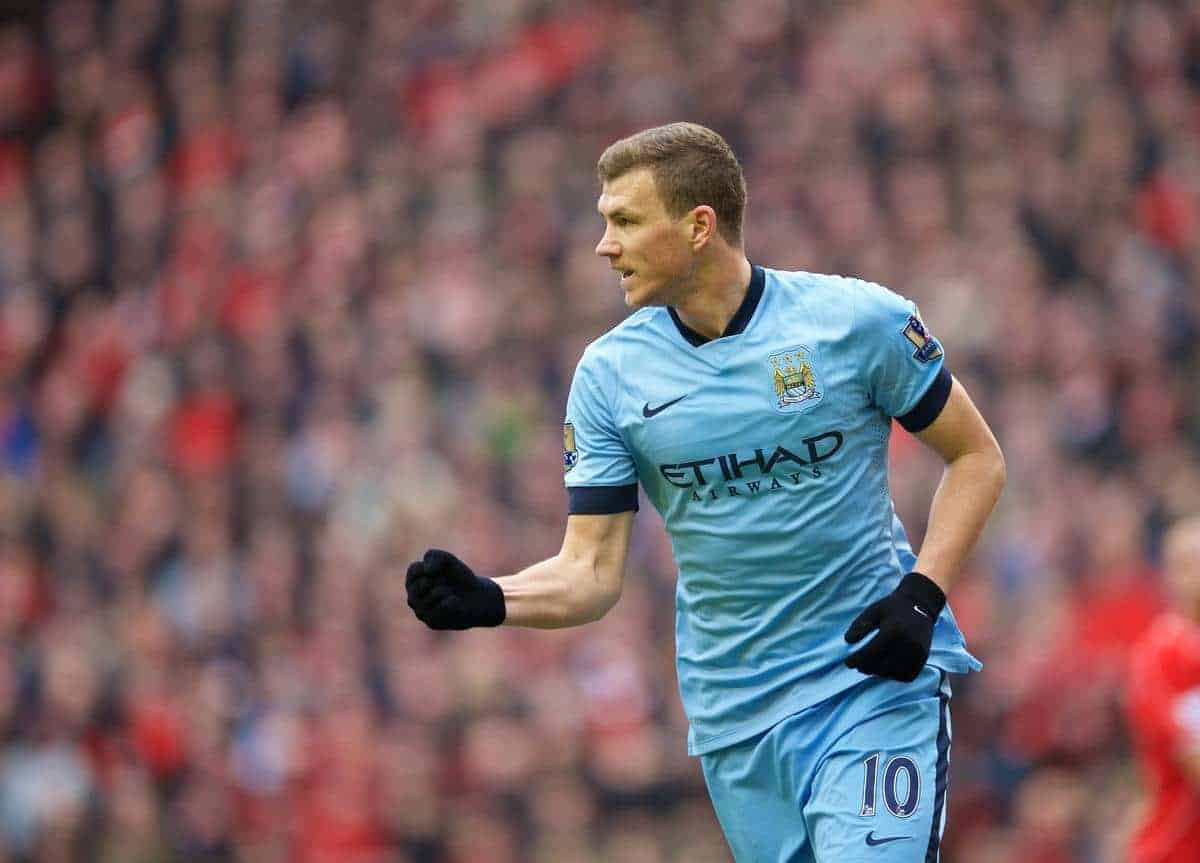 Brendan Rodgers looks set on adding some physicality to his Liverpool attack this summer, with Aston Villa striker Christian Benteke the widely reported priority target, but would Manchester City's Edin Dzeko be a more suitable target man?
The Bosnian has long been linked with a move to Merseyside after enduring a peripheral role at City for the past four seasons.
Last month he was suggested as a makeweight in a potential £50 million deal to take Raheem Sterling to the Etihad Stadium, and more recently mooted as a straightforward target.
So why should Liverpool target Dzeko instead of Benteke?
A Top-Class Centre-Forward

When Dzeko moved to City from VfL Wolfsburg in 2011, he brought a considerable pedigree with him; the £27 million fee that was required to secure his signing is testament to that.
Dzeko had long been one of the most feared strikers in Europe, having enjoyed a formidable partnership with Brazil forward Grafite.
He scored 66 goals in 111 games in his time with Wolfsburg, at a rate of a goal every 1.7 games, winning the Bundesliga title in 2009.
On his move, Dzeko was praised by then-City centre-back Jerome Boateng, who had played against the striker during his time with Hamburg:
[pull_quote_center]He has everything. He can shoot right left and can head the ball too.
He is a very strong striker, a quality player. Against Hamburg he always played well and seemed to score, it was always a big challenge.
He can hold the ball well has a good eye for the goal.[/pull_quote_center]
The complete centre-forward.
While Boateng didn't last long in the Premier League, he was right about Dzeko, who has proven to be a top-class centre-forward in his four seasons at City, with 48 goals in 104 league games.
What is more impressive is that Dzeko has managed that in a largely rotational role.
Dzeko mins per PL goal (total), last four seasons:
11/12 – 107 (14)
12/13 – 130 (14)
13/14 – 125 (16)
14/15 – 233 (4)
With the 2014/15 season serving as an anomaly—given Dzeko wasn't even afforded 1000 minutes of league action across his 22 appearances—his overall output is highly respectable.
Best Premier League mins per goal in 2014/15 (1000+ mins played):
Aguero – 97.7
Costa – 104.1
Cisse – 104.7
Kane – 122.9
Comparing him with three similar, predatory Premier League target men in Benteke, Arsenal's Olivier Giroud, Manchester United's Robin van Persie, as well as Daniel Sturridge, highlights him in a positive light, too:
Selected PL forwards – minutes per goal (via WhoScored):




While no striker goes close to Sturridge's conversion rate, Dzeko's output in 2011/12, 2012/13 and 2013/14 is incredibly consistent.
He has shown to be a top-class striker despite averaging just 1,560 minutes per season in the Premier League—less than Sturridge, who has averaged 1,597 minutes played over the past four seasons.
So just what could he achieve in a regular role?
A Diverse Attacking Style

What should outline Dzeko as a more suitable target than Benteke—besides his superior goal rate in the Premier League—is his all-round ability.
He is capable of performing in a wide variety of attacking styles.
When deployed by City, he is more often than not utilised as partner to a more pacy striker—typically Sergio Aguero—in a 4-4-2, or operating slightly ahead in a 4-4-1-1.
This doesn't see City change their style, however, with Dzeko expected to operate in fluid attacking system—latching onto through balls, intelligently lofted passes, one-touch movement and drilled crosses from the likes of Jesus Navas.
Dzeko boasts an impressive average passing accuracy for a target man, at 76.8 percent for 2014/15, which is higher than Benteke (66.7%) and Giroud (67.8%).
He isn't incredibly creative, with just nine assists to his name over the past four seasons, but his game is more focussed on interplay in the build-up.
In terms of tangible defensive work, which should be paramount to Rodgers in targeting a new centre-forward, Dzeko has averaged the same amount of tackles (0.4) per league game over the past three seasons as Benteke.
Impressively, Dzeko scores most of his goals with his feet, as shown again with comparison to Benteke, Giroud, Van Persie and Sturridge:




(Statistics via WhoScored.)
Instead of utilising his 6'3″ frame to dominate in the air, Dzeko is much more adept with his feet, which is a stark contrast to Benteke.
Dzeko is a cultured, ball-to-feet target man who has proven capable of playing in a fast-paced attacking style of football at City.
So is he therefore more suitable than Benteke?
A More Suitable Target Man?

To put it simply, Dzeko is a much better fit for Liverpool than Benteke.
His all-round game, his ability to operate within a fast-paced attacking system and success working alongside a pacy, dynamic striker such as Aguero proves he can cut it at Rodgers' Liverpool.
Furthermore, his phenomenal success partnering a more bullish, Sturridge-like goal poacher in Grafite shows that he should slot in well in a forward two with the Englishman once fit.
Villa manager Tim Sherwood expressed concerns over Benteke's suitability to Liverpool recently due to their style of play, namely their lack of crosses—no side averaged less per game (17) than the Reds in 2014/15.
Slotting the £32 million Benteke into this Liverpool side would arguably require a wholesale change in tactics.
Dzeko wouldn't. [td_ad_box spot_id="custom_ad_3″]
Of course, with Benteke currently turning out for Villa and Dzeko at City, it may be more difficult to persuade the Bosnian that Anfield is the right destination if he is to move this summer.
But what they could offer is substantial game-time, which he has been severely lacking in during his time at the Etihad.
Liverpool could have their hands on a devastating centre-forward if they did so.
[interaction id="556efa2184caec334b27de55″]
Statistics via WhoScored.
Should Liverpool target Manchester City's Edin Dzeko instead of Christian Benteke? Let us know in the comments below.