Brendan Rodgers must learn lessons over his team selection to ensure another disastrous campaign does not ensue with the sack a likely consequence, writes Ben Twelves.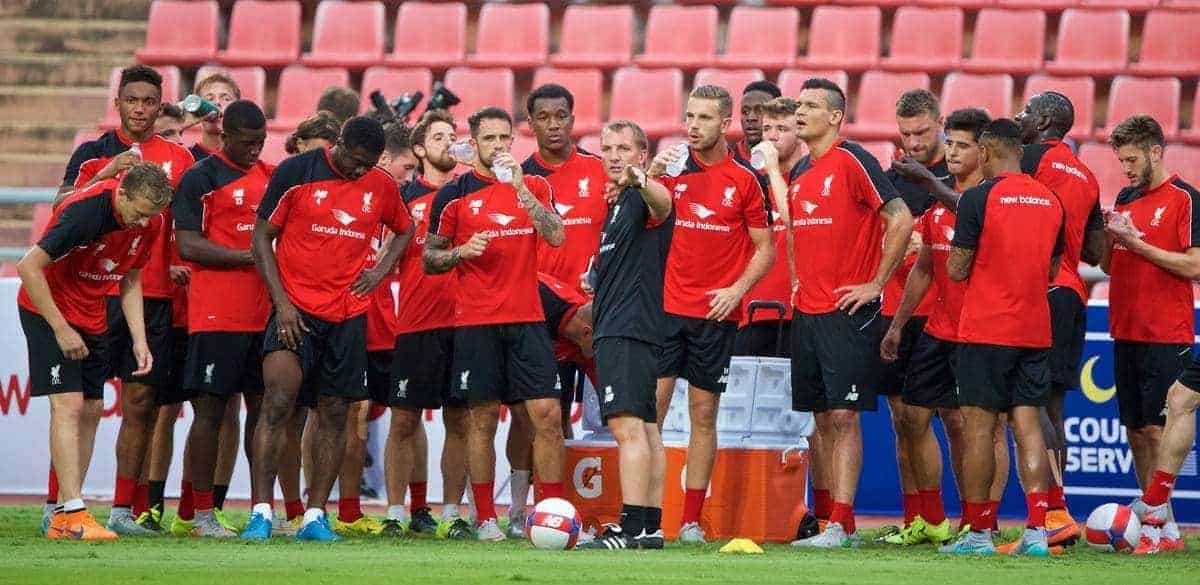 It may only have been pre-season, but Brendan Rodgers' selections throughout Liverpool's warm-up schedule threw up some worrying trends.
With a couple having been key factors behind the Reds' poor campaign last year, it's certainly bizarre that the Liverpool boss seems happy to stick with some of the same features, despite their obvious negative impact.
Though talk over his job may have gone quiet, it won't be long before conversations over Rodgers future resume if the Reds begin poorly – something that will happen if the Northern Irishman repeats the same selection mistakes.
Formations

Rodgers' non-stop tinkering for the majority of last season contributed heavily to Liverpool's downfall.
Positively, he appeared to have learnt from this, with 4-3-3 and 4-4-2 midfield diamond reportedly to become his formations of use this season.
The rigid 4-2-3-1 that proved so dysfunctional and the sussed 3-4-2-1 were seemingly not even considered for use.
However, towards the latter end of pre-season, the rigid back four system reared its head again as Rodgers worryingly used it in games against HJK Helsinki and Swindon.
It's concerning that when the Reds' boss has had his strongest squad available to him, he has immediately revisited the shape, despite it proving to be nothing but derailing.
Unsurprisingly, 4-2-3-1 proved the factor behind a poor first half in Finland, which led to Rodgers switching to the more suited 4-3-3 at half-time.
Unsurprisingly, an upturn in performance instantly followed, as the manager acknowledged post-match.
Rodgers: "The game was a good workout for us. Our fluency was much better in the second half. It was another good game for our fitness."

— James Pearce (@JamesPearceLFC) August 1, 2015
Against Swindon it functioned better, but with respect to the Robins, more challenging opposition won't be as forgiving.
The shape works to the advantage of very few of the Reds squad, which makes it even more bizarre as to why it's deployed.
Jordan Henderson, James Milner and Emre Can impress with their relentless energy and underrated creativity in midfield – features that would be restricted in the shape as they anchor deeper.
The ineffective formation has previously failed to bring the best from attacking options such as Adam Lallana and Philippe Coutinho – the latter of whom it's essential Liverpool have on form if they're to progress.
Rodgers could be tempted by the 4-2-3-1 idea with added protection in front of the continually suspect back-line.
But instead of upsetting the whole side to cater to defensive needs, sorting the defensive unit should be the answer to that.
There's no reason for Rodgers to reuse the system, and he must refrain from doing so to bring the best out of his side.
That will come with the use of 4-4-2 diamond midfield, or 4-3-3, – not 4-2-3-1.
Learning Lessons

Falling to learn lessons over formation and set-ups is one thing, but those selected within them has provided the greatest cause for concern – especially in defence.
Despite proving inept as a pairing for the first half of last season and almost contributing to Rodgers losing his job, a Martin Skrtel—Dejan Lovren pairing bafflingly appears to be first choice once again.
It's an admirable move opting for a 'clean slate for all' mentality, but Rodgers simply cannot afford to ignore the defensive disaster of last season which heavily included the duo.
Sorting issues at full-back with the additions of Nathaniel Clyne and Joe Gomez will count for nothing if Mamadou Sakho doesn't also come in at centre back in place of the Croatian, who has still looked every bit as unconvincing when challenged in pre-season as his miserable debut campaign.
Sakho should be our number one centre back, partnered by Skrtel with Lovren on the bench. Have to assume BR has seen something we haven't.

— Joe Musker (@JosephMusker) July 31, 2015
Showing faith and confidence in players is a commendable feat, but when it has systematically proven numerous times to be a disaster – as the Skrtel—Lovren pairing has – sticking with it deserves no such praise. [td_ad_box spot_id="custom_ad_3″]
It borders on lunacy, or idiotic if anything, especially with tensions set to raise at any time and the consequences this time round likely to prove fatal for Rodgers should the same fortunes on the pitch follow.
Rodgers needs a positive start to the season to keep the heat off and with a difficult set of opening fixtures, especially away from home, he cannot afford errors with his team set-up or selection.
If he repeats mistakes which result in lost points and Liverpool falling way behind at an early stage like last year, Rodgers may not survive this time.