Henry Jackson sits down for a read of 'We're Everywhere, Us', a new book that follows Liverpool's 2014/15 campaign through the eyes of the fans.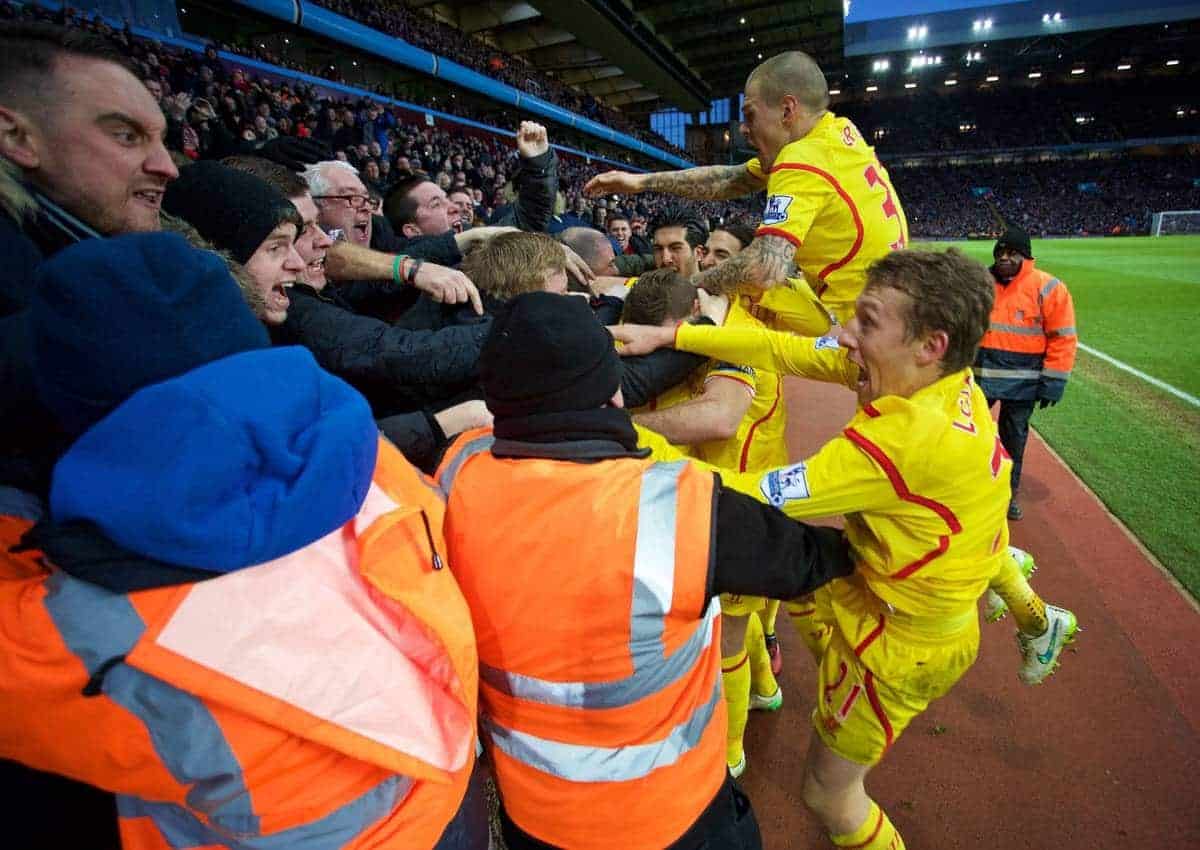 REVIEW
We're Everywhere, Us: Liverpool's 2014/15 Season Told Through the Stories of Fans and Foes
by Sachin Nakrani and Karl Coppack
I genuinely believe that there is no better side to support than Liverpool Football Club. Yes, I'm biased, but there is just a certain magic about the Reds.
'We're Everywhere, Us', a humorous, addictive, even tear-jerking collection of fan (and rival fan) stories from the Reds' 2014/15 season, backs up my opinion.
Editors Sachin Nakrani and Karl Coppack have assembled a brilliantly eclectic mix of writers – themselves included – whether it be journalists, Anfield-going veterans or Everton and Chelsea fans, and the end result is a delight.
Every single game of Liverpool's ultimately disastrous campaign is touched upon, but the beauty of the book is that there isn't a generic match report in sight.
Each contributor has been tasked with penning their own personal diary entry for a game they attended last season, but it is so much more than that.
We get to read about why they support Liverpool, their earliest memories of the Reds and why it is a drug that they will simply never rid themselves of.
A bit like like epic TV show The Wire, which focusses on several cultural facets of the city of Baltimore, 'We're Liverpool, Us' shows us the varying cultural experiences we as fans go through on matchdays.
The contributors are a perfect blend of male, female, northern, southern, foreign, young and old, which means that any Liverpool supporter can relate to how they experience following their beloved Reds. The Wire could be a questionable comparison, but you know what I mean, I hope.
There is no feeling of 'if you're not a local lad your opinion is meaningless', as can depressingly be the case at times, and when you finish reading, you genuinely feel proud to all be supporting the same team.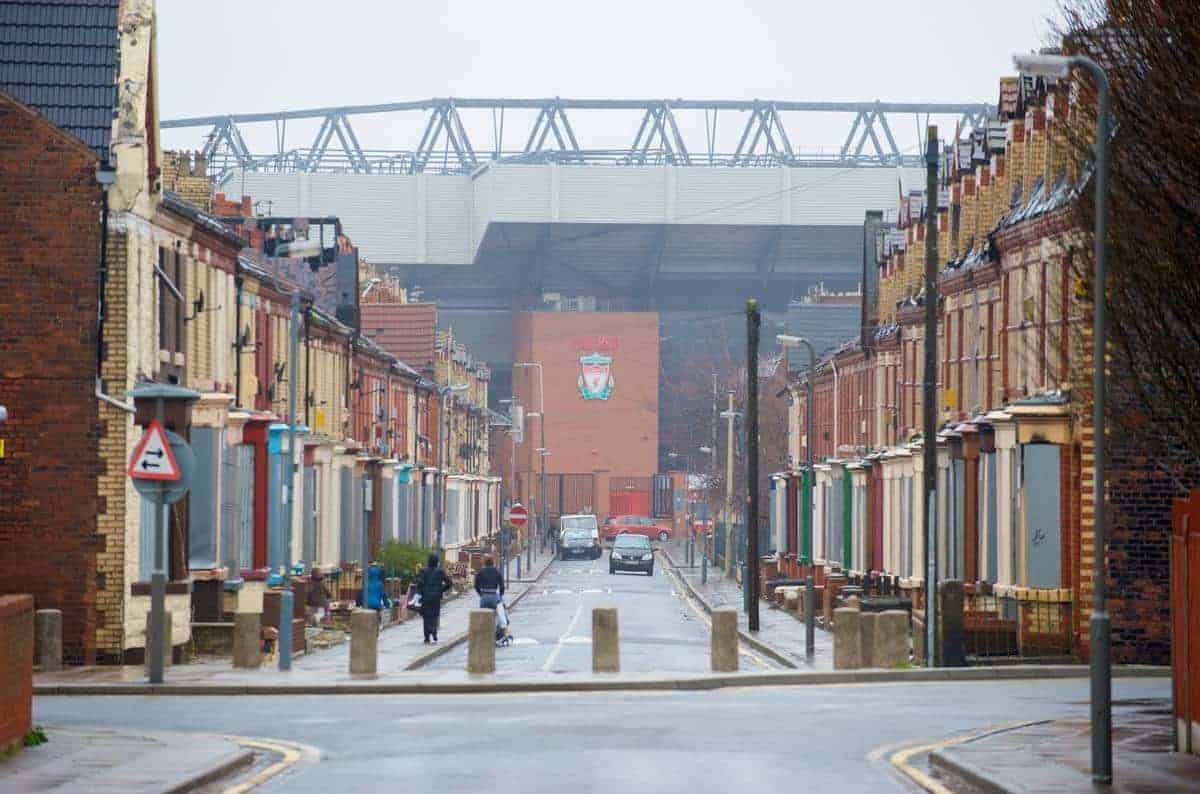 Nakrani and Liverpool Echo reporter James Pearce both give intriguing insights into watching the Reds in the press box- Besiktas fans are not a particularly nice bunch- while Mike Nevin and Rob Guttman's in-depth accounts of what an away day entails makes you wish you did it every week.
Kevin Sampson pens a fantastic tribute to Steven Gerrard- there are a few throughout the book, and quite rightly so- while 'We Are Liverpool' fanzine editor Neil Poole writes hilariously about trying to sell his brilliant publication outside Anfield prior to the Newcastle game in April.
Almost every single section of the book is of genuine excellence, but a special mention must go to Ian Salmon, whose utterly brilliant chapter on his late father will have you in bits. Family and football go hand-in-hand with so many Liverpool fans through the generations, and Salmon's words perfectly illustrate this.
Liverpool Football Club has given us all incredible highs and horrific lows, and will do for the remainder of our lives. They might not have the success and wealth of some, but the romanticism is unrivalled. That's what it's all about.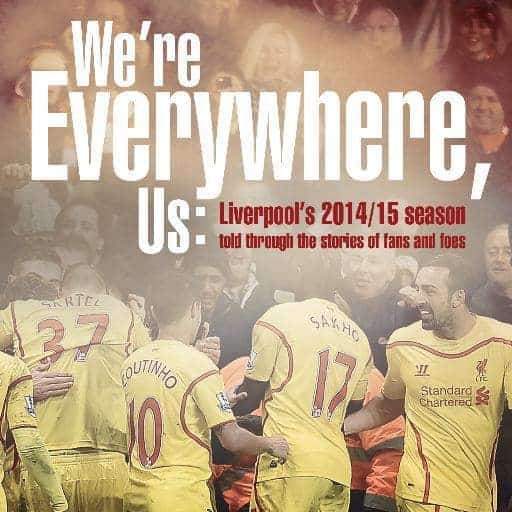 As Steven Scragg writes, when he recalls THAT wonderful Rickie Lambert celebration against Aston Villa in January:
"Bouncing up and down while clutched within the bear hug of the three people in front of me, none of whom I'd ever seen before in my life, left me with a sense of something familiar but often elusive. A sense of belonging".
That sums up what supporting Liverpool is like perfectly for me, and when you've finished reading 'We're Everywhere, Us', that sense of belonging will be greater than ever.