The decision to let Lazar Markovic leave on loan this summer is bemusing after Liverpool's lack of potency against West Ham United, writes Jack Lusby.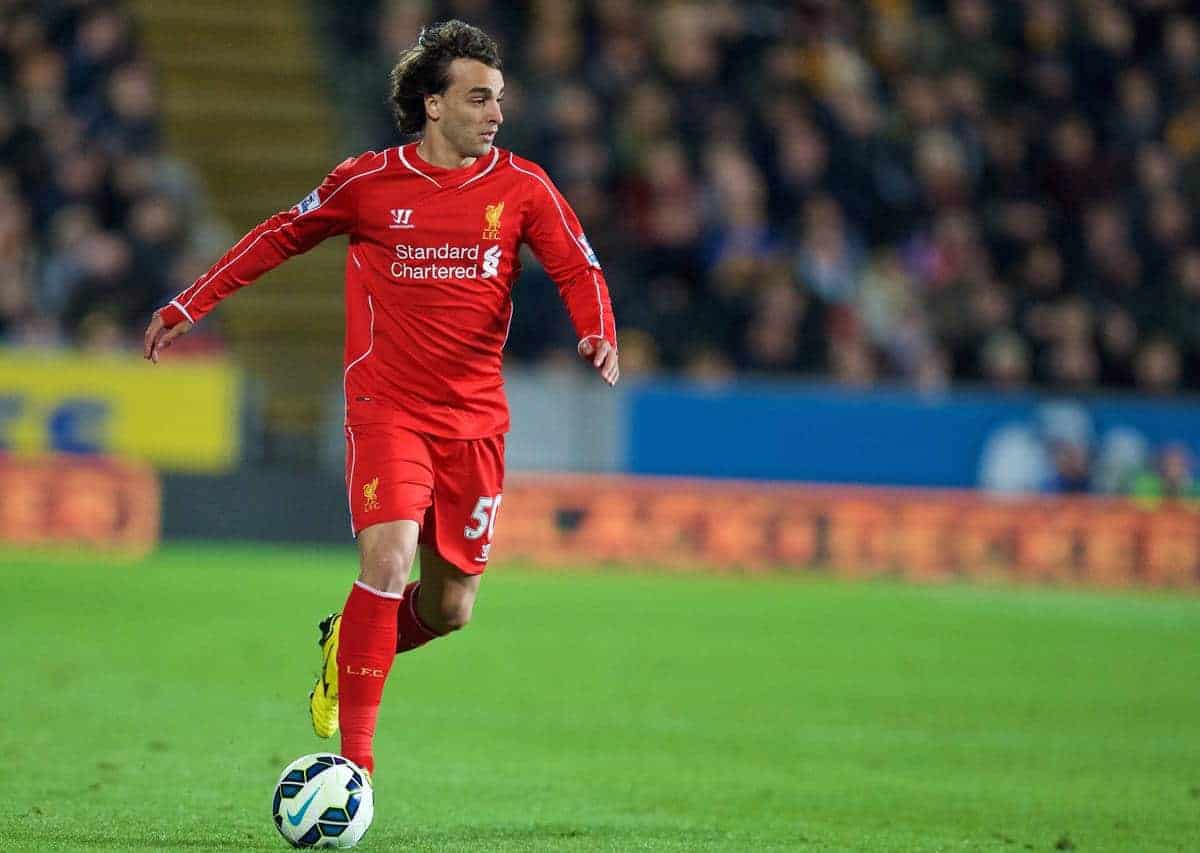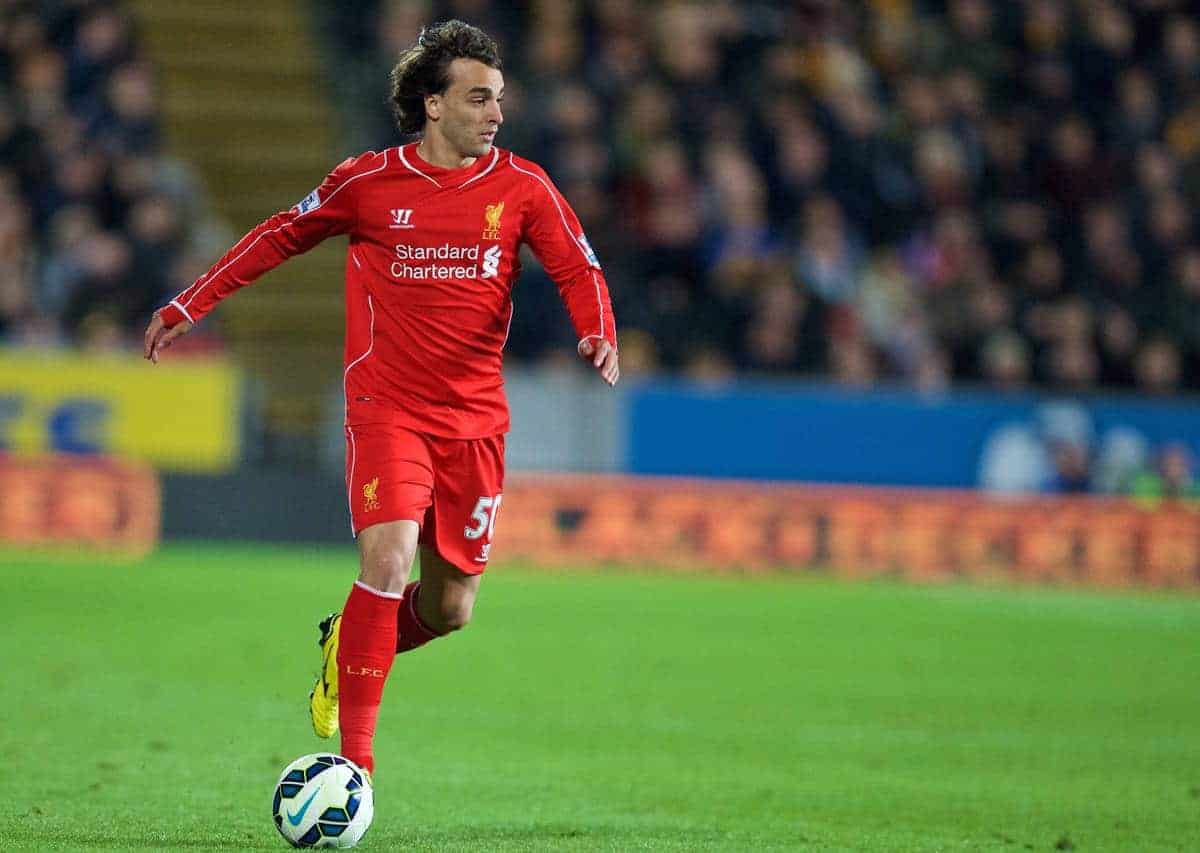 Lazar Markovic finalised his season-long loan move to Fenerbahce on Sunday, and coming less than 24 hours after Liverpool produced an insipid attacking display as they succumbed to a 3-0 loss to West Ham United at Anfield, this comes as a bemusing decision by the club.
Markovic, signed from Benfica in a deal worth up to £20 million last summer, endured a difficult first season on Merseyside.
But the 21-year-old showed enough promise to suggest he could make an impact in 2015/16.
With Brendan Rodgers sanctioning Markovic's summer switch, the manager is seemingly content with his attacking options without the Serbian.
But Saturday's Anfield loss suggests that letting Markovic leave on loan could prove to be a costly mistake for the Reds.
Liverpool vs. West Ham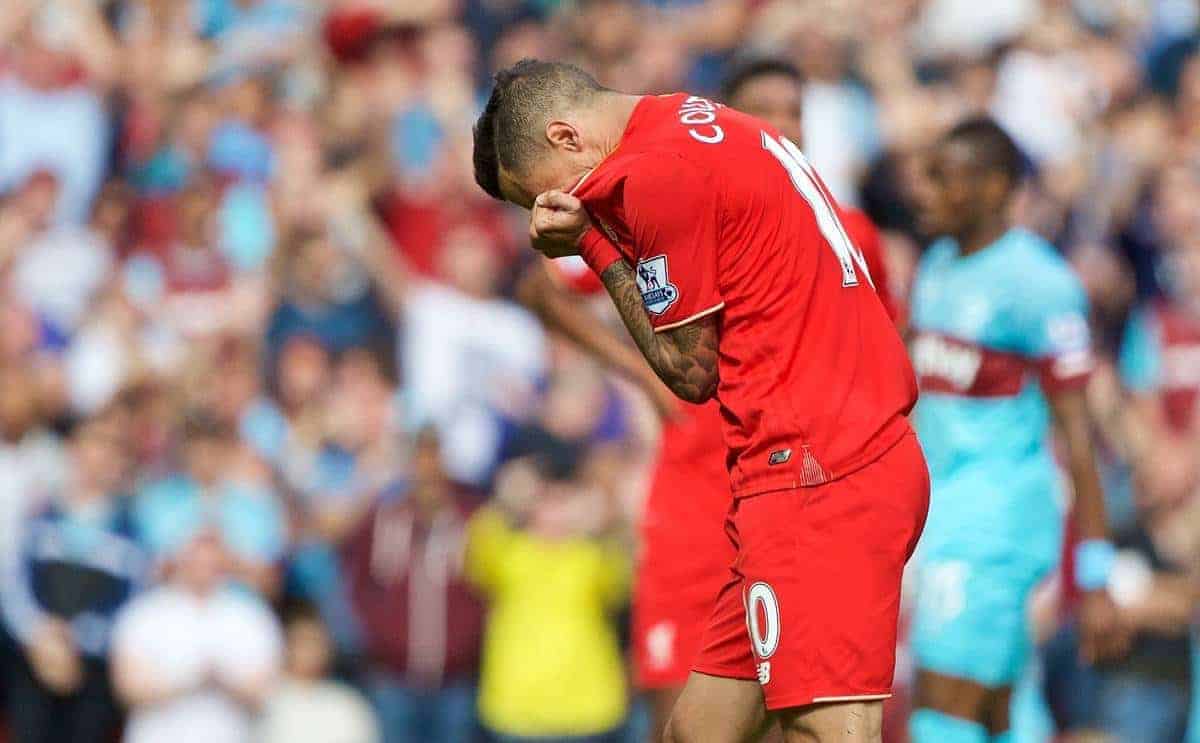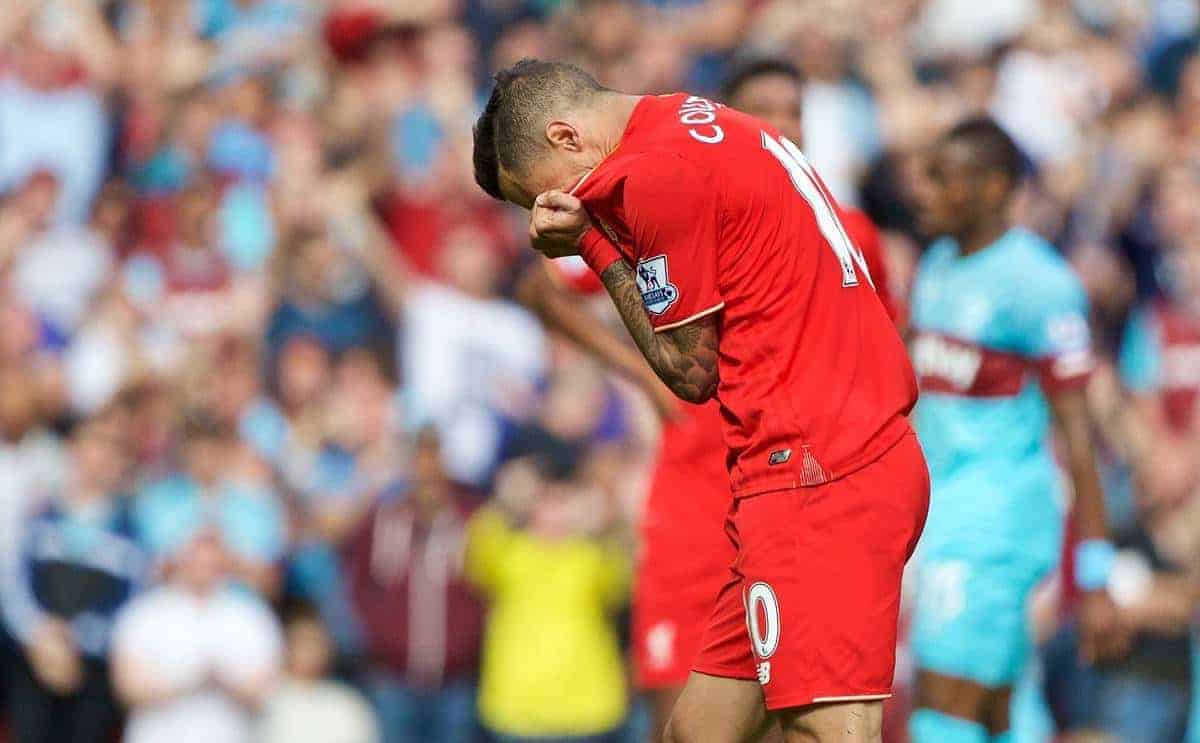 At Anfield on Saturday, Liverpool were made to look like a hastily cobbled five-a-side team.
The tribulations of Dejan Lovren are well documented, with This is Anfield's Thomas Bolton describing his time on Merseyside as "a few more mistakes away from derailment" in response to a dismal individual performance.
Lovren, Martin Skrtel and Joe Gomez were exploited relentlessly by the Hammers—unorganised and unable to hold a cohesive line.
Diafra Sakho's late strike was perhaps the perfect example: Lovren inexplicably and unsuccessful charging out to challenge Cheikhou Kouyate, dragging Skrtel into the left-sided position and allowing Sakho the freedom to fire beyond Simon Mignolet.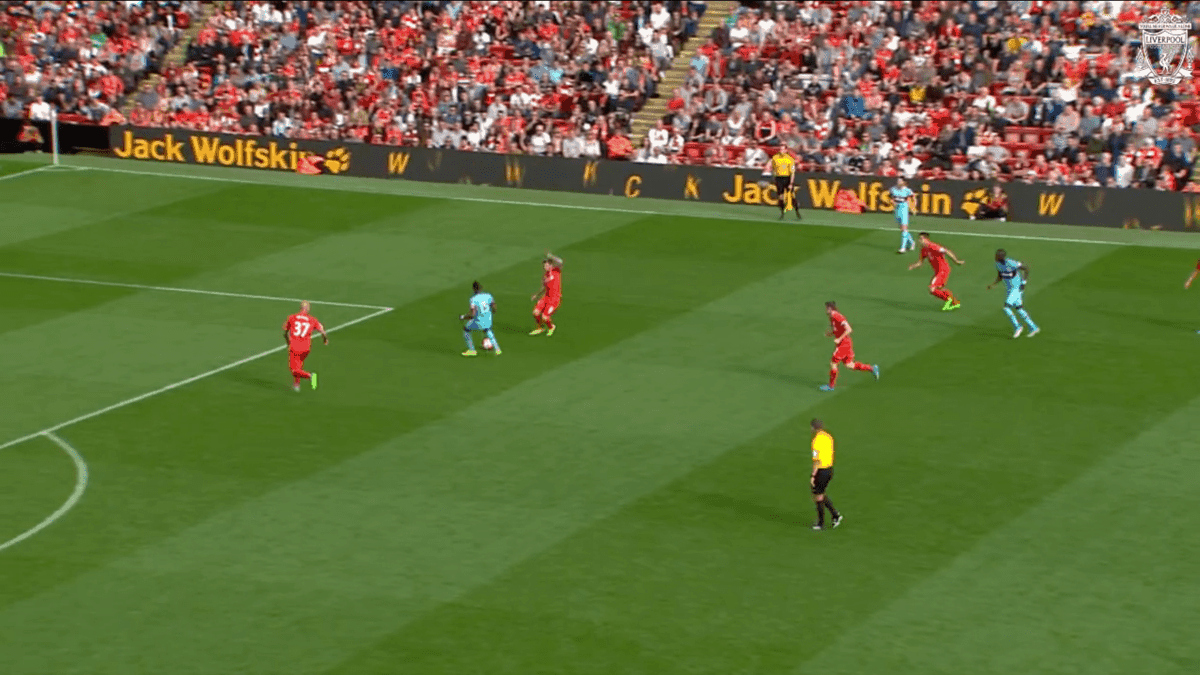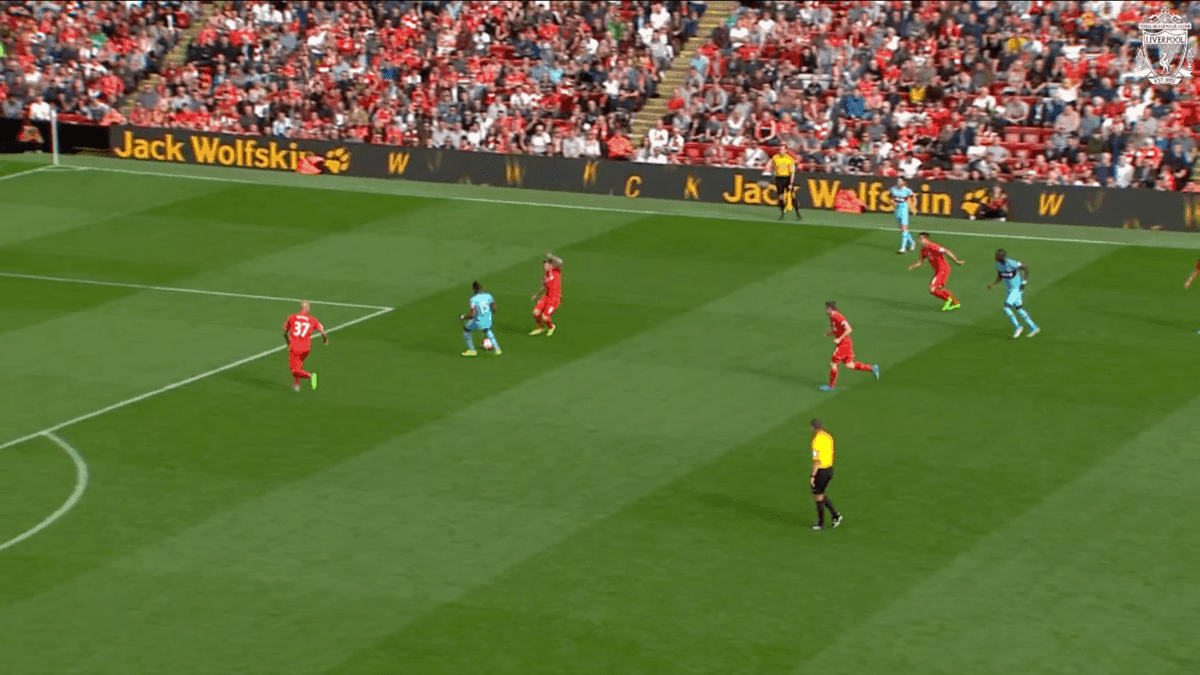 Though these defensive issues were worrying, this is nothing new.
Perhaps more concerning was the complete disconnect among Rodgers' attacking options.
The use of Christian Benteke as a lone centre-forward requires a tactical rethink by Rodgers, with Liverpool's other attacking players—namely Philippe Coutinho and Roberto Firmino—unable to get close enough to the £32.5 million man on Saturday.
Before Liverpool's change of shape at half-time, Benteke had made just 12 touches of the ball.
West Ham's hardworking midfield of Kouyate, Mark Noble and Pedro Obiang suffocated Coutinho and Firmino, with the former failing to create a clear opportunity in his 52 minutes on the field.
When either of the Brazilian midfielders received possession ahead of the Hammers' penalty area, they had little option but to turn back and recycle possession, loft an aimless ball up to Benteke or fire a hopeful shot on goal.
Firmino came closest for Liverpool by hitting the post from range, after finding no viable opening to build play into the penalty area.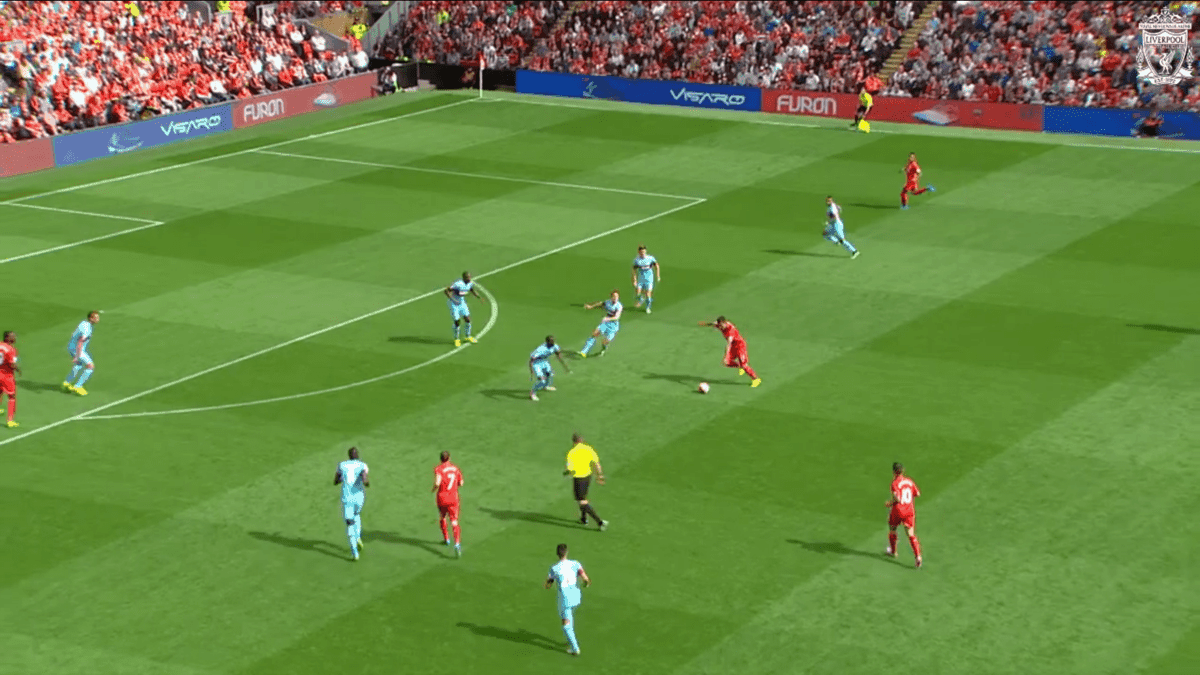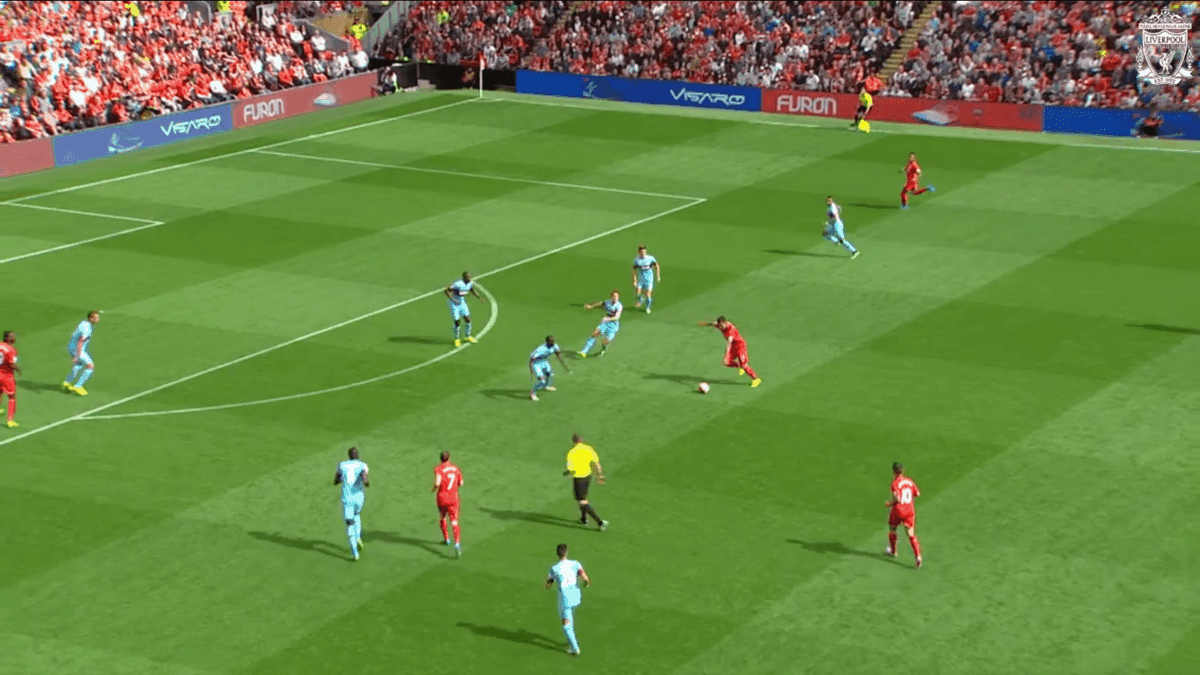 This lack of options is a major concern.
Following the dismissal of Coutinho for two yellow-card offences, Liverpool's attacking line dissolved—with only the impressive Danny Ings, replacing Firmino after the hour mark, offering any link between a beleaguered midfield and Benteke.
Rodgers needed players capable of penetrating between the lines, offering a dynamic wide option and putting pressure on what remains a ramshackle West Ham defence.
In short, Liverpool were missing a player like Markovic.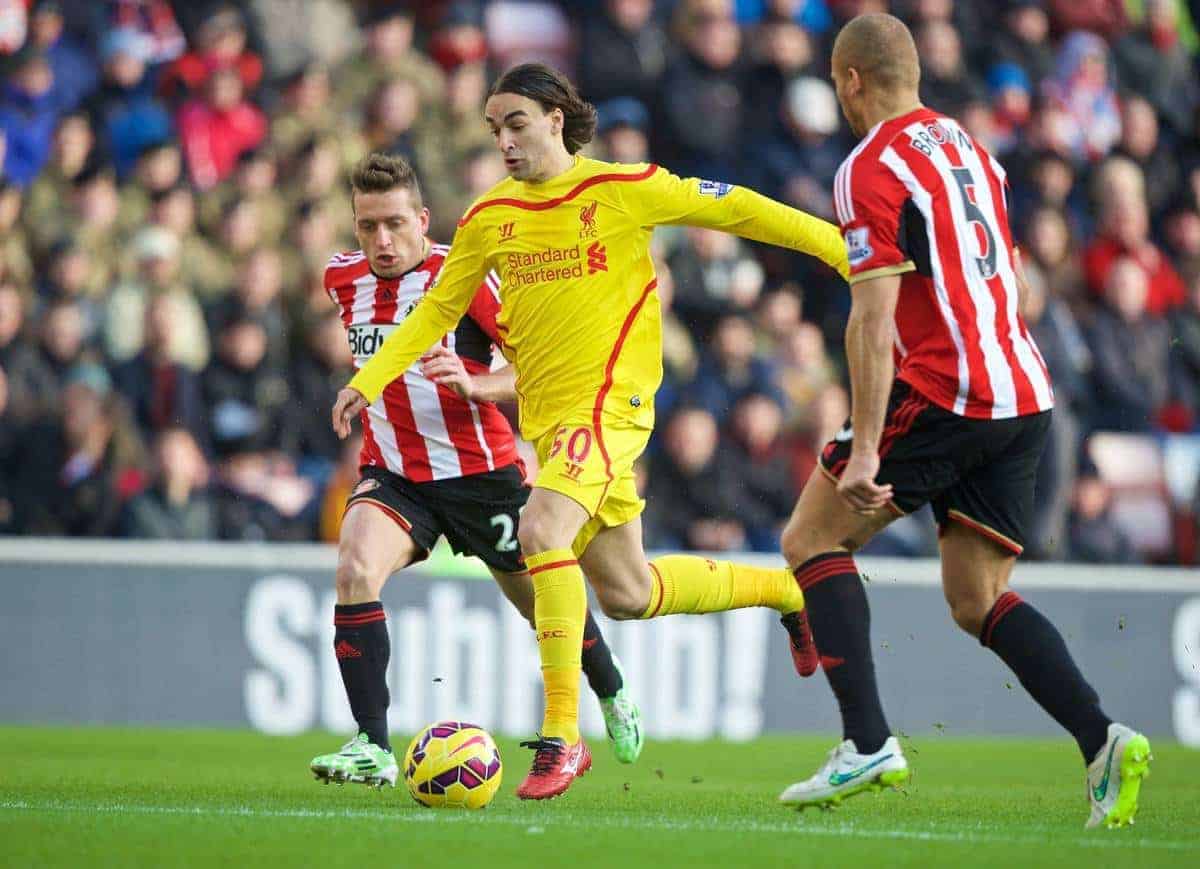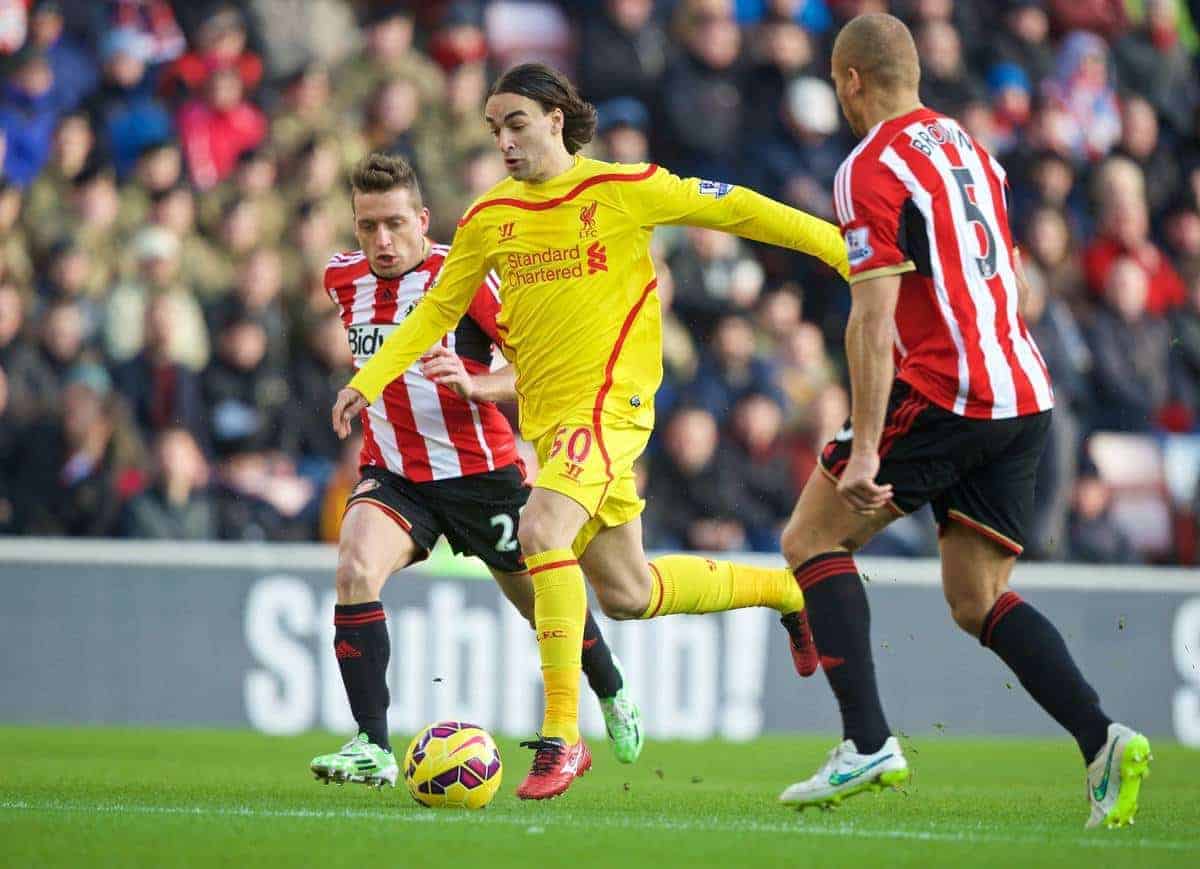 Markovic's first season with Liverpool was a tough one.
One of several big-money transfers last summer, Markovic's arrival was part of a collective attempt to compensate for the £75 million sale of Luis Suarez to Barcelona.
Arriving with a promising reputation as one of European football's finest young talents, Markovic was never truly given the opportunity to impress.
Having made his name with Partizan Belgrade and Benfica as a left-sided forward or a shadow striker, Markovic regularly found himself fielded in a wing-back role in Rodgers' 3-4-2-1 formation.
Struggling to assert himself in this unnatural position, Markovic was often withdrawn at half-time, becoming something of a scapegoat for a manager under increasing pressure.
This was not the Markovic that Liverpool signed.
Markovic is a player that thrives running into space and driving at defenders with the ball at his feet; formidable in one-on-one situations, the 21-year-old possesses the raw, explosive power that can unlock well-organised back lines.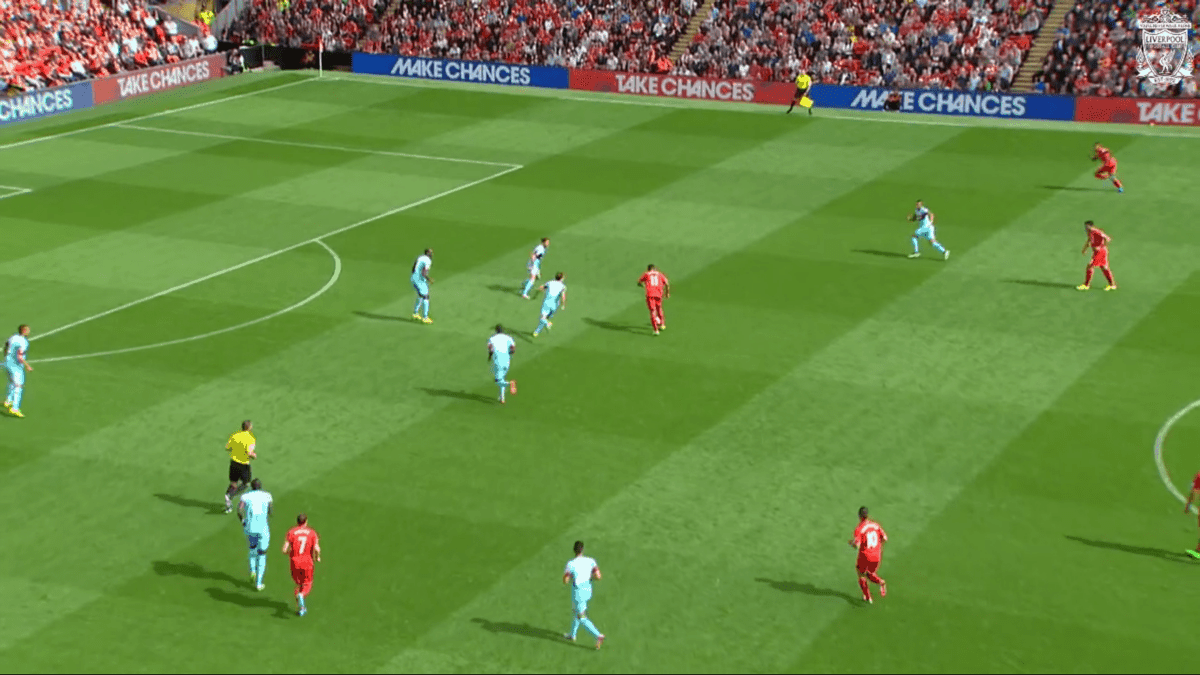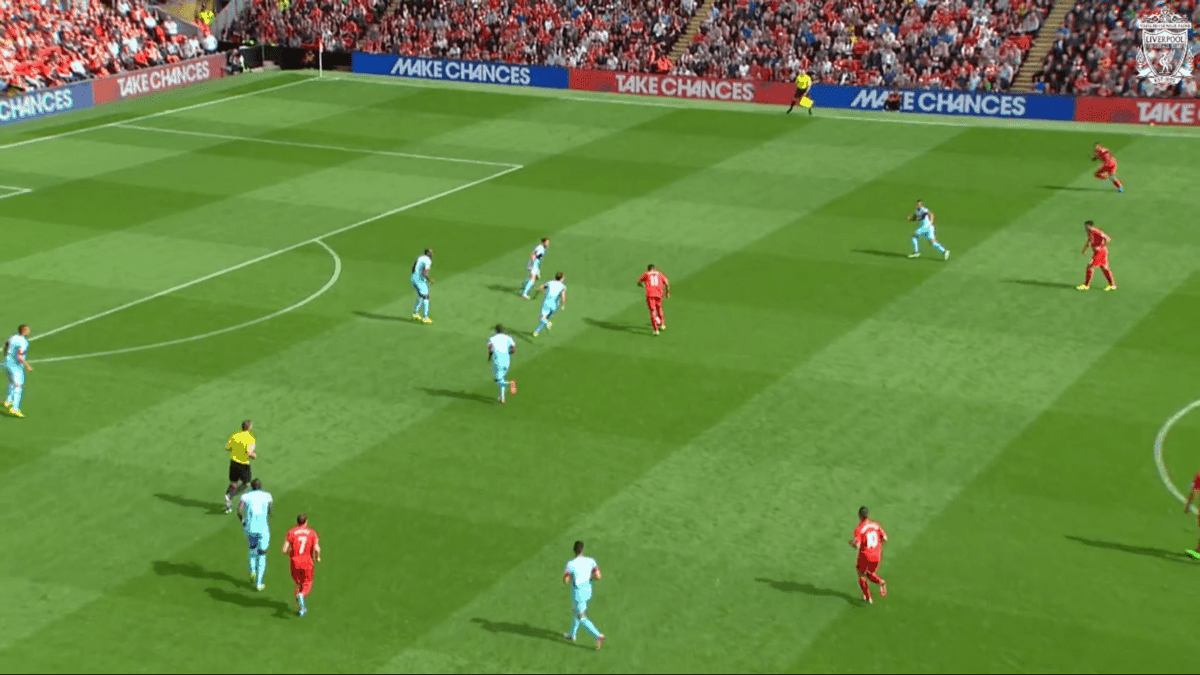 With Raheem Sterling leaving for Manchester City this summer, Rodgers lost the one attacking player who offered him the ability to stretch defences with pace and intelligent movement, and he was certainly lacking a player of this calibre on Saturday.
The gulf of space beyond Firmino as he was forced to line up a shot needed an overlapping presence—but it never came.
The introduction of Jordon Ibe late into the second half against West Ham continued to underline how the 19-year-old is not a like-for-like replacement for Sterling.
Ibe will grow into a top-level attacker, but his talents are best used in an orthodox wide role.
Liverpool's like-for-like Sterling replacement was Markovic, but now the Serbian finds himself in a familiar, Rodgers-designed transfer purgatory.
The Season-Long Loan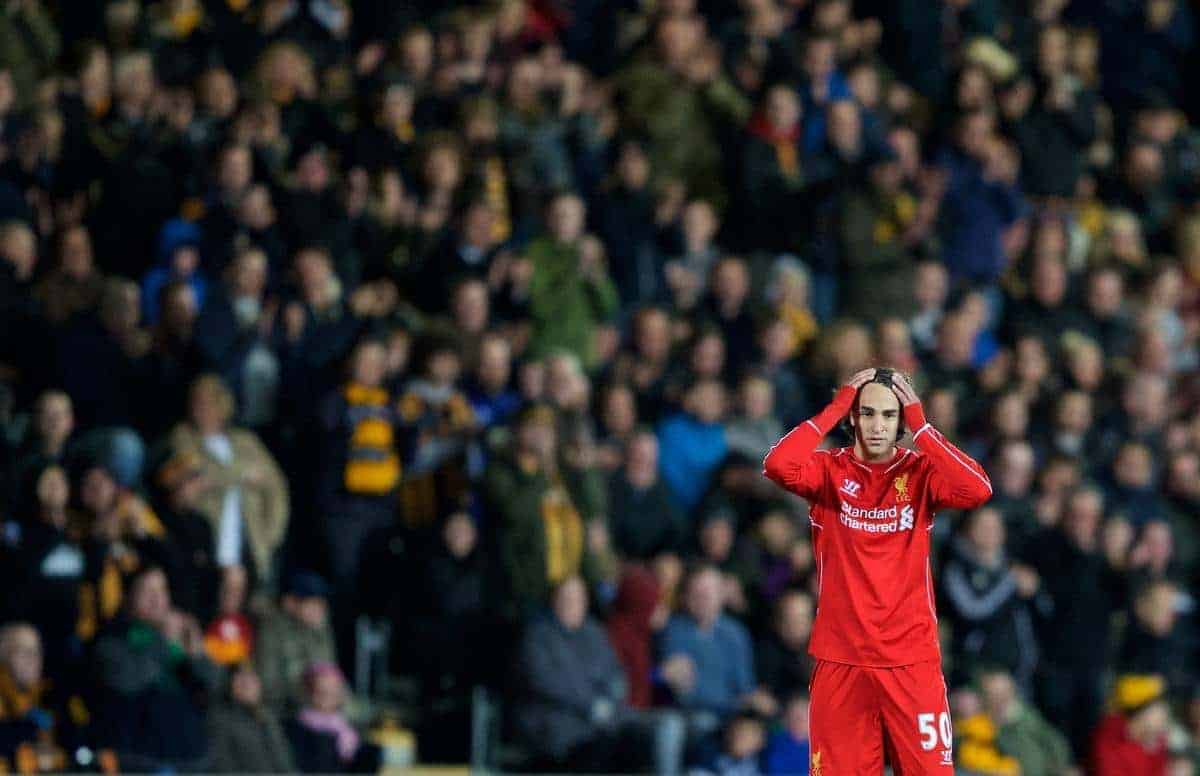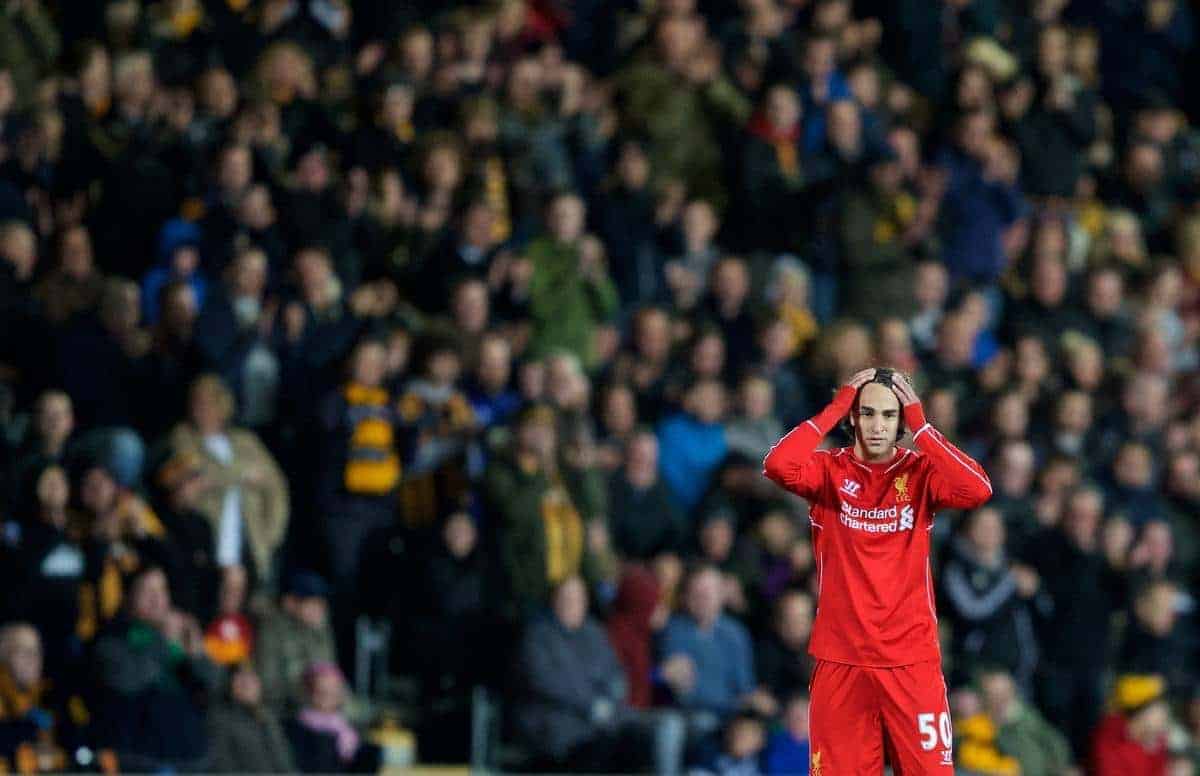 Iago Aspas, Luis Alberto, Sebastian Coates, Oussama Assaidi, Pepe Reina, Suso, Fabio Borini, Mario Balotelli and Andy Carroll—all players who have suffered the indignity of a season-long loan during Rodgers' tenure.
With Liverpool's failures in the transfer market plentiful during the three seasons Rodgers has spent as Reds manager prior to the 2015/16 campaign, the loan market has been utilised to worrying effect.
Though Markovic's move to Fenerbahce is reportedly a developmental period, it is difficult to escape the impression that this is the 21-year-old's first step towards a permanent exit.
Markovic is in danger of joining Aspas, Balotelli, Assaidi and Alberto in a group of players that the club have been deemed so dispensable that a value-sapping temporary move has been sanctioned, rather than being given the option to remain at the club in a squad role.
Only two weeks before Markovic sealed the move to Turkey, Rodgers had told reporters that both he and Alberto Moreno "will be needed" this season.
"They know very well, with the conversations we have had, it is a long, tough season and they will be needed and when the opportunity comes you take that and keep yourself in the team," the manager continued.
This long, tough season truly began at Anfield on Saturday.
With a player of Markovic's qualities in desperate need against West Ham, the fact that Rodgers has undermined this statement is bemusing.
Slaven Bilic's Hammers won't be the only side to set themselves up to frustrate Liverpool this season, and Rodgers may rue the decision to loan Markovic when these problems continue to arise.