Aaron Cutler dissects and dispels ten myths about the modern day Liverpool.
9 We never gave Hodgson a chance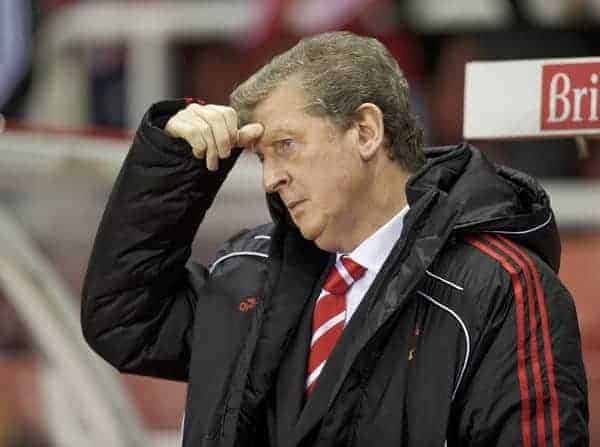 Roy Hodgson was by far and away the worst Liverpool manager of the modern era. He has the ignominy of being the only reds coach officially 'sacked' midway through a season. That fact does not stop his friends in the media, nor opposition supporters, accusing Kopites of conspiring against him.
Granted few if any Liverpudlians championed the 63 year old's candidacy in the summer of 2010. It is well documented that droves longed for Kenny Dalglish to be re-instated, particularly after the Liverpool legend had thrown his proverbial hat and Candy coat into the ring.
Nevertheless the majority of fans put aside their dissatisfaction to support Hodgson and moreover their team.
What transpired however was football from the dark ages; regimented, dour tactics designed to grind out draws and dilute any hint of flair.
Hodgson's misplaced confidence and bizarre sound-bites compounded the gloom further still, serving only to alienate a disgruntled public.
An appalling 2-0 humbling across Stanley Park was heralded as the best performance of his reign. A cup exit at the hands to League Two Northampton was excused as a 'draw' because penalties occurred after the event. Best return those two European Cups lads ..
Hodgson alone contributed to his downfall. He was exposed as a mid to lower ranking coach unable to re-invent methods that had "translated from Halmstads to Malmo, to Orebo to Neuchatel Xamax, to the Swiss national team".
His inability to grasp Liverpool as either a club or city brought about his demise, not a fan base subjected to utter dross and their worst start to a league campaign in 50 years.
ROYISMS: 10 disastrous quotes of Roy Hodgson's LFC reign
10 LIVERPOOL MYTHS

1. Liverpool 'lost the league' at Palace
2. Rafa's Fergie "Rant"
3. Rodgers' portrait of himself
4. The Spice Boys couldn't defend
5. Martinez 'turned down' Liverpool job
6. Suarez the flat track bully
7. Garcia's "Ghost Goal"
8. Sakho can't pass
9. We never gave Hodgson a chance
10. Gerrard wasted his career