Following Liverpool's abject 3-1 defeat at Man United, Henry Jackson selects five points of discussion from the Old Trafford showdown.

There haven't been many more depressing losses than that over the last five years or so, and Brendan Rodgers now finds himself in a very precarious position.
Liverpool's performance was appalling from start to finish, and the fact that they only started trying to play football once they fell behind made it all the more frustrating.
Christian Benteke's magnificent acrobatic strike was the only high point, as goals from Daley Blind, Ander Herrera and Anthony Martial sealed an easy win for Louis van Gaal's men.
There was barely a good performance in sight from a Reds player, and you can't help but wonder where this side goes from here.
The defeat is a major setback in Liverpool's 2015/16 campaign, and serious questions should now be asked in the coming days.
Here are five talking points from a dire evening in Manchester.
Complete lack of character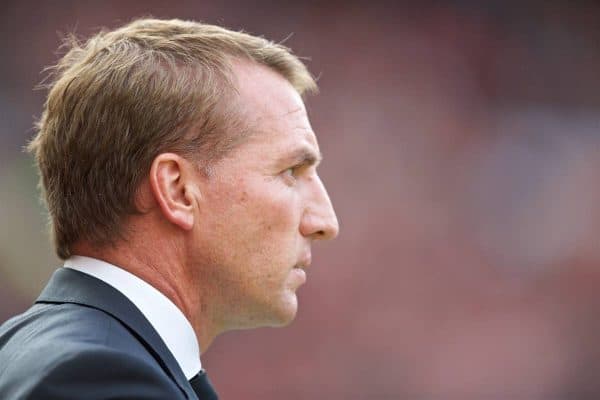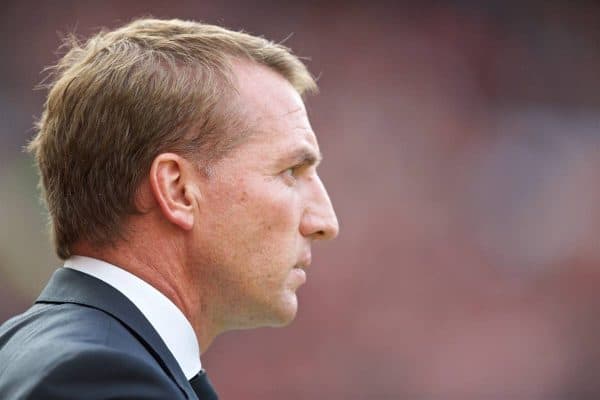 We all know how annoying Rodgers' constant use of the word 'character' is – no doubt he mentioned it in his post-match press conference – but the irony is that his side have very little of it.
Despite the Reds facing their biggest rivals, in one of the most high-profile club matches in the world, there were far too many players who looked disinterested and lacked fight.
There was very little leadership from experienced heads like Martin Skrtel and Dejan Lovren (more on them later) while Lucas Leiva, James Milner and Emre Can were all strangely lacking a spark in midfield.
Absolutely no character in this LFC side. Which is ironic given how much Brendan talks about it.

— Matt Ladson (@mattladson) September 12, 2015
A rash challenge by Milner on Ashley Young did at least show that Liverpool's captain on the day had some fire in his belly, but that is very much clutching at straws.
Rodgers loves to laud the courage and bravery that his players supposedly show on the pitch, but in truth, there is a complete dearth of it being shown right now. Has he lost the dressing room?
Negative tactics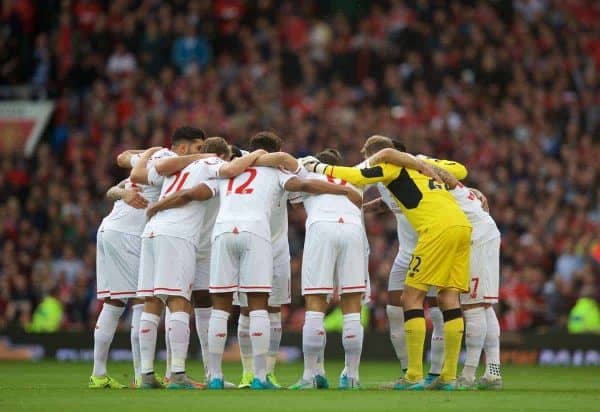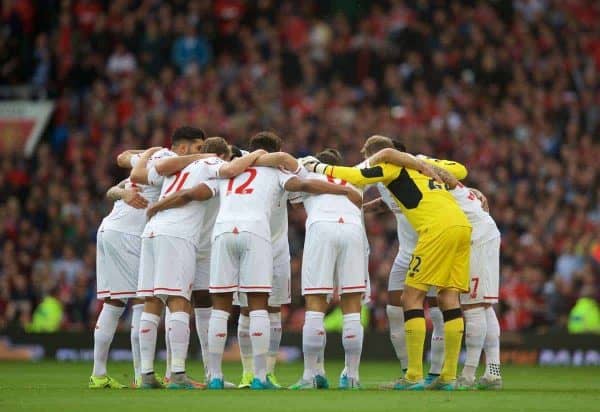 Those wonderful memories of 2013/14, when Liverpool played some of the most attractive, attacking football in the club's history, now feel like a lifetime ago.
Once again Rodgers approached the game in an incredibly negative manner, and it was truly depressing to watch. It was like watching a relegation-threatened team visit Old Trafford, playing for a 0-0 draw.
While the stalemate at Arsenal was far from a bad result, and we played well in the first half there, it was simply a matter of time before the Reds were punished for playing such toothless football.
Liverpool's front three of Christian Benteke, Roberto Firmino and Danny Ings didn't create a single chance between them vs. Man Utd.

— Squawka Football (@Squawka) September 12, 2015
Where were the runners in and around Christan Benteke? When did Nathaniel Clyne and Joe Gomez really get forward on a consistent basis from full-back?
It felt as though Rodgers was trying to emulate his former colleague Jose Mourinho's tactics away to rival teams, but the defensive quality and all-round lack of discipline made it a disaster waiting to happen.
Terrible use of Firmino and Ings

When it was announced that Danny Ings would make his first start for Liverpool, there were plenty who felt Rodgers may finally be adopting a 4-4-2 diamond formation again.
Partnering the 23-year-old alongside Benteke, with Roberto Firmino at the tip of the diamond, would give the Belgian more support and get the best out of all three of the Reds' summer signings – each then playing in their natural roles.
Instead, Rodgers decided upon a 4-3-3 that effectively became a 4-5-1, with Ings and Firmino deployed on the left and right, respectively.
Danny Ings & Roberto Firmino's touches vs. #mufc. Can't help but feel sorry for them. #LFC pic.twitter.com/JiyRPAtC0l

— Jack Lusby (@jacklusby_) September 12, 2015
It proved to be a shocking decision from the Liverpool manager, with both players failing to influence the game in an attacking sense.
Neither Ings or Firmino created a single chance during the game, and they almost played as deep as wing-backs for much of the contest.
It is the sort of tactical error that leaves you baffled, and will be one of many things the supporters cannot get their heads around.
Mignolet, Lovren and Skrtel's ineptitude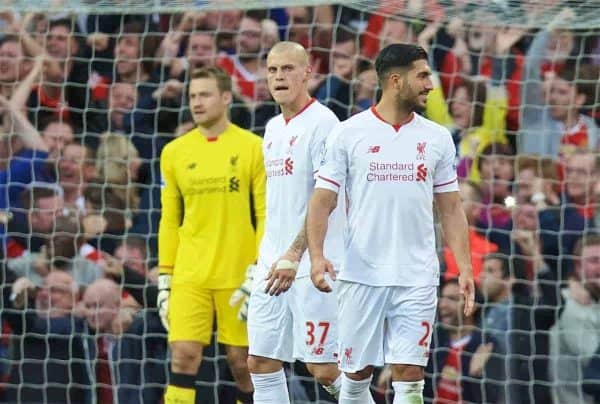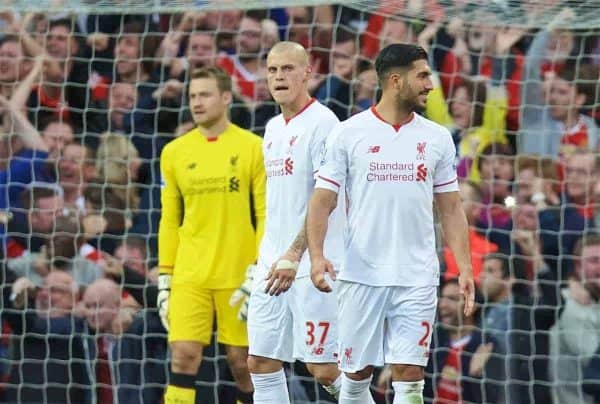 So much has been made of Dejan Lovren's place in the team and Martin Skrtel's patchy form, and they once again showed why they are one of Liverpool's most unconvincing centre-back pairings of the Premier League era.
Lovren may not actually have been at fault for any of United's goals, but he showed no authority at any point, and always felt like an accident waiting to happen.
Skrtel bizarrely has many admirers still, but his defending for Anthony Martial's goal was nothing short of atrocious.
He is 30 years of age now and should be the undisputed leader of Liverpool's defence. Instead, he is as error-prone as anyone. The back-line will never be good with him in it.
We all complain about Lovren and he is terrible but Skrtel is honestly just as bad.

— BetGOAT (@BetGoatUK) September 12, 2015
There was a always a feeling that Rodgers' stubbornness in continuing to play Lovren and Skrtel would prove to be his downfall, and that is looking more and more likely by the week.
Simon Mignolet also deserves plenty of blame, with his nonsensical roll-out almost gifting United an early lead, and his general kicking, passing and aerial presence flattering to deceive throughout.
As a defensive trio, Mignolet, Lovren and Skrtel are fast becoming one of the least dependable in the Premier League.
Philippe Coutinho sorely missed

If anyone wondered just how important Philippe Coutinho is to this Liverpool team now, you only have to look at Saturday's performance.
The Brazilian is by far the most creative, influential player at Anfield, and the lack of guile without him was truly alarming.
Lucas, Milner and Can are all very fine footballers in their own right, but none ever looked capable of unlocking United's defence.
We missed Philippe Coutinho so, so much today. Alarming how dependant we now are on him. #LFC

— Henry Jackson (@HenryJackson87) September 12, 2015
Firmino, meanwhile, is making slow progress in terms of getting used to the Premier League, and like Ings, was being played completely out of position.
Apart from Benteke, who did an admirable job up front considering how isolated he was, it was impossible to see where a goal was possibly going to come from without Coutinho's wand of a right foot on the pitch.
It really is alarming how one-dimensional the Reds looked without their brilliant talisman, and while new signings will improve and a few attacking players are set to return from injury, there is now a real feeling of 'if Coutinho doesn't do it, who will?'
Let us know your thoughts on the match in the comments below. Where do you feel Liverpool lost the game?
MAN UNITED 3-1 LIVERPOOL POST-MATCH COVERAGE