There's a horrible sense of inevitability about Brendan Rodgers' departure, writes Paul McCabe

We've been here before and it looks as though the end is drawing near. The signs are there: the fanbase turning against the manager, most of the team underperforming and results continuing to embarrass and underwhelm. Rodgers looks and sounds like a resigned man. Desperation and uncertainty has crept into the team.
Instead of the backbiting, recriminations and bitterness, however, this is the ideal time for Liverpool to move forward as a club, to learn from perceived mistakes and build properly for the future. Even if it doesn't work out for Rodgers, the owners can put steps in place to build for a much brighter future.
Rodgers' position is not untenable, but recent results, performances and unrest have all served to make it extremely precarious. In truth, top-flight management is, by its very nature, precarious. Fans are customers and, as that role has shifted and as it costs more now to support Liverpool than it ever has (a small fortune for those fans who travel home, away and overseas to support the Reds), this has fostered a great deal of impatience in many quarters.
It's certainly not a cheap hobby and, with Liverpool, it's come bundled with a lot of disappointment. If you're a customer, you expect to be delivered a good product. On the whole, this season has not delivered much in the way of entertainment and joy. The "product" has so far fallen below the standards the owners have invested in it. At the moment, the product (or the "project", to use modern football parlance) is not working.
It seems unlikely that Rodgers will be able to claw back support. It's a slippery slope from here and, as discontent escalates to uncomfortable levels, he's very much living on the volcano – that's also the name of a recently-released book, where he contributed his views on the intense pressures of modern football management.
It hasn't been an easy few years for Rodgers, as he acknowledged in Michael Calvin's book. He's lost both of his parents, his marriage ended and his son was involved in a high-profile legal case. That's genuine stress, genuine trauma and it surely takes a genuine toll. We sometimes forget that, on that pitch and in the dugout, human beings are dealing with real-life problems and it's not always easy to compartmentalise these.
That's not an excuse for Rodgers or a suggestion that things may be working out differently if those issues weren't in the background, but it offers a context to the situation in which he's been working. He's human and he's clearly made mistakes, yet there are sometimes other issues bubbling under the surface.

I've never met nor spoken with Brendan Rodgers, I can only get the sense of him from watching his interviews, reading his thoughts on football matters and hearing/reading what other people who've met him think of him. I get the sense that he's a sensitive and self-aware sort of man who's desperate to be a success in management. I understand that he can be guilty of double talk, hubris, of alienating certain players and exaggerating his team's performance. We've heard all the stories, and people interpret these differently depending on their view of the manager. Like all of us, he'll divide opinions, but crucially: he loves Liverpool Football Club and wants to be loved back.
Unfortunately, he's not getting a lot of love at the moment and the dislike of the manager is intense in some quarters. It's at a level that I feel is undeserved and unnecessarily vicious and personal. I don't think it helps the team, the manager or the fans who engage in this. I understand that there's a market for it and it can be a coping strategy, yet it's not helpful in the long run. Maybe Rodgers isn't up to the job, or has made mistakes, or has become swamped, or rubbed too many people up the wrong way when things after results started to go well. Few of us know for sure.
This doesn't apply to everyone, but there's a difference between blind loyalty and respect. I respect what Rodgers has tried to do at the club and support him and the team. You can be constructive, of course, but outright ridiculing a Liverpool manager who's given his all is harsh. I think we'd all like to see a proven world class manager leading the club, but that's neither a guarantee of success nor a reason to denigrate the incumbent manager.
The sentiment has turned very nasty on Rodgers – one of the perceptions being that he's out of his depth, another being that he believed his own hype too much after the 2013/14 season. There are other insinuations, of course, and I bristle at the way the manager of Liverpool has been discussed by some supporters. Between the memes, the mocked up pictures, and the mockery, I believe he deserves better. All Liverpool managers do (whether the next one ends up being Ancelotti, Klopp or, most likely, Monk or Howe), as it's the toughest job in top-level football management, and he's given three years of his life to the cause – even if ultimately it looks like it'll be trophy-less and personally damaging to his career.
It's one thing to criticise a tactical decision or a signing, or to poke fun at the numbers of times he says "outstanding", but quite another to be so vitriolic in assessing the manager. There's banter, which can be a great laugh and well-intentioned, and then there's being snide. He hasn't failed through spite, or lack of effort.
The barometer has moved too much in the snide direction, and I find it all quite unsavoury. Rodgers clearly isn't doing well at the moment, but he's never come out to criticise the fans a la Hodgson, and I don't think he needs to be lambasted as "fraud", "small time Charlie", "clueless" amongst the many other knee-jerk reactions I've read. If he goes, let him go with a bit of dignity and a show of support. "You'll Never Walk Alone" should continue to mean something when supporting the team, but right now it seems that the knife is being plunged into Rodgers.
Let's have this right: he did a brilliant job in 2013/14 – better than anyone reasonably could have predicted. It was 38 games and he managed expectations very well. To claim this was all down to one player not only diminishes the manager, it diminishes the contributions of the rest of the team. It diminishes the season. One great season is not enough, clearly, and Rodgers hasn't been able to draw on the emotional attachment of an Istanbul or a league title. He hasn't got that in the "goodwill bank."

When people look at Rodgers, the pain of what nearly was is linked with the team's subsequent stagnation. It's a double whammy and, to compound matters, he doesn't have the track record in terms of trophies or objective transfer success (the real "credit in the bank") to fall back on, the way Rafa, Kenny, Klopp or Mourinho would. He nearly did it two seasons ago, but that's not enough of an attachment.
Obviously, having a footballing genius like Luis Suarez in your team is a tremendous advantage. The same could be said of having Ronaldo, Aguero, Hazard and Drogba in your team in years gone by. Yet, even despite other managers having players like that in their squad, their achievements were not or have not been diminished because of this.
We all accept that, no matter how talented a manager is, it's a very competitive industry at the moment. Generally, you need to have a relaxed attitude to spending and a comparatively high net spend. I think FSG need to be realistic too – they've spent a lot, recouped a lot, made some good progress at the club, but have they given enough of a platform to ANY manager to go and win the league?
Mourinho and Ancelotti have spent a lot more than Rodgers ever has, inherited strong teams at some free-spending clubs, but no-one would fairly claim they were "lucky" managers simply because they effectively managed some great players. That's what Rodgers did in 2013/13 – he effectively managed the season and got the best out of the team and a great striker (even though he wasn't "lucky" in the end). Isn't that what great football management is about?
The truth is, there are mitigating circumstances, but Rodgers hasn't managed the loss of Suarez, identifying his replacement or the long-term absence of Sturridge as well as maybe he could have done. We can only speculate as to whether another manager, inheriting the same circumstances, could have done much better last season. Could Ronaldo or Messi be replaced at their respective clubs? It's never an exact science.
I do feel that, as the pressure mounts, with the stress seeming to be clouding his judgement, as opposed to bolstering it, it might be best for all concerned for Rodgers to be replaced sooner rather than later. He looks defeated. It would take a dramatic upturn in fortune – not just in results, but in keeping key players off the treatment table – to weather the storm and dramatically reverse what seems to be a depressingly familiar outcome. It's a stretch.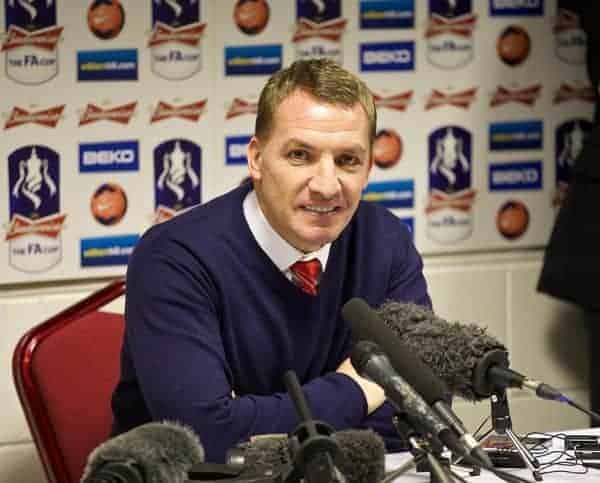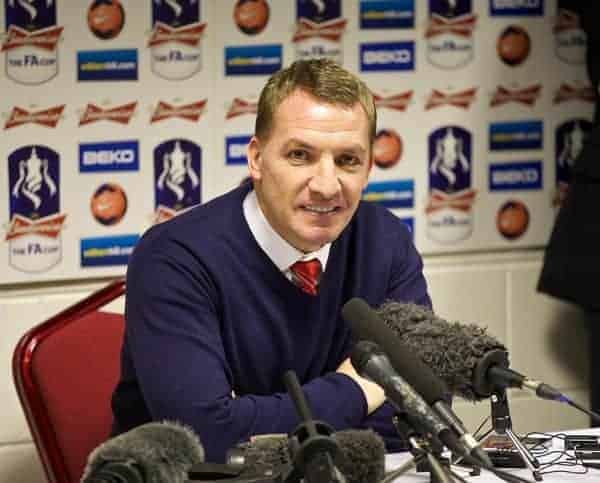 So I just want to say thank you to Brendan Rodgers. I don't want to put him down or slight him. Thanks to him for making US dream again, even if it all seems a bit nightmarish at the moment. Thanks to him and his team of 2013/14 for making us forget all the bullshit that goes with being a football fan. Thanks to him for creating an exceptional team, playing an amazing brand of attacking football, and for bringing the club so close to the Promised Land.
He's given it his best shot. I'm sorry that, ultimately, it doesn't seem as though it'll work out. I'm sorry that, despite getting within touching distance of the title, we didn't quite get there. It was a cruel way to lose out. That team deserved better, and the fans deserved better.
Even though it does seem like the end is looming for Rodgers, with increasing media attention directed to his tenure (a sure sign they smell blood), it's a chance for everyone who cares about the club to take stock. Some fans, in the emotion of defeat, need to support better or support differently, and mostly need to support in times of doubt and when things don't do so well.
Instead of blaming, analyse. Instead of the getting embroiled in the tribal nature of "us vs them" and arguing with other Liverpool fans, listen. Being hostile is not my own way, but I don't think I'm better for not doing that. It's a different way of approaching things, but it serves me better and I think it's generally a better way to behave.
This is also a time for the owners to acknowledge those fans with well-articulated criticisms and work with them to make a redeveloped Anfield the loud and intimidating atmosphere it can and ought to be. There are causes for concern off the pitch, of course, but success on the pitch can put that right: we're not that complicated really. If anything, we're very easily pleased.
Maybe a new manager will take charge and, if he's more proven, that'll make a positive impact on the fanbase, galvanise the team, buy him some time, whilst improving the overall mood and the quality of player the club can attract. Maybe it could be that simple; we've seen it before. Maybe this change won't have the intended turnaround effect – 25 years of evidence suggests it's not all down to the manager, or the owners, but a series of circumstances that just have to go in your favour (a bit of luck, really). That little bit of luck has eluded Liverpool in the League for 25 years.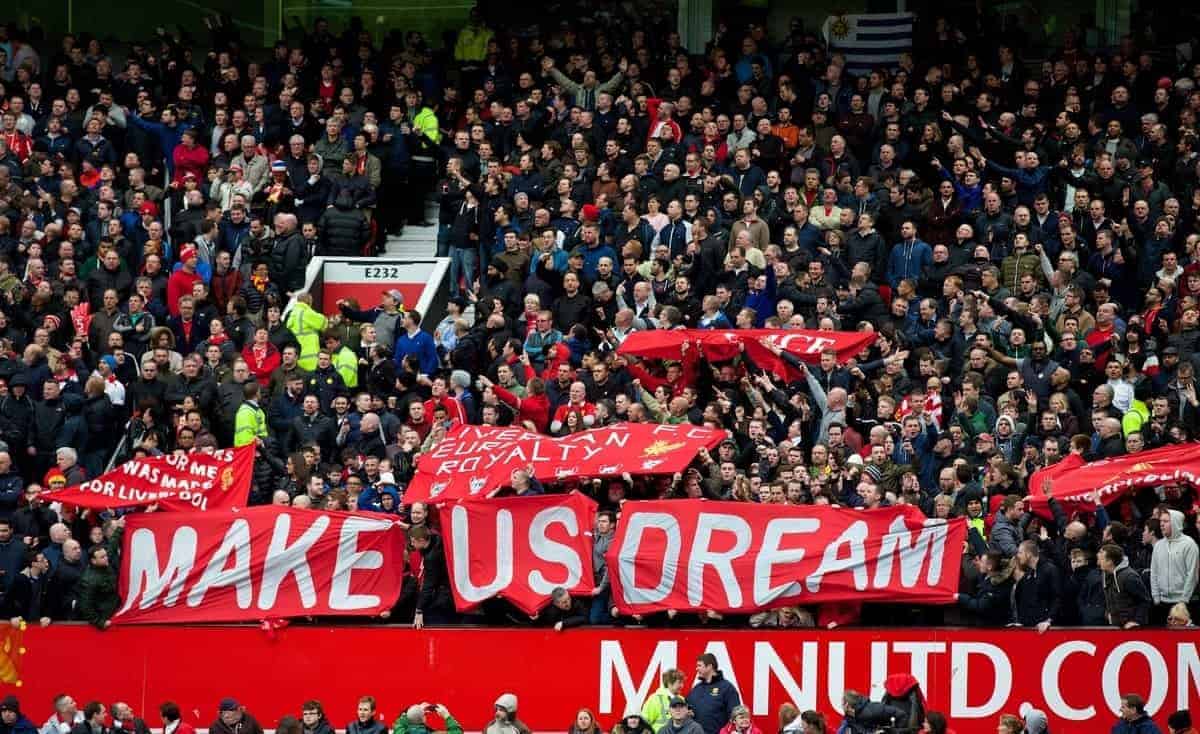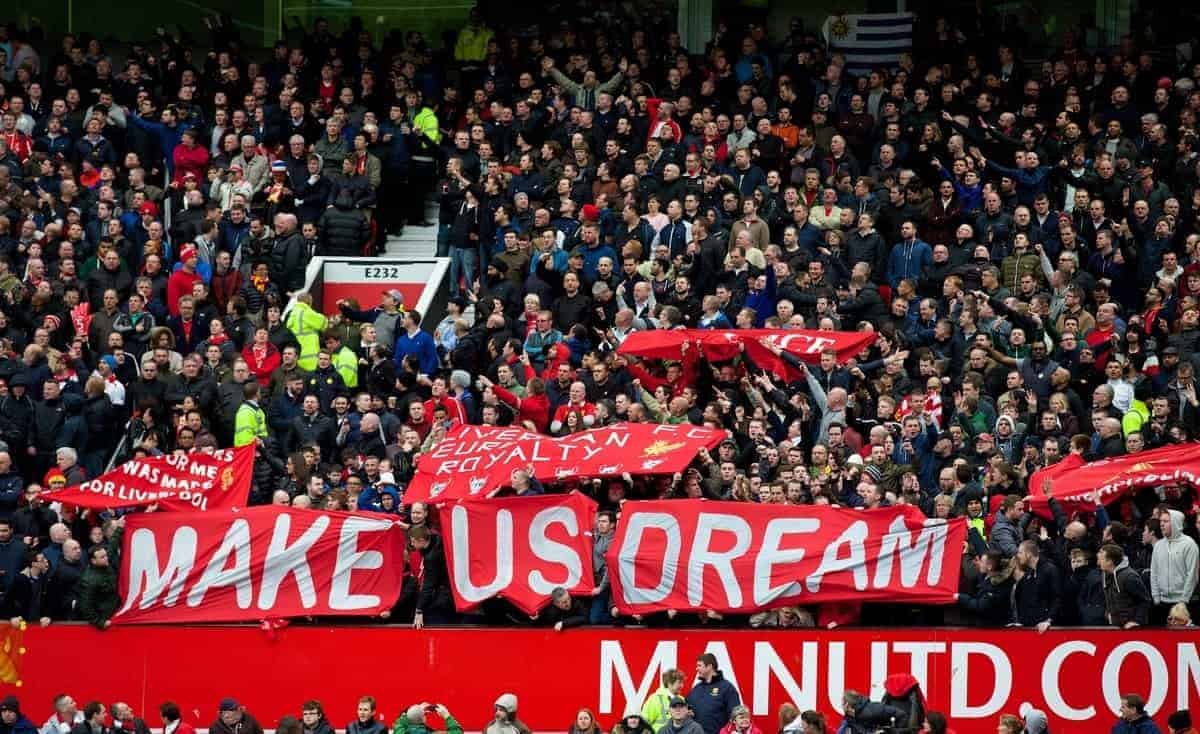 Whether it's Rodgers or the next manager, he'll need to become an absolute miracle worker: not only will he have to say the rights things at the right time to increase the morale, be perfect tactically, be adored by every player, live like a monk, and win the League (or crack the top 4 every season), he'll also need to do it with a relatively low net spend.
So, yes, the fans should know that the miracle worker isn't there (in the hot seat now or perhaps in the very near future), and therefore there will still be difficult challenges at Liverpool for even "top, top managers" to overcome. FSG should know that their model (well-intentioned though it is) really needs to be modified in the current climate of relaxed "Financial Fair Play."
A different approach is nice, but it's not making a top 4 finish any more likely and the title seems to be a pipe dream. There doesn't seem to be a shortcut to winning this league – other than spending like a Sheikh. If the club's owners really do want enduring and measurable success in this league, it will come at a great cost and some more risks. Whether they have the will and, more importantly, the funds to make that dream more of a possibility means that the next manager is hampered before he even sets out foot through the door.
Do you agree with Paul? Let us know in the comments below.