After signing Tiago Ilori on loan at the end of this summer's transfer window, Aston Villa manager Tim Sherwood has praised the Liverpool centre-back.
Off the back of Tiago Ilori's surprise deadline-day move to Aston Villa, Tim Sherwood has expressed his delight at securing the Portuguese centre-back on loan, saying "he could be an exceptional player."
Speaking to AVFC.co.uk, Sherwood outlined Ilori's potential, and where he sees him playing in his Villa side this season.
"If he becomes what I think he can be, he's a good buy at the money we're talking about," he said, after confirming that Villa had an option to buy the 22-year-old outright as part of the terms of his move.
"He's quick and elegant. He's played in four different countries, when you include England. He's had a good rounded development.
"He's very composed on the ball and versatile. He can play right-back, centre-back and I see him playing holding midfield as well.
"He's a development project and someone I am very excited to work with."
Despite his brash persona, Sherwood is clearly a well-tuned young coach, and the work he has done at Villa so far is a testament to his potential as a manager.
Signing Ilori is another step towards progress at Villa Park, and a considerable blow to Liverpool.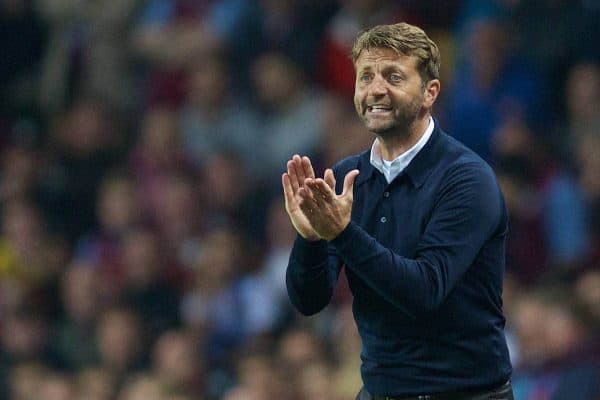 Interestingly, Sherwood continued by comparing Ilori to Reds midfielder Emre Can—a player Brendan Rodgers seemingly has faith in, despite his similarly raw attributes.
"I see him like an Emre Can. He's been successful playing in every position.
"A lot of people say that if you don't nail down one position, it's detrimental to your career. I don't believe that. I believe it gives you the chance to play more minutes.
"I think he could be an exceptional player. He's not there yet. But he's in the right place."
According to the Liverpool Echo, Ilori told AVTV that he is "relieved" to have made the switch to Villa this summer.
Quite why Liverpool allowed a player of such potential to leave is a mystery.