Jurgen Klopp is Liverpool's new manager, here's 10 reasons why he is the perfect appointment.
The German is being tipped by many to be Brendan Rodgers' successor at Anfield, and he would be an incredibly popular choice should he get the job.
Klopp enjoyed a wonderful seven-year spell with Borussia Dortmund between 2008 and 2015, and he became one of Europe's most highly-rated coaches because of it.
Here are 10 reasons why it would be great to see the 48-year-old as Liverpool's new man at the helm.
1. Personality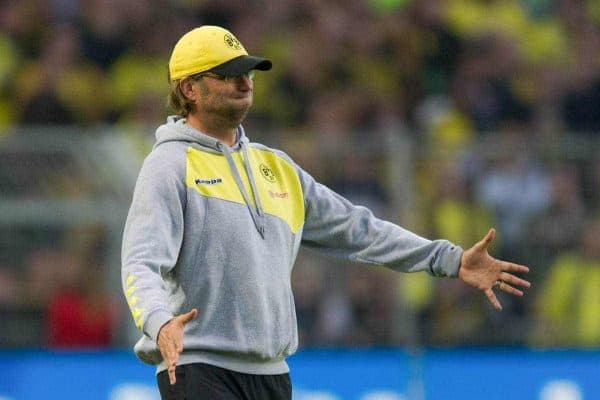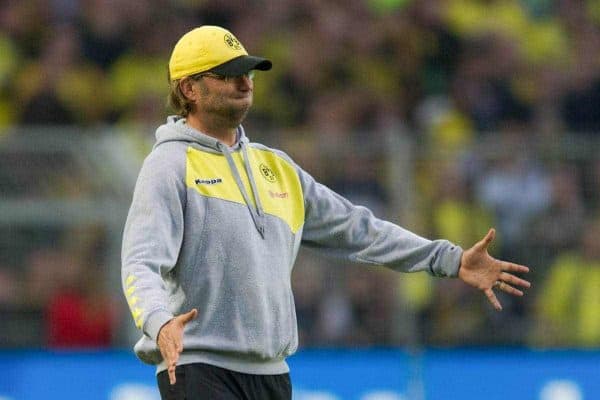 Klopp has got to where he is because of a huge amount of talent, but his enormous personality has certainly helped increase his popularity.
His post-match interviews and press conference are always full of entertaining quotes and bags of charisma; something that will make him both a great addition to Liverpool and the Premier League as a whole.
You would never hear Rodgers saying, "If we should finish second this summer, I'll find a truck and drive it through my garden. If nobody will rejoice, I'll do it alone".
Jurgen Klopp makes fun of journalist because of his tie

2. Attacking football
Klopp's Dortmund side of the early 2010s were a joy to watch, with relentless pressing and slick passing moves the order of the day.
It is a brand of attack-minded football that would be adored on Merseyside, much in the same way as those 2013/14 performances were loved.
Dortmund scored 80 goals or more in the Bundesliga three years on the bounce under Klopp, and handed thrashings to Bayern Munich and Real Madrid in that time too.
3. He will 'get' Liverpool
The Liverpool job is an incredibly pressurised one, and some former managers just haven't fit the bill whatsoever. Roy Hodgson, for example.
Klopp is absolutely perfect though. He will engage with the fans, and like Rafa Benitez, is sure to embrace the city as a whole.
This is a man who took his Dortmund players to a Christmas Party to pull pints for fans in December last year. Imagine Mamadou Sakho serving you a Guinness at the Albert!
4. Celebrations
Let's be honest, we haven't had many managers in recent times who have loved a celebration. Rodgers' one-armed salute was slightly odd, and Benitez barely showed any emotion.
Klopp, on the other hand, displays all-out passion when his team scores a goal or wins a game; something that would further endear him to the Reds faithful.
5. He's a winner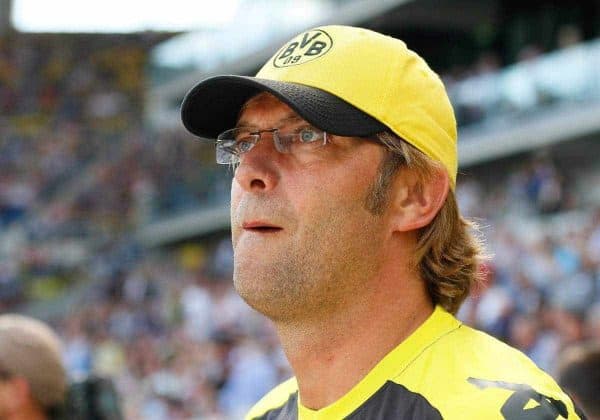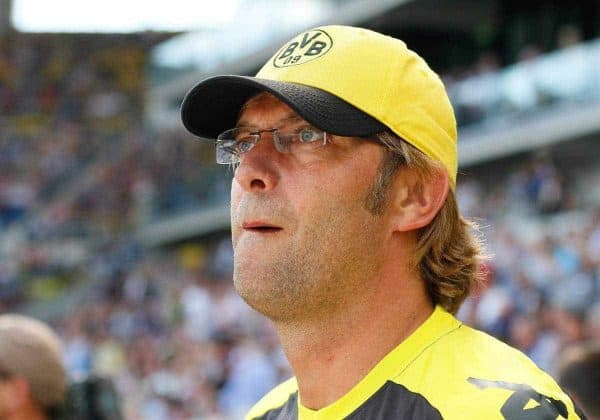 Because of his unique, lovable personality, it is sometimes easy to forget just how good Klopp's record was at Dortmund.
To pip Bayern Munich to consecutive Bundesliga title takes some doing, and the winning mentality he created was something to behold.
The Reds need a ruthless edge, and Klopp would bring just that.
Klopp's Honours:

Borussia Dortmund
T-Home Supercup: 200
Bundesliga: 2010–11, 2011–12
DFB-Pokal: 2011–12
DFL-Supercup: 2013, 2014
UEFA Champions League runner–up: 2012–13

Individual
German Football Manager of the Year: 2011, 2012
Second place FIFA World Coach of the Year: 2013
---
Video: Next Liverpool Manager — Who do the fans want?

---
6. Developing players
Despite a lack of funds, Klopp did some wonderful business transfer-wise at Dortmund, bringing in top players for small fees.
Robert Lewandowksi, Marco Reus and Mats Hummels were all acquired for less than £5million, and he helped them mature into the world-class footballers they are today.
7. Incredible man management skills
The bond that Klopp creates with his players is almost unrivalled, and he acted like a father figure to his talented array of Dortmund stars.
Man United flop Shinji Kagawa famously cried in his manager's arms for 20 minutes when he left for Old Trafford in 2013, which epitomises the relationship he builds.
8. A united fanbase
Liverpool fans have been at loggerheads for a while now, but the appointment of Klopp would bring a much-needed end to that.
The atmosphere at Dortmund's Signal Iduna Park is always special, but under the giant German's management, it was far and away the best in Europe.
Liverpool and Dortmund have a lot of similarities in some ways, and their passionate support is certainly one of them. Klopp would make Anfield electric.
9. He can attract the big names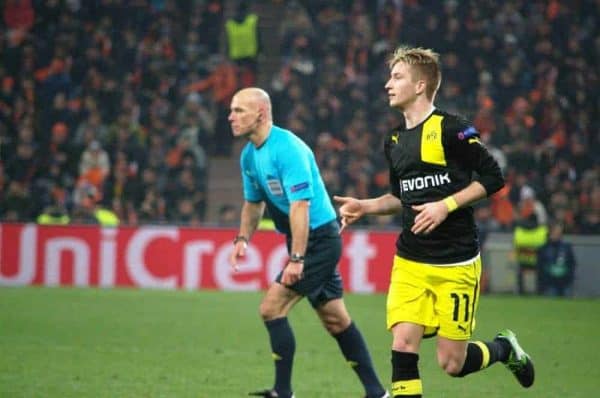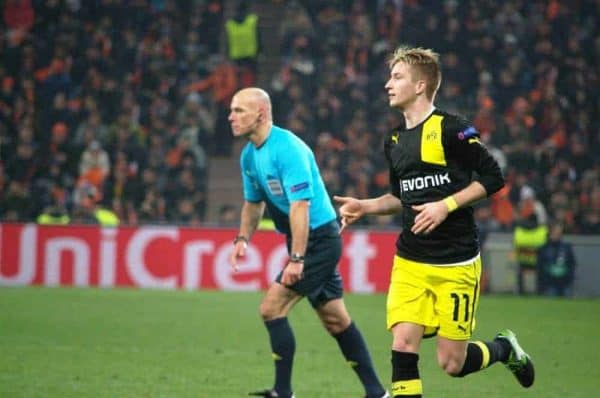 One of Rodgers biggest downsides was that he simply wasn't a big enough name to attract star players to Anfield. The fact that he had Steven Gerrard trying to sign Toni Kroos sums it up really.
Klopp is a massive name with a huge reputation, and the top names may well be attracted by a move to Merseyside under his tenure.
Reus, for example, has always felt like something of a pipe dream, but under Klopp, that move would suddenly feel like it had potential.
10. The Reds will become a force again
Without tempting fate, or going overboard and claiming Liverpool will dominate English football, Klopp would make the Reds a real threat again.
The gap between the Merseysiders and their rivals has been alarming since Benitez's exit in 2010, with just one trophy lifted in that time.
As much as they will deny it, Klopp would strike fear into the likes United, Chelsea and Arsenal, and would add silverware to Liverpool's increasingly dusty trophy cabinet.
It is a match made it heaven.
[interaction id="561267eb74a791dd4b45c183″]