Aaron Cutler previews the upcoming Merseyside Derby and bemoans both club's fall from grace.

The 225th Merseyside Derby is perhaps the biggest in years and certainly the most significant since 2012's FA Cup Semi-Final.
When Liverpool and Everton clash this weekend there will be more than customary bragging rights at stake. Instead a managerial fate rests on the outcome of the contest, with change and its accompanying five year cycle inevitable should the blues prevail.
But while Merseyside waits with bated breath will the country be half as interested? Everton v Liverpool may still rank as THE game for supporters of both clubs but does it truly resonate with the rest of the population in 2015?
It could be argued that Brendan Rodgers plight serves only to underline the failings of Liverpool's two major clubs and their inescapable irrelevance.
Thirty years ago both were fighting head-to-head, tooth and nail for league championships. Between 1981 and 1988 the First Division title held permanent residence in Merseyside, ferried across Stanley Park in an era of unparalleled success.
Further, not one but two FA Cup Finals were contested during this period, as well as a League Cup showpiece in 1984.
Now that monopoly is ancient history and both are considered afterthoughts, consigned with Spurs as the best of the rest.
2013/14 proved a renaissance of sorts only to be exposed as false dawns the following term. Last season Liverpool and Everton limped into 6th and 11th respectively, a combined 47 points down on their previous points hauls.
Astonishingly The Toffees long wait for a trophy now stands at 20 years. Liverpool meanwhile have collected a single League Cup in nine and not sat atop of the English pyramid for 25.
History and worldwide support safeguard 'big club' status but a descent into the wilderness beckons.
Irrefutable is Merseyside's diminished status, lagging behind both London and Manchester as the footballing hotbed of the UK. Where once we would compete for the country's biggest talents – now twe shop in a second tier, competing for those the elite deem run of the mill.

Granted far greater crises have engulfed the North East, Birmingham and Yorkshire whose heritage lies in ruins. Nevertheless Liverpool's fall from grace – or rather prominence – is far greater given those halcyon days of the 80s.
The insidious influence of big money has no doubt contributed to our combined failings but a combination of mismanagement and under-performance has hastened it.
Liverpool can hardly cry poverty having shelled out more than £900m since the Premier League ensued. Instead an initial reluctance to modernise left them playing catch-up.
A disastrous takeover set them back further still, as did dithering over a new stadium. A recent and lamentable policy of selling our biggest players meanwhile has underlined a regrettable slide.
Across the park Bill Kenwright can hardly be accused of disinterest or indifference. Instead his own paucity, along with an inability to sell the club he loves has led to stagnation.
Goodison Park, with its archaic wooden structures and sea of obstructed views, has not proven an attractive proposition to city chancer's never mind Arab billionaires. That said acquiring the likes of Alex Nyarko, Tobias Linderoth and Ibrahima Bakayoko mean Uncle Bill is not without blame.
Having staved off relegation for the best part of a decade the Toffee men appointed David Moyes in 2003. The scot is perhaps the personification of their decline. Not because he did a bad job but rather he never threatened to take them to the next level, cowering in big games, particularly derbies.
Moyes guaranteed safety and a top half finish but with the exception of a near miss in 2005 never truly looked like gate-crashing the Champions League.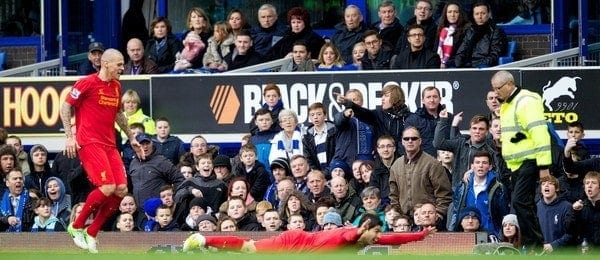 Somewhere along the line mid-table became par for the blue side of the city who sought small comforts as a result – rejoicing in Redsh*te defeats or clinging to contrived sound bites such as the laughable People's Club moniker.
It could be said the power of the derby waned during this period also, with Liverpool at least seeking to challenge for the title, albeit infrequently and oft half-heartedly. An apparent gulf saw fixtures against Manchester United garner far more coverage and interest nationwide.
As we have been pulled back into the chasing pack that chasm has closed somewhat and these games have had direct consequences for those involved if no bearing on the Premier League as a whole.
The Manchester derby is now far more blockbuster, as is Chelsea v Arsenal.
The local edge that once defined this fixture has also dissipated. Unless Jordan Rossiter is handed a surprise start Liverpool will have no scousers in their side on Sunday. Everton meanwhile will have just Tias Browning and Ross Barkley, arguably the last of the top scouse players.
Of course a dearth of local lads will not make the game any less competitive or frenetic but it is perhaps further evidence of a changing of the guard.
Liverpool once boasted a conveyor belt of ready-made internationals – from Fowler to Rooney, Gerrard to Jeffers, Owen to Rodwell. Now that production line has stalled.
Far more alarming is both sides' tendency to sell their best players.
Everton deserve great credit for resisting Chelsea's overtures this summer, the Londoner's attempts to prise John Stones typically classless. Nevertheless that stance is the exception rather than the rule.
In the past twelve years alone Everton have reluctantly sold Wayne Rooney (£20m), Marouanne Fellaini (£27.5m), Jack Rodwell (£12m), Mikel Arteta (£10m), Steven Pienaar (£3m) and Joleon Lescott (£22m).
Liverpool fought-off similar pursuits of Steven Gerrard but eventually succumbed to grabs at the family silver.
The exits of Xabi Alonso (£30m), Javier Mascherano (£17m), Fernando Torres (£50m), Luis Suarez (£75m) and Raheem Stelring (£49m) made for painful viewing, proof that though we proclaim to be hunting down Chelsea and the like we are in fact closer to our city neighbours in more than just geography.
The harsh reality is today both Liverpool and Everton are rich pickings for the top brass. Does anyone expect either Barkley or Philippe Coutinho to see out their careers at their current clubs? Will the next Steven Gerrard allow his heart to rule his head and commit to being a one club man?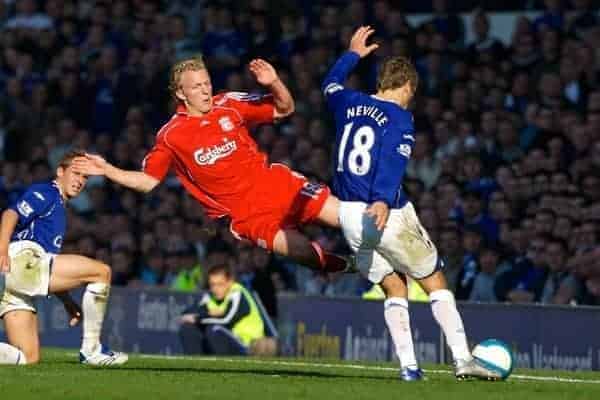 Where once we mocked Everton for an improbable demise now we fear history repeating itself across the park.
The chances of either of us evoking past glories are complicated not just by Arab and Russian money but Arsenal's new found riches, mined from a new stadium that generates £100m in match day revenue.
An obvious game-changer, Spurs and West Ham are set to follow suit. Perhaps that shared ground was not such a bad idea after all ..
If Liverpool fall to defeat at Goodison it will most probably mark the end of Brendan Rodgers stewardship. If the reds are to dispense with the Northern Irishman and launch bids for one of Jurgen Klopp or Carlo Ancelotti it at least marks an attempt to stave off mediocrity. The big fear is the latter is unavoidable.
For English football's landscape has changed and Merseyside is fast becoming the forgotten county.
Rodgers may not be faultless but time may be kind to him – just another who tried, but failed, to stop the rot.